Ferrying passengers between the Museum of Old and New Art and the Brooke Street terminal in Hobart, MONA Roma 1, with interiors by Georgina Freeman Design, starts the irreverent MONA experience at the dock.
If you haven't been paying attention to the media, you may have missed the emergence of the Museum of Old and New Art (MONA), the enfant terrible of Australia's art museum scene. A visit to this unique site – a twenty-minute ferry ride from Hobart – is known around town as a trip down the rabbit hole, due to the capacity of this dark, cavernous, underground gallery to "transport" you and leave you feeling pleasantly disorientated.
The idiosyncratic MONA brand is so pervasive that transporting visitors to the museum in everyday white ferries with fixed, stain-proof seats was a little incongruous. With the demand to scale up, the operator of the ferry business, Navigators, recognized that the MONA experience could start back at the Hobart docks. Taking a brash one-line brief from MONA to create an environment akin to a "bikie headquarters," Navigators' owner John Roche engaged interior designer Georgina Freeman to collaborate with the boat designers Chamberlin Marine, boat makers Incat and graphic designer Damian Scott to bring MR-1 (MONA Roma 1) to life.
MONA Roma 1 sports a controversial military camouflage exterior, and inside is divided into five public spaces over two levels, with a two-tier admission. General admission is for the main, aft and upper decks, serviced by two bars and an array of fixed and loose seating. VIP admission includes drinks and canapés in the restricted Posh Pit at the bow of the boat. Large windows with low sills and higher-than-standard ceilings give the interior an open feel and offer all passengers clear views to the passing vistas and a close connection to the river.
Building from her ideas of an imagined bikie HQ, and melding these with aspects of the distinctive MONA brand, Freeman has developed a refined but playful palette for each space. The base colour throughout is black, and this is layered with high-quality materials including brass, stainless steel, copper, tile, timber and chrome. Freeman has designed or selected furniture that is intentionally eclectic, and small details like overstitched leather flirt with the one-line brief. Working closely with Freeman, Scott has developed an insignia-style graphic identity that is equal parts bikie and military.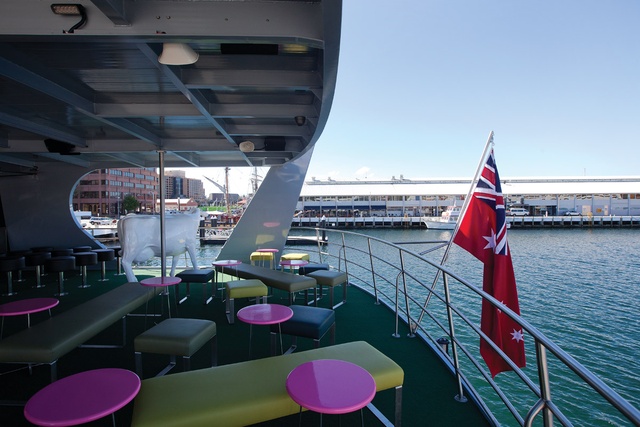 The bars and service core are landmarks within the boat. The main deck bar is defined by precisely folded stainless steel that frames concave-profiled timber and deep-blue mosaic tiles. The upper-deck bar opens onto the interior and exterior decks, its quilted stainless steel cladding irregularly reflecting the surrounds. The bar is matched by a solid-surface standing table that takes the plan form of the cross that is part of MONA's graphic identity.
Here, Trevor the onboard parrot squawks at punters from his glamorous brass custom-made cage. Wrapping the service core on both levels is a loud, lush, irreverent coat of graffiti by Hobart artists Jamin, Tom O'Hern and Rob O'Connor. Their brief was to make this core look like the side of a train, and the text and imagery that make up this graffiti rattle everyone's cage: "Its a Mona-opoly," "Shave the forests," "RICH FAT OLD WHITE PEOPLE."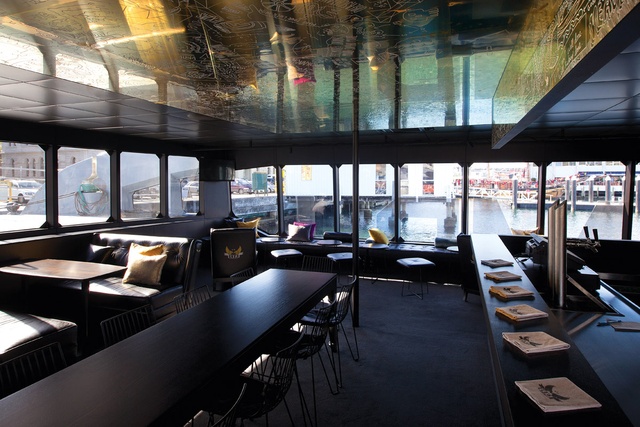 Set behind glass walls, the Posh Pit is the shiniest iteration. Glossy, vertical chrome bars matched against a polished brass ceiling define the limits of standing room around the bar. Paired, black, Chesterfield-style leather lounges "tattooed" with MR-1's insignia form a series of nooks for small groups. The space is completed by a long, studded, black leather banquette along the window line, punctuated with cushions and bolsters in gold, grey and MONA pink. Toned down only in colour, the artists' graffiti in these spaces is no less provocative, and is scrawled in white across the brass and glass, providing visual separation (and entertainment), with phrases including "look at all of those poor people" and "GOMA is way better."
Even the lowlier parts of the boat are distinctive. A copper pipe dropping from the ceiling delivers tempered water to custom sinks in the unisex toilets and a long horizontal mirror in each cubicle forms a "MONA cross" with this pipe. In a play on "cattle class," a row of fibreglass sheep, overlooked by an MR-1-branded cow, offer alternate seating on the green faux-grass carpet of the rear deck.
Tapping into a culture of experience-based tourism, the collaborative design team has created a boat ride that serves as an entree to the museological main course. The MONA brand is so strong that Freeman has been able to freely interpret it with minimal input from the MONA team, producing a deft design that feels like it is part of the family. Sitting within that family entails finishing everything to a high quality, not doing what is expected and being as irreverend as possible in the process. It means keeping the integrity of the concept in all of the detail – boat employees wear military-style uniforms with the option of a sheer tattoo "sleeve" – and it also involves keeping it local.
Just as MONA has established a posse of local makers to create custom moments, so too with Freeman, who has had most furniture and fittings made in the Tasmania. Finally, it's about designing for the unanticipated. Leaving the days of fixed seating behind, MR-1's malleable interior can be a ferry, a festival venue and perhaps even a place for temporary art moments.
Designer's statement
With the brief in mind I set off to design something MONA-ish, biker-ish, lightweight and versatile. The colour palette had to be black, a blank canvas that would emphasize the scenery throughout the journey and clear passengers' minds before they arrive at the grand staircase to MONA. Not having been to a bikie headquarters, I could only draw from what I had imagined: stitched black leather, chrome, a mismatch of furniture, graffiti, tattoos and gold. The majority of the furniture is custom-made and at the request of the naval architects has been kept lightweight by using fine stainless-steel tubing and minimal upholstery. This has enabled heavier materials such as timber and tiles – products not often used by ferry builders – to appear on table and bar tops. The frames of the stools and coffee tables are based on the cross that is part of MONA's graphic identity, as is the large, bar-height table on the upper deck. The Posh Pit VIP lounge features embroidered "tatts" on the backs of the lounges, a graffitied brass ceiling, and velvet cushions that add some pink to the "posh" black leather seating. The toilet block is wrapped in white laminate that required some serious graffiti. We called in artists Jamin, Tom and Rob, who have created an amazing, colourful artwork. The layout of services, designed by Chamberlin Marine naval architects, takes into account calculations of weight distribution. As required, there are 251 seats, including five sheep, and no, you can't ride the cow in cattle class!
—Georgina Freeman Design