Hobart's Museum of Old and New Art (MONA) is planning to redevelop an existing waterfront caravan park adjacent to the museum by introducing a selection of accommodation pods that will cater to a broad range of visitors.
The new park has been dubbed "Moab," an acronym for MONA Accommodation Berriedale which is also a Hebrew term for "desirable land," according to MONA's founder David Walsh. Moab is also the name of an ancient kingdom that bordered the Dead Sea and a present-day city in Utah.
The consultant team working with MONA on the project is made up of architects Peta Heffernan and Elvio Brianese from Liminal Spaces Studio, landscape architect Jerry de Gryse from Inspiring Place, planner Irene Duckett and others.
The opportunity to transform the headland space, which juts out into the River Derwent, was put out to tender by the Glenorchy City Council earlier this year. The plan put forward by MONA to transform the site of the former Treasure Island Caravan Park has just passed the first stage of council approval.
Prefabricated pods in a range of sizes will form the majority of the accommodation offered on the site, and will aim to minimize any impact on views of the river. On-site retro vans and mobile homes will also form part of the project, which could attract up to 50,000 visitors to the site each year.
The development will include a number of different "zones of experience," including areas for social campers, reclusive campers and travelling nomads. Two communal buildings have been included in plans for the site, which will provide outdoor amphitheatre decking, dining and cooking areas and some artists' studios.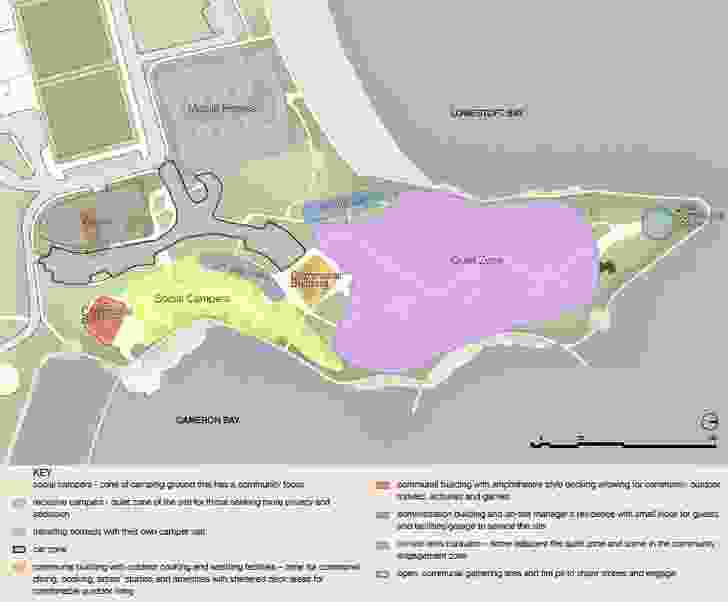 MONA already has on-site luxury accommodation, a series of eight pavilions that were designed by Fender Katsilidis Architects (who also designed the main museum). The one- and two-bedroom structures, each named after an Australian architect or artist, cost a minimum of $650 per night and provide guests with access to luxuries such as a sauna, pool and on-site gym.
In a preface to a document outlining plans for Moab, founder David Walsh described his dream of "an even more inclusive MONA." The document says the main users of the accommodation will be people wanting to experience MONA, the city and other urban events.
Related topics