The founder of Hobart's Museum of Old and New Art (MONA), David Walsh, has revealed images of an eclectic swathe of projects that the organization is planning for the future. In September this year, Walsh publicly announced $200 million worth of proposed projects including a casino, a gallery extension to house work by artist James Turrell, a 160-room hotel and a playground.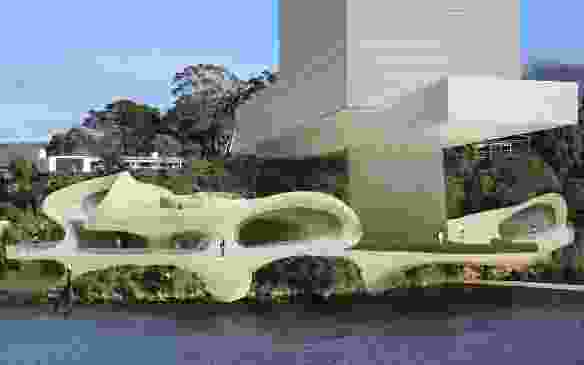 Walsh announced that Mexican architect Javier Senosiain is designing the casino, nicknamed Monaco (MONA Casino), and said it would be different to other casinos, which he described as "closed edifices of steel and gloss." Senosiain is well known in Mexico for his "organic" architecture, reminiscent of the works of Gaudi and Hundertwasser, and the casino design features sculptural curves and an open garden, spilling out over the River Derwent.
Walsh said that the casino will be a place worth visiting purely for its architectural and artistic merit, and made reference to his ongoing feud with Federal Group, the company that has a monopoly over casino licensing across the entire state of Tasmania until 2023 – "It might never be licensed, so it needs to function at a level beyond that of a cash palace."
Recent talks between Federal Group, MONA and the Tasmanian state government gave rise to the suggestion that if Federal Group's exclusive gaming licence is not extended in 2023, it could retain exclusivity over the rights to operate poker machines. Walsh said that he would not open the casino on these terms, citing ethical concerns about the poker machine monopoly. He has previously said that Monaco will be a poker machine-free high roller casino inaccessible to Tasmanians in order to prevent problem gambling.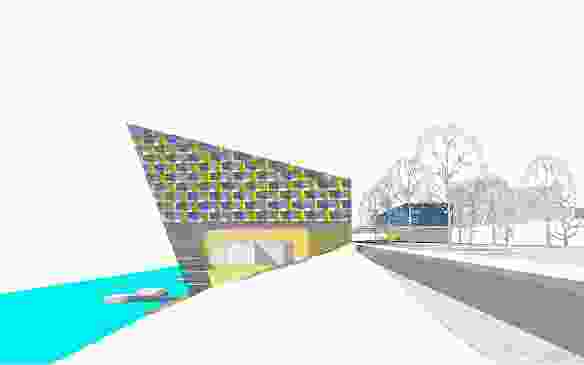 Federal Independent MP Andrew Wilkie recently accused Federal Group of blackmail for saying a $70 million refurbishment of a Roy Grounds-designed casino won't go ahead if the company doesn't have certainty over the future of its exclusive casino licence. A review of the deal is scheduled for 2018.
The 160-room hotel, dubbed HOMO (Hotel MONA) will house a library, function centre, restaurant, bar, retail spaces and rooms designed by artists including Marina Abramovic, James Turrell and Brigita Ozolins. In terms of its design, Walsh said the hotel would make a bold statement and "shout where MONA whispered."
A gallery extension will be designed specifically to house four works by artist James Turrell, who creates pieces using light and space. The extension will connect to the tunnel linking the Round House and the existing museum, and will extend 20 metres over the River Derwent.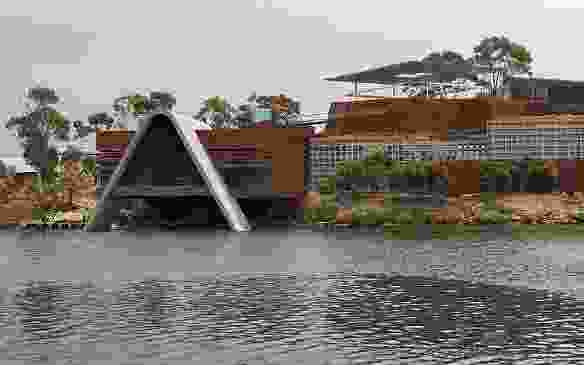 The ground above the gallery extension will house a new playground designed by Japanese textile artist Toshiko MacAdam.
The final on-site project will be a large walking ring with a 50-metre diameter on the River Derwent designed by Hobart-based architecture practice Room 11. The ring, dubbed Heavy Metal Science Lab, will be able to rise and fall with the tide, remaining just below the waterline so that walkers will be immersed in a few centimetres of water as they complete the circuit.
Room 11 also designed the Glenorchy Art and Sculpture Park (GASP), a project featuring an elevated walkway over the River Derwent that won a 2013 Urban Design Award from the Australian Institute of Architects.
Walsh said that the progression of the projects is not contingent on the approval of the casino (with licensing), but the potential proceeds from Monaco are a significant factor in the size and delivery of each proposal.
Recently, it was announced that MONA will be designing the public spaces for the Macquarie Point Redevelopment project and also redeveloping a conventional caravan park to provide low-cost accommodation that will include prefabricated pods.
Related topics