City of Melbourne councillors have voted to approve a plan to transform the Moonee Ponds Creek corridor by introducing a diverse mix of open public spaces and revitalizing the creek so that it becomes "a rich corridor of biodiversity."
Running for 25 kilometres from near Melbourne Airport in the city's north-west to Docklands, Moonee Ponds creek flows through some of Melbourne's fastest-growing areas, including the Arden and Macaulay, Dynon and E-Gate urban renewal precincts.
The final Moonee Ponds Creek Strategic Opportunities Plan notes that this growth highlights the urgent need for innovative ways to manage the flooding risk in the creek corridor, while also bringing increased demand for open space and social infrastructure.
"There is a pressing need to restore both the recreational as well as ecological potential of the creek," the plan reads. "The liveability of Melbourne is connected to the future of Moonee Ponds Creek."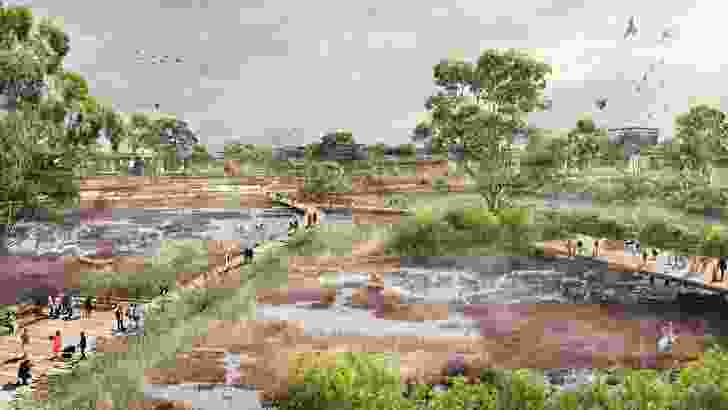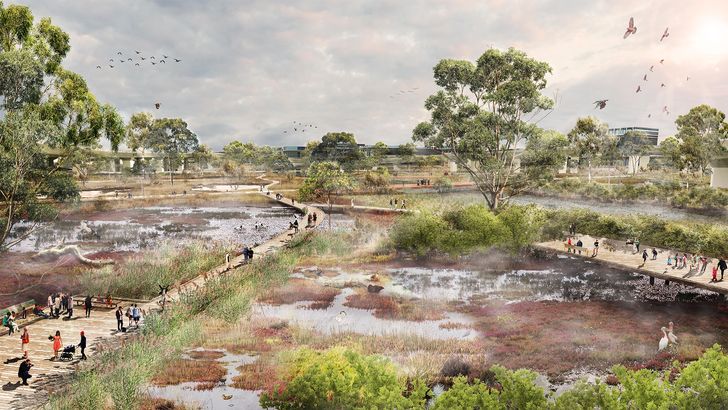 Landscape architects McGregor Coxall are the lead consultants on the project, with Wave Consulting also contributing to the plan's development.
Discussing the plan earlier this year, McGregor Coxall director Christian Borchert said the aim was to transform the creek into a more resilient and sustainable corridor through "alternative land use, catchment-wide collaborative governance and dynamic design solutions."
"Moonee Ponds Creek has been negatively impacted over many years by industry and infrastructure," he said. "This plan sets a vision to rehabilitate the creek and advocate for the delivery of a series of projects to increase its ecological, economic and recreational value."
The City of Melbourne does not own or control the Moonee Ponds Creek corridor, and is putting forward the strategic plan in order to advocate for the creek's revitalisation. The council says it wants to work in partnership with the Victorian government, neighbouring councils and community groups on the project.
The plan focuses on three key reaches of the creek. To the north, from Brunswick Road to Racecourse Road, what is now a concrete stormwater drain will be remediated – becoming "a focal point for the local community and biodiversity."
To the south, from Dynon Road to the Yarra, what is now an inaccessible, infrastructure dominated area will become a "significant source of public open space." And centrally, between Racecourse Road and Dynon Road, what is now an industrial area will become an area for mixed-use development.
This development would involve the creation of a new public space between Macaulay train station and the creek, dubbed the "Macaulay Terraces." The terraces would act as both a public park and a flood resiliency system. The terraced landscape would also capture stormwater running off the streets, cleansing it before it enters the creek.
The plan was endorsed at a Future Melbourne Committee meeting on 20 August, following a period of public engagement. Council said that feedback from the community engagement process showed a "high level of support for the vision and a strong desire for action." To see the full plan, head here.
Related topics