On rare occasions the word "extension" is inadequate. The sensitive restoration of Mount Pleasant, a National Trust-registered 1835 Georgian residence in Sandy Bay, Hobart, is an architectural essay in timeless materials and functional liberation. A "progression," in other words.
One of Hobart's colonial treasures, Mount Pleasant is sited within an acre of land on a knoll that offers an unlimited panorama of the Derwent River to the north and a glorious over-the-shoulder view of Mount Wellington to the west. Despite the spread of suburbia, this grand retreat has remained relatively secluded. Several Centurion trees add to the seclusion, channelling sublime view lines.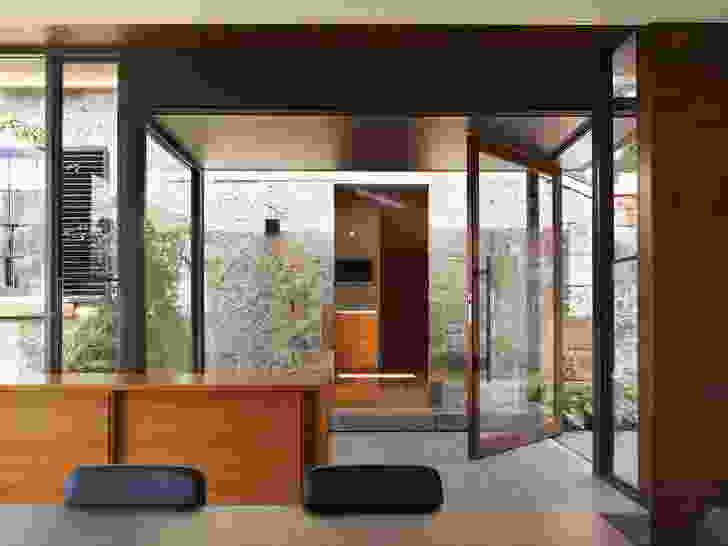 Mount Pleasant's conservatory is a contemporary structure, prominently positioned as you emerge from a tree-lined serpentine driveway. Its roof is flat and its segmented capping aligns with the verandah fascia of the Georgian house. Architect Daniel Lane of Preston Lane Architects says the decisions not to give the conservatory a pitched roof (thereby obviously tying it to the original house) and to fix the new building's floor line below the level of the house's verandah were attempts at observing a respectful design hierarchy.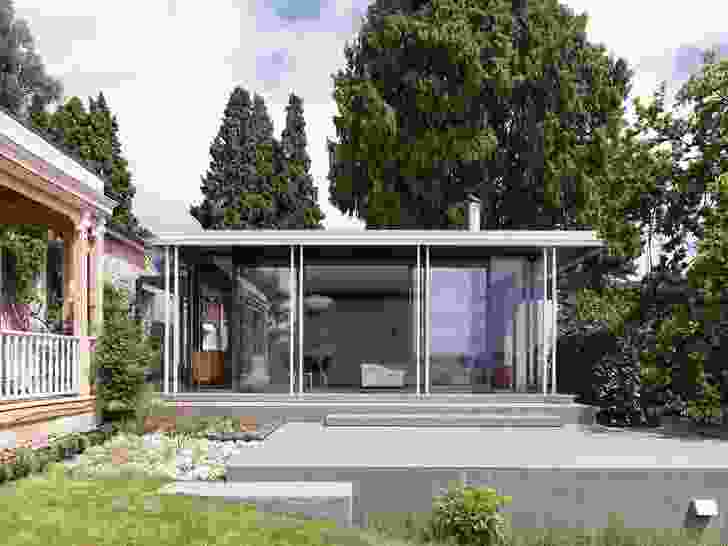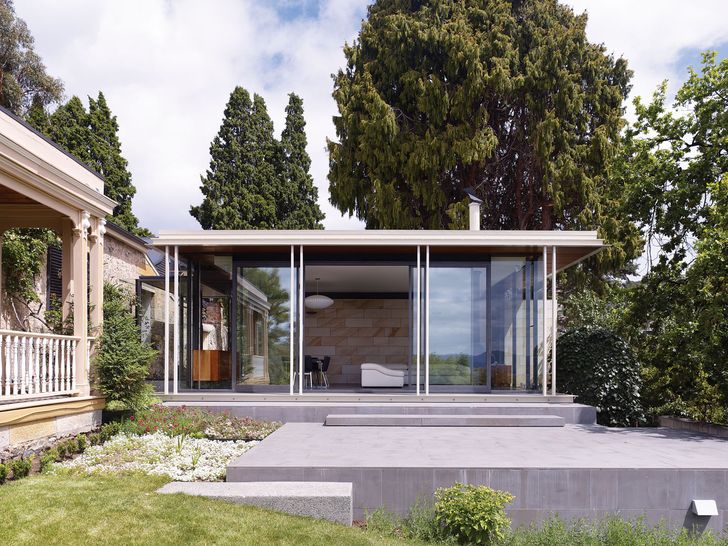 A prominent podium faced with quarry-cut bluestone tiles anchors the conservatory to its garden setting. A low projecting wall accentuates the formal geometry, while a crafted and snaking retaining wall provides informal landscaping balance. New bluestone walls are key elements in site zoning, extending existing building lines, terracing, retaining and spatially ordering as hard edges of a soft landscape.
The conservatory is joined to a remodelled kitchen in the original house by a glazed minimalist link, which also serves as an entrance lobby to the extended residence. A new garage, positioned to the site's rear at the far side of a vehicle access bay, dictates the necessity of a "back" entrance. Mount Pleasant's formal entrance – up grand steps in the centre of its symmetrical front facade – is a century and a half away, off a circular carriage road that sweeps under a magnificent Norfolk Island pine.
The conservatory functions as a living/dining space. It also operates as the informal social hub for casual visitors. Materials are beautiful and minimal. The floor is of honed bluestone tiles. Walls of almost full-height double glazing fling enclosed space outwards. To the north, over the bluestone podium, the hypnotic Derwent is contained by distant tree-covered hills. To the west, through a bouffant of winter oak branches, is the mountain.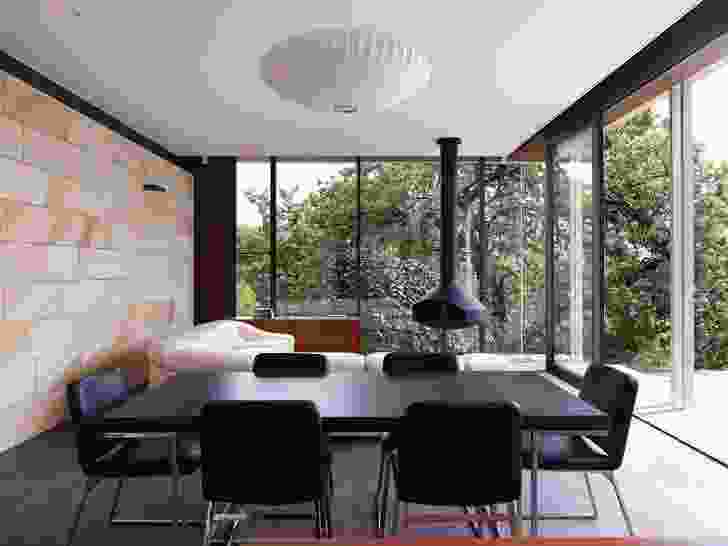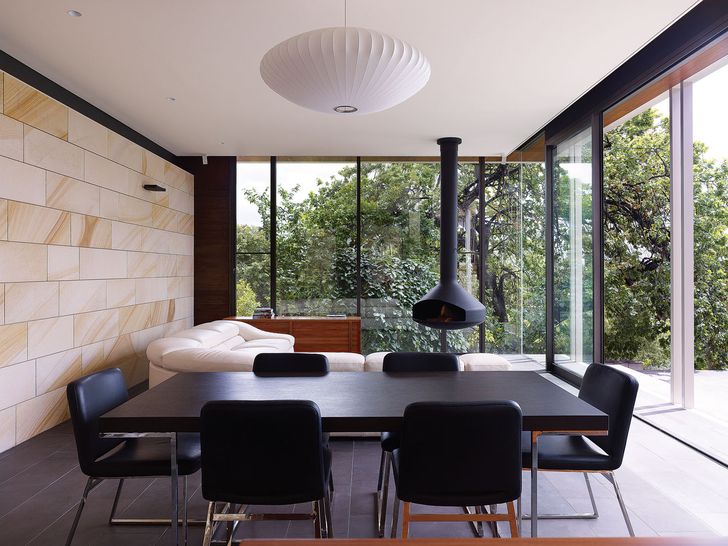 A comfortable sequence of steps leads from the conservatory across the foyer and into the kitchen. The new building's southern wall is faced inside and out in saw-cut sandstone blocks and the client travelled to a quarry on the NSW Central Coast to select the stone. For the interior he chose a mix of plain light cream blocks and similar ones banded with red striations. Striated blocks have been positioned deliberately so that their calligraphy sweeps diagonally upwards from left to right, subtly drawing the observer's gaze towards a pristine view of Mount Wellington.
Externally, the conservatory pays creative dues to Mount Pleasant. Referencing is evident though not subservient. The slender split uprights forming an obvious visual link to the house's double verandah posts are painted steel, as is the segmented capping that the steel posts support and the floor facing that supports them. Capping and seating details reinterpret the house's verandah fascia and base plate design. Colour further unites old and new: light cream, Naples yellow and charcoal grey.
Asymmetrical overhangs to the north and west effectively shield the conservatory's glazed areas from the main impact of summer sun. In winter the bluestone floor acts as a heat store, augmented by an automated and zoned under-tile heating system.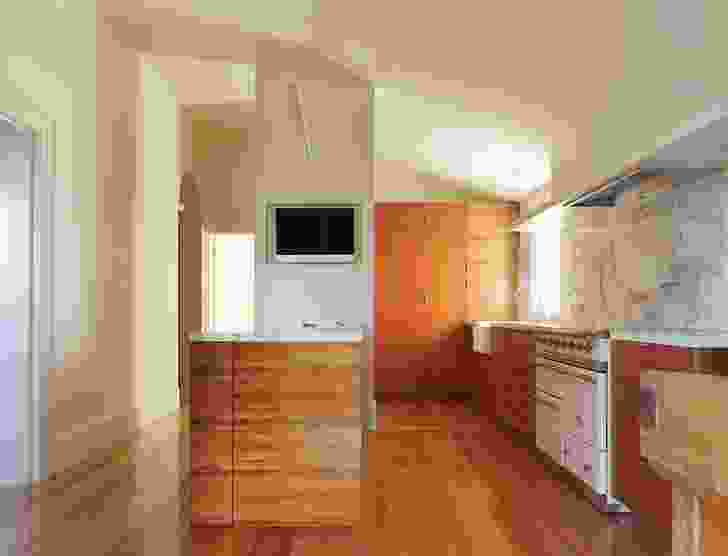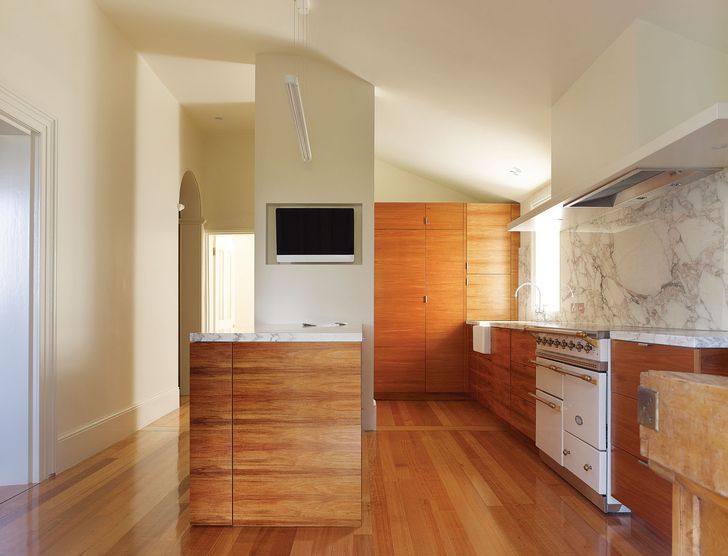 Mount Pleasant has been reborn in an exemplary, understated and understood architectural intervention. Fifteen heritage conditions were imposed by the Tasmanian Heritage Council and all have been met. Every aspect of the brief has been rigorously interrogated and solved with distinction, the consequence of a productive collaboration between architect and client. The new garage, with its steeply raked roof, is tied to the Stables Cottage (with its roof of a similar pitch) by a sequence of bluestone walls. The Stables Cottage is linked to the house by a new glazed walkway, a functional element that hardly intrudes, though in fact it cuts a delightful walled courtyard in half. The remodelled kitchen and a reappointed bathroom, both expertly detailed and equipped with the most sought-after appliances, have been designed without fuss to ease an historic house into the twenty-first century with the utmost respect.
This house received a high commendation in the House Alteration and Additions over 200 square metres category of the 2011 Houses Awards.
Products and materials
Roofing

Lysaght Klip-lok roof decking, Colorbond 'Evening Haze' and Custom Orb, Colorbond 'Monument'.
External walls

Gosford Quarries sandstone; Tasmanian oak, finished with Sikkens Cetol.
Internal walls

Gosford Quarries sandstone; plasterboard, painted.
Windows

Double-glazed aluminium-framed windows; custom double glazing.
Doors

Custom Tasmanian oak, finished with Sikkens Cetol; custom mild steel door pull; Designer Doorware sliding door pull; Novas hinged door lever.
Flooring

Tasmanian oak, finished with satin polyurethane; honed bluestone.
Lighting

George Nelson Saucer pendant; Artemide Talo pendant and wall light; Modular Duell wall light.
Kitchen

Liebherr integrated fridge; Siemens integrated dishwasher; Lacanche oven and cooktop; Qasair rangehood.
Bathroom

Hansgrohe Axor Citterio fittings; Duravit basins and Starck 3 toilet; Kaldewei Conoduo bath; Gasparre porcelain tiles.
Heating/cooling

Ducted heat pump; underfloor heating.
External elements

Sawn bluestone; compacted and crushed limestone.
Credits
Architect

Preston Lane Architects
Hobart, Tas, Australia
Project Team

Daniel Lane, Phil Ackerly, Nathanael Preston
Consultants

Builder Cordwell Lane Builders
Engineer Gandy and Roberts Consulting Engineers
Landscaping Preston Lane Architects, Essex Landscaping
Lighting Preston Lane Architects, Casa Monde Lighting Specialists

Site Details

Location Sandy Bay, Hobart, Tas, Australia
Site type Suburban
Site area 3840 m2
Building area 385 m2

Project Details

Status Built
Design, documentation 14 months
Construction 10 months
Category Residential
Type New houses

Source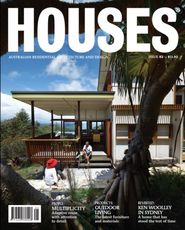 Issue
Houses, October 2011
Related topics