Walking into the new Markant showroom in South Melbourne is an exciting experience. The large, light-filled space is filled with many Markant products, creating an Aladdin's cave for the office furniture enthusiast. The occasion was the opening of the showroom and among the attendees were Markant's CEO Jan Beltman and creative director Dirk Rutten.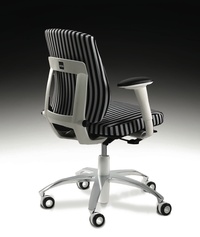 Markant is a relative newcomer to the commercial furniture scene in Australia, but the company has been a respected player in the world market of workstations and office furniture design for some time. Markant was established in the Netherlands in 1948, and really came into its own in 1996 when the present CEO bought the business and saw the potential of making excellent furniture for the office environment. The decision paid off, and today Markant has more than 350 dealers worldwide. 
Integrating design and function is Markant's philosophy. From inception, a product needs to beautiful and work correctly to become a part of their product range. Their point of difference is adaptability to all work environments. As Rutten says, "Design needs to be intelligent. It must have a creative idea, be functional and affordable." This, Markant has achieved in spades. The clean lines of the MO4 workstation system or the comfort of the ergonomically superior Axia Synergy task chair demonstrate this. Then there is Myscreen, a versatile and imaginative screening system that consists of panels that can become partitions, ceiling and wall panels with or without acoustic properties. These panels can be customized with any image, pattern or colour to create a bespoke solution. Complementing Myscreen is Myscreen wizard, a computer program that helps architects and designers plan a space and cost it correctly. This is an extremely handy tool to help bring designs to life and save time.
Markant is making its mark and showing that they are a company to be reckoned with in the workplace product market.