Mrs M: a story of architectural and romantic alliances in a bold new world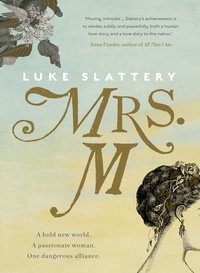 Mrs M is a novel of ideas, wrapped up in a romance, a political drama and a journey. The story is set at the very beginnings of European settlement in Australia and is told as an "imagined history," through the eyes of Mrs Elizabeth Macquarie, the eponymous protagonist of the book, and widow of former Governor of New South Wales Lachlan Macquarie. The book is a fictional account of her life in a new penal colony and a relationship with convict architect Francis Greenway and it sees architecture and "the Architect," as he's referred to, as major forces in building a new country looking to the future. A future based on recognizing people's talents not their pasts.
The book is the debut novel for author Luke Slattery, a journalist who became intrigued with the convict architect Francis Greenway some years ago whilst in his role writing stories about contemporary architecture projects.  His first intention was to produce a factual record of the Macquaries and Greenway's contribution to the earliest Australian settlement, but an editor at Harper Collins suggested the story may best be told from a fictional angle.
The result is a piece of historical fiction that places Australia's first government architect not only at the seat of power, but as a contributor to Governor Macquarie's notions of what a newly developing country could be at the beginning of the 19th century.
The overarching story is that of the governor's efforts to develop a community in which the talented can flourish based on a culture of fairness, justice and opportunities in contrast to the punitive laws of a convict settlement.  The smaller, but no less engaging, story is the one revealing the shared interests – romantic and architectural – that develop between Mrs M and the architect.
An observer of the outcome of this fruitful relationship comes late in the book from Rose Freycinet, wife of French explorer and return visitor to early Sydney Louis de Freycinet, who notes,  "The smoky huts witnessed here a decade ago by my husband have been replaced by many fine buildings: spacious, beautifully proportioned and finished in stone or brick."
There are of course obstacles, not least of which are the landed gentry who had acquired huge swathes of land from the King, including John Macarthur out beyond Parramatta, who felt the best use of a convict was really as an indentured labourer.
Whilst this is a fictional account, most of the story is based on the historical facts, including the King sending out Commissioner John Bigge to investigate the effectiveness of convict transportation in deterring crime.  At a final dinner near the end of the book Bigge outlines his mission, the architect responds claiming all the commissioner wants to do is end the processes begun by Macquarie saying, "You have nothing new or generous to offer us."
Bigge responds, "The King cares not a jot for the health of the colony, so long as it serves its purpose." And goes onto say that Sydney is in part a jail and in another part a source of labour. Macquarie rebuts that he has freed hundreds, perhaps thousands of convicts and few have reoffended and claims they have been reformed by a system of rewards and punishments, the chief reward being their freedom. His response should be read out aloud at every Australia day ceremony (on whatever day it is held).
As a person whose major concern through most of my working life has been devising ways of promoting architects and architecture to the wider public, I found in Mrs M a vivid demonstration of the value of architecture, which in turn necessarily demonstrates the value of the architect.
Every architect will enjoy this book if they are interested in Australian history and concerned with the role, the very vital role good architecture can play in making a country in which people could, both physically and intellectually, flourish. They should also give it as a gift to their non-architect clients and friends who will enjoy its historical telling and may even unwittingly gain a better understanding of the value of architecture.