Gesturing towards a cup and saucer placed beside each other, artist Rosslynd Piggott says she is keen "to show objects as they are not normally seen." One notices the round, white circle at the centre of the saucer, which would usually be covered by the cup but is in this case revealed, beaming like a moon. This simple rearrangement draws attention to spatial, material and temporal relations and how they produce meaning – and it is a proposition carried through in Murmur, an installation by Piggott for the House of Ideas series at The Johnston Collection in Melbourne.
William Robert Johnston (1911–1986), an antique dealer who collected fine and decorative arts from the Georgian, Regency and Louis XV eras, bequeathed his collection and his house, Fairhall, to the people of Victoria with the expressed wish they be used for the public's education and enjoyment. Johnston bought Fairhall, an 1860s house located in East Melbourne, in 1952 and remodelled it as a late-eighteenth-century Georgian-style townhouse with three apartments that he rented out while he lived in London. In 1972 he returned to Melbourne and established Kent Antiques in High Street, Armadale. Fairhall was his home until his death in 1986.
Johnston lived with his collection and it was never static – he rearranged it, sold and bought pieces and incorporated contemporary furniture. This set the tone for Fairhall as a house museum, now known as The Johnston Collection. Johnston was opposed to the idea of period rooms that presented a frozen moment in time, where rope barriers separate people from the arrangements and labels explain an object's meaning. In contrast, The Johnston Collection does not regulate the past to a fixed condition to be re-presented, but engages the past in the present.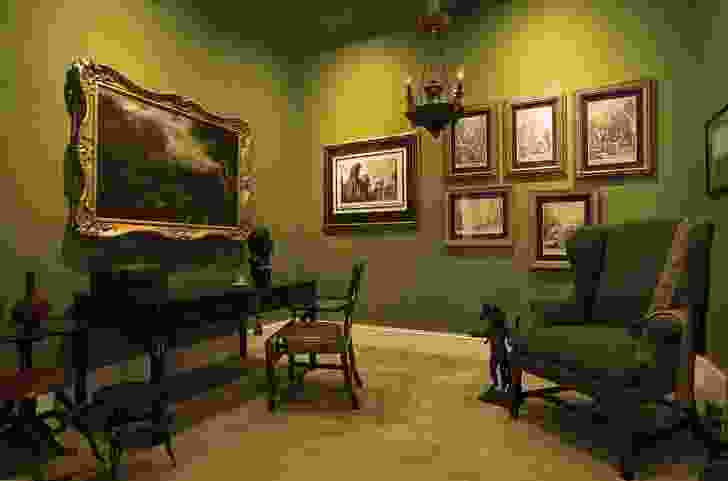 The Johnston Collection's annual House of Ideas series is an example of this. Practitioners from different disciplines are invited to reinterpret and rearrange the collection in any way they wish. Past contributors, including fashion designer Akira Isogawa, interior architect and restaurant designer Pascale Gomes-McNabb and design label Romance Was Born, have each been invited to curate a "house of ideas." Piggott, a critically acclaimed Australian contemporary artist, is the first artist to work with the collection. Murmur, the fourth in the House of Ideas series, immerses the visitor in Piggott's way of working with material, spatial and temporal qualities to create encounters with objects where past and present coexist in a moment.
Murmur conjures the lives of the three men who lived at Fairhall – Johnston, his assistant and companion Ahmed Moussa, and friend and costume designer Angus Winnecke. Piggott's arrangements invite them back into the house and "reinstall" them as the focus rather than the objects. Conducting extensive research into the Johnston archive, Piggott was not intent on pursuing historical accuracy, but rather searching for resonances – murmurs – to guide her curatorial hand in what to include and what to remove and place in storage. She "restored" the various rooms to their former use as bedrooms, sitting rooms, drawing rooms and a study; each room including an arrangement of objects from the collection, contemporary furniture pieces, Piggott's artwork from previous installations and art produced specifically for Murmur.
An 1812 Minton teacup, cradled on turned-down white bed linen and a woven blanket in Johnston's former bedroom, expresses everyday intimacy yet preciousness. The teacup was given to an eight-year-old Johnston by his grandmother and is said to have inspired his passion for collecting. From B to A (in Colonial Knot), a work Piggott produced for Murmur, expresses the relationship between Moussa and Johnston. In this work, a magnolia-pink thread embroidered on a pillowcase into a letter "A" unfurls upwards and connects with another pillow, where the thread becomes an embroidered "B." The letters reference the first name of each of the men: Ahmed and William "Bill." Adjacent to Johnston's bedroom is his sitting room, an assemblage of cream white that makes material relations with time, past and present – the fringe of an Edra bookcase, Johnston's polar bear rug and white Parian ware resembling marble each contribute to the room's atmosphere.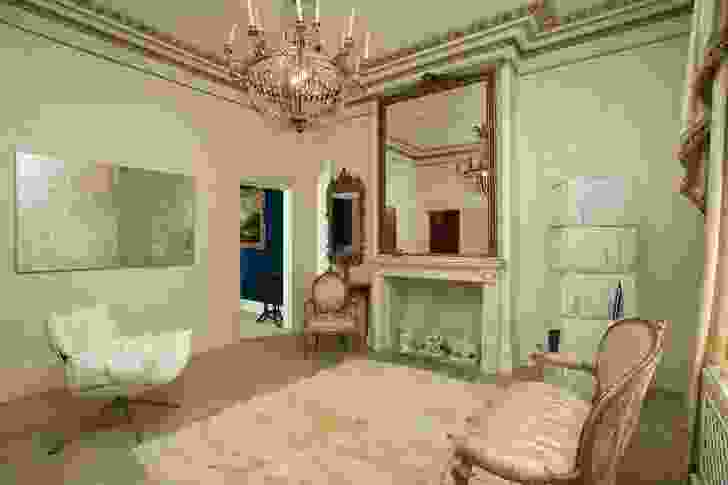 Mirrors from the collection and artworks by Piggott reflect, refract and inflect light, shadow, matter and movement. Mirror, mirror no. 2 (2008–2009), composed of oil and palladium leaf on linen and slumped mirror glass, produces temperamental doubles that absorb and reflect past and present. Upstairs in the study, which Piggott has loaded "with shadow, regrets and remorse," a mirror from 1740 moodily reflects the gaiety of Winnecke's black-and-white floor in the room across the corridor, while also reluctantly acknowledging one's gaze in its surface. These encounters dissolve the separation between subjects and objects; instead, spatial and temporal relations are heightened as an immersive, atmospheric condition. A series of limited-edition digital prints Piggott made for Murmur make visible this vaporous atmosphere as a layering of time and space. Composed of negative films from the Johnston photographic archive, including photographs of Fairhall's interiors before and after Johnston's death, holiday snaps and other photos, these compositions produce an encounter in time.
In the drawing room, a moving image of magnolia and camellias from Fairhall's garden is projected through a nineteenth-century Regency-era crystal chandelier; a pink hue of magnolia petals and camellia-white light flicker and splinter across the ceiling. Titled Splinter Garden, the arrangement is an artwork made by Piggott for Murmur and connects a shared passion for flowers between Johnston and Piggott. During a House of Ideas tour, Piggott spoke about her fascination with magnolias throughout her career as an artist, and how magnolias are an ancient species that were around before bees and date to the time of dinosaurs. An encounter with a full-blown magnolia flower enables awareness of a moment as the coexistence of past and present. Similarly in Murmur, one sees objects as they are not normally seen – here, one encounters objects as spatial and material relations in moving time.
Murmur was on show 1 July to 23 October 2013 at The Johnston Collection for its House of Ideas series. Rosslynd Piggot is represented at Sutton Gallery, Melbourne and Milani Gallery, Brisbane.
Source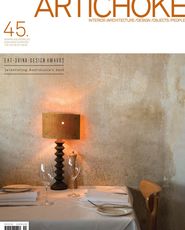 Issue
Artichoke, December 2013
Related topics