For the last ten years or so, universities have been investing in new types of spaces for students. Named variously as student hubs, centres and labs, they are essentially environments that bring together a mix of open-plan workspaces, small and large rooms, lounge areas, flexible furniture, and facilities like wi-fi, digital screens, kitchens, printers and lockers. While often located with libraries, these spaces frequently stand alone; they are usually accessible twenty-four hours a day and have little or no staff presence. The genre responds to a number of interrelated factors: new technologies, increased emphasis on collaborative models for teaching and learning, growth in cross-disciplinary study, and a desire to improve the social quality of academic life.
The Macquarie University Spatial Experience, known as MUSE, is located on level two of Walter Abraham's original brutalist library building at Macquarie University, and is a very successful example of such a space. On the day we visit it is teeming with students and a low buzz of busy conversation fills the air. Every table is taken, every lounge asprawl and most seats relocated from their designated spots – a fact the architects note with satisfaction.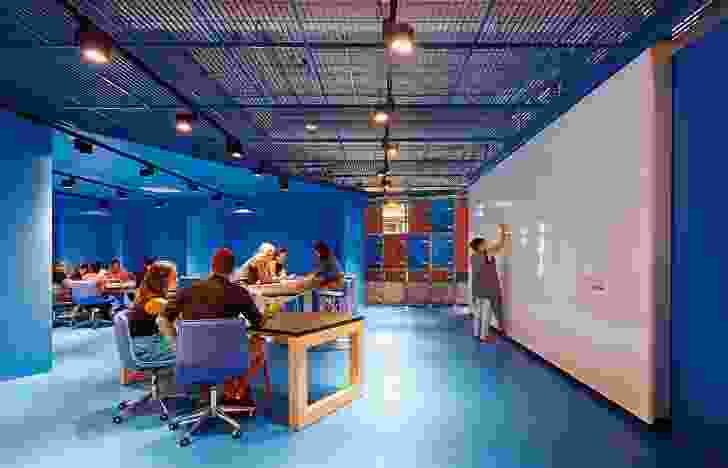 In 2011 Macquarie University opened its new library, leaving the old 1970s building vacant. The cost of a full upgrade precluded development in the short term, so as an interim measure the university decided in 2013 to install a temporary experimental fitout across levels one and two. Macquarie University approached three architectural firms – Woods Bagot, Bennett and Trimble, and NBRS+Partners – to each design a distinct zone that explores what a student-based social learning space could be. Each firm also carried out an extensive but independent briefing process with student representatives informing their designs. The budget was less than $1000 per square metre and the timeframe for design through to full lump-sum documentation less than three months.
The Woods Bagot scheme inscribes a series of diagonal lines across the space, at odds with the structural grid. The primary intention here is the creation of what the architects describe as "agitated space" – evocative, awkward and angular spaces that encourage creative engagement through their disruption of the existing orthogonality. The second approach, more of an overlay, is the creation of a suite of spaces such as one might find in a city – including streets and squares, but also nooks and hidden rooms to discover. Materially the project is playful, both in its use of colour and texture and, more specifically, in the re-use of timber desktops which were salvaged from the old library and used to make shutters for the walls of more enclosable spaces. These remain rough; the old graffiti is still intact. "We removed anything racist but we didn't worry about the penises" is the memorable aside from the university representative who shows us around. The applied geometry works well to create the diversity of spaces the architects seek and the result is vibrant, with lots of spatial variety, good acoustics and a clear sense of student ownership.
Many of the student workspace-focused projects created in Australian universities have been fitout based – often claiming underused or vacated spaces. Budgets are often low in per-square-metre rates and the projects are understood as temporary to varying extents. Whether as a result of this or other factors, there is a conspicuous aesthetic consistency across this new genre (one familiar from images of the Google workplace environment). It is the ad hoc, casual and self-conscious "street" character meeting with the functions and technology of the corporate office – work as play. MUSE very much fits within this broad type, and in referring to their design as a metaphorical city the Woods Bagot team tread a familiar path in workplace design parlance. It is not necessarily a fruitless one, but its repeated use can lead to simplification. If the scheme really is a city then it is a city with dead-end streets and only two ways in. My point is that the metaphor doesn't necessarily do the project justice.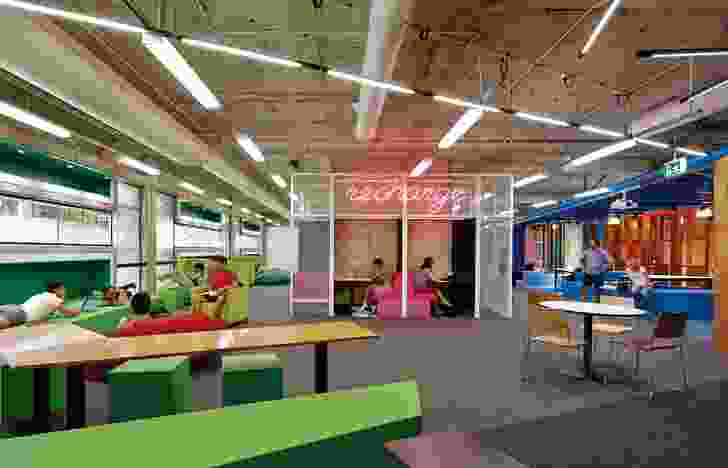 The real question here is the degree to which the space is experimental. Experiment, whether in science, theory or practice, is what universities are supposed to be about, so what might an experimental architecture be in this context? What can the architect's involvement do to provide genuinely new learning opportunities? What's worth experimenting with?
The architects refer to experiments in the performance of a number of materials across the project, and in walking around we discuss issues such as density, which both the architects and client can learn from through the use of the space (it could comfortably accommodate more students). The notion of "agitated space" is clearly at test here too. But ultimately MUSE is a victim of its own success in this regard – it is not surprising that the space is well used, but the uses are predictable. Experimentation demands more than this, it means testing and failure and asking questions that lack obvious answers.
MUSE is a highly accomplished, enjoyable space that will help Macquarie University understand the necessary performance of such spaces in the future, but as a site of experimentation it remains safe. Given the obvious energy, passion and skills of the team I met, I wonder what a truly experimental space might look like.
Products and materials
Walls and ceilings

Metal ceilings by Hi-Light Industries. Sliding walls custom-made from re-used timber desktops.
Flooring

Rubber floor by A1 Rubber. Carpet tiles by Interface.
Lighting

KLIK Systems.
Furniture

Laser-cut foam furniture by Stylecraft.
Kitchen

Metal mesh cabinet faces by Hi-Light Industries. Clear glass splashback with graphic applied on site.
Heating/cooling

Heating/cooling systems by Shelmerdines.
Other

Powered lockers. Movable walls and operable shutters fabricated using recycled schooldesk tabletops. Graffitied walls. Metal mesh recharge pod.
Credits
Design practice
Project Team

Georgia Singleton, Alan Duffy, Jo Dane, Kori Todd, Danny Wehbe, Danny Chan, Chang Liu
Consultants

Base building engineer Shelmerdines Consulting Engineers
Builder Grindley Interiors
Project manager Scotrt Hearne (Macquarie University)
Structural engineer Taylor Thomson Whitting

Site Details
Project Details

Status Built
Completion date 2014
Design, documentation 2 months
Construction 6 months
Category Education, Interiors
Type Adaptive re-use, Universities / colleges

Source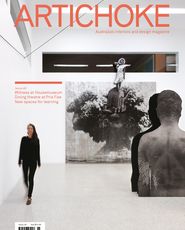 Issue
Artichoke, September 2014
Related topics