With My Mexican Cousin, Six Degrees has created an inviting hospitality venue in a disused space within the Melbourne Recital Centre (MRC). Rather than trying to echo the large-scale language of the MRC facade, or to compete by designing a big, austere showstopper, the project team opted for a pocket that was "jewel-like and welcoming," says Six Degrees director Mark Healy.
As an all-day eatery and bar, My Mexican Cousin wears a number of hats. Situated in the midst of the Melbourne Arts Precinct, the venue caters to the "coffee break brigade" as well as breakfast and lunch destination seekers, and is a before, interval and post-show meeting spot for MRC patrons.
"We wanted to create an inclusive space that enhances the whole building in which it resides, to demystify and draw people in to look at the whole recital centre," Healy says.
The design incorporates a public face and is seamlessly carried from the outside in using bluestone underfoot, while linkage to the MRC is denoted by a transition to bamboo flooring. Carpet inserts provide partial acoustic treatment and are also a softening device.
Different nooks provide a choice of stages for various groups and social situations internally and externally, addressing the need to appeal to a diverse demographic from morning to night. Providing an active street presence is a servery that has a front cafe counter and a side bar that can be opened and closed at different parts, in tune with Melbourne's changing weather and the seasons. Timber decking to the lease line accentuates this effect.
Driven by budget, existing concrete surfaces and exposed pipework inside the lofty volume were simply cleaned and sealed. Decisions were made about what was critical, while working with what already existed. "That's our world – dealing with the fabric that you've got in such a way that it looked intentional and trying to mesh it in," Healy says.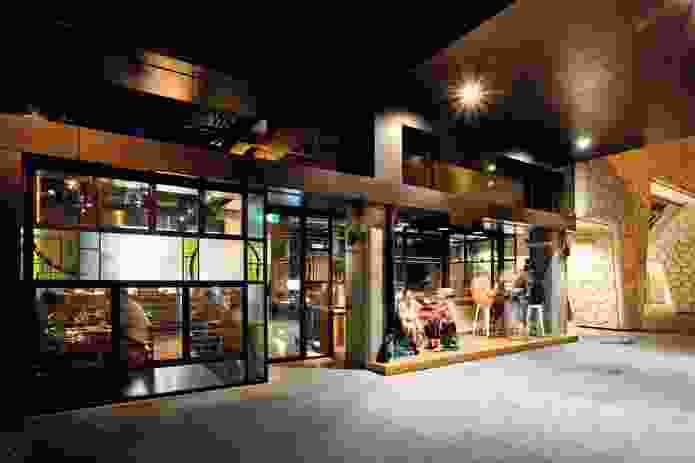 The positioning on the front windows of glass artwork designed by Tony Hall is one technique that helps to graduate the scale of the space. Purposely rough and raw pendant light fittings crafted by Paul Dodd, who also custom-designed the steel windows and doors in collaboration with Six Degrees, is another element that mediates between the exposed infrastructure and eight-metre-high ceiling, and the settled cafe space below. Suspended overhead cabinets sit within the inherited fabric as a screening and storage device while forging a visual interlude.
Healy likens the design – functionally and aesthetically – to that of "a leftover space that's been colonized." This idea is played out on the counter fronts, which make an abstract reference to a stack of packing crates. The fronts are a striking hotchpotch patchwork composed of block sections of different timber species and widths, stainless steel, blue mosaic and larger white tiles.
Adding an extra touch of theatre is the kitchen, which pushes out into the space, while the musical reference in the metal screen design forms a dialogue with the MRC foyer.
Like many hospitality projects by Six Degrees, robust materials have been chosen to fit a particular role and are at the same time expressive in their own right. The plywood backdrop to the rear wall, in tandem with the recycled timber benchtops that are complete with former nail holes, are two such examples. Dropping by My Mexican Cousin the day after it opened, there was an uncanny sense of a long-established venue favoured by an eclectic audience that was using the spaces in many different ways, making each their own – seemingly on cue, as the design intended.
Products and materials
Walls

Concrete Panel. Fosroc. Armour Ply. Metal screens by Paul Dodd.
Lighting

Specialist lights by Paul Dodd.
Other

Stained glass art by Tony Hall with work by AZIZ.
Credits
Design practice

Six Degrees Architects
Melbourne, Melbourne, Vic, Australia
Project Team

Yui Uchimura, Peter Malatt, Mark Healy
Consultants

Builder Liquid Lines

Site details

Location 31 Sturt Street , Southbank, Melbourne, Vic, Australia
Site type Urban
Category Interiors
Type Hospitality, Restaurants

Project Details

Status Built
Design, documentation 6 months
Construction 3 months

Client

Client My Mexican Cousin
Website mymexicancousin.com.au

Source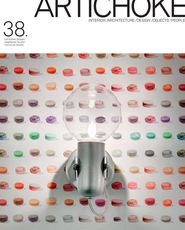 Issue
Artichoke, March 2012
Related topics