The Rexroth Mannasmann Collective isn't a name that rolls easily off the tongue, but it is one that gets noticed. With a back catalogue of novel domestic projects and collaborative speculations, this trio of diversified creatives demonstrates talent for design that is considered and slightly curious – as can be seen in the Myrtle Street House.
On a quiet, narrow street of largely intact single-storey Federation villas, the odd interwar bungalow and occasional two-storey anomaly, a strong, angular form with a steely resolve presents as a "triangle to the street." Brenton Weisert and Giles Lawson – who along with Kirsty Fletcher make up Rexroth – are eager to express their intention to align the new home, which has replaced a house that held little enduring value, with the established character of the street.
Giles explains that they analysed the street context in order to understand the patterns and characteristics of the surrounds. The resulting observations set design parameters for siting, mass, setbacks, roof form, fenestration and detailing, which were abstracted and embraced to generate what became an unexpectedly "uncontroversial envelope."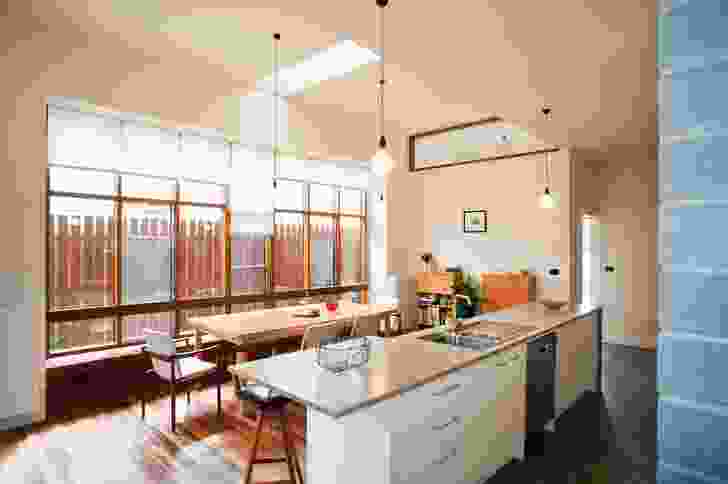 In recasting compositional characteristics of the somewhat picturesque Edwardian neighbours, the refined volume has been sculpted by, and adorned with, a high, pyramidal roof, a shady porch entry with generous eaves, Dutch gable ends and dormer-styled windows. Rexroth was conservative in its approach to the wholly wrapped sheet metal exterior, and concealed an upper storey within the line of the house's roof, satisfying all planning and heritage controls.
Externally, projected openings are proportioned to rhythmically synchronize with the pattern of traditional dormer windows – operable bays highlighted in annealed aluminium within the otherwise timber frames. The openings offer symmetry and relief to the brutal yet refined exterior, and similarly embellish and shade the interior through deep reveals.
While the clients' project brief was programmatically conventional, the couple – an academic and a reflexologist – sought a more passive solution that could economically accommodate the social overlaps of their three-child family. Great value was placed on retreat spaces, and the contracted built footprint required that dedicated circulation spaces be minimized.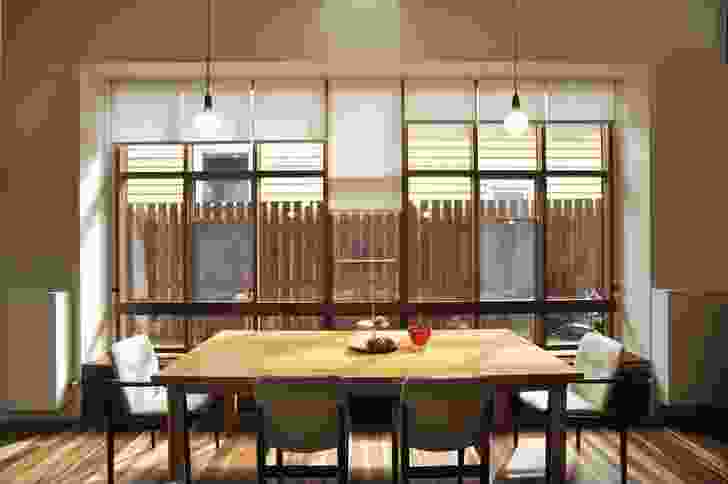 In order to realize this brief, Rexroth has carefully manipulated a robust material palette, employed passive conditioning and efficient space planning, and integrated standardized joinery components. Subservient spaces have been allowed to follow more prosaic resolutions, while detail and scale is the focus where it truly matters.
Similar to its neighbours', the entry porch and anteroom sit to one side of the facade and open out into the centre of the plan, which is "never revealed in full, and instead must be discovered," Brenton explains.
Stretching the length of the materially focused northern flank, a wide band of recycled timber flooring animates the more social and shared family spaces in a defined and elegant sequence. At one end of this tactile strip – in further acts of Edwardian subversion – Rexroth has upturned weatherboards, routed fibre cement sheet and used ornate pressed metal to line both vertical and horizontal planes of the entry threshold. The garden, which stretches the east–west axis out towards the bounds of the site, is tessellated with pavers that have been cut from the former concrete driveway.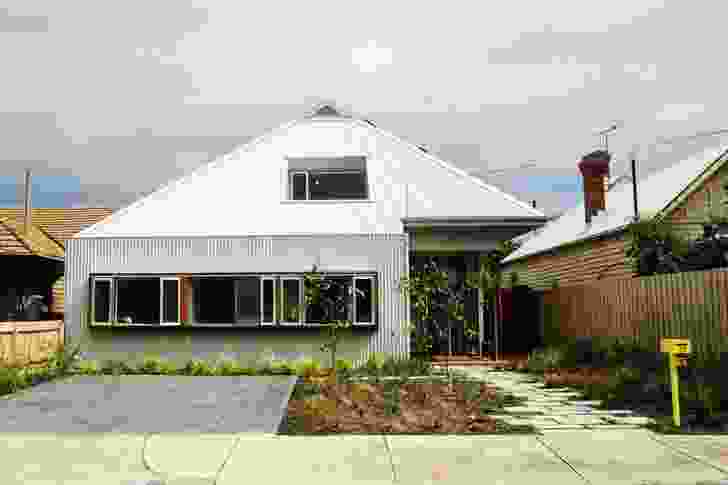 The blockwork stair shaft is key to the project's passive inner workings. The stair is punctured by strategic high-level louvre openings and opportune block manipulations that allow it to act as a thermal chimney by redistributing and venting warm air from the rooms below, while balancing temperature fluctuations through its mass. The expressed stained timber posts and lintels offer material relief to the blockwork and add detail to the composition – Brenton describes them as a "retro engineering triumph of timber supporting concrete block."
The family, which had lived in Germany for a time, had become accustomed to the notion of subterranean living spaces as a means of tightening the built footprint. While not commonly habitable in domestic Australian situations, the basement space that has been inserted here has provided both acoustic separation for an aspiring drummer in the family and additional room for a house in flux. Throwing off any stigmas of dankness, a clever mirrored recess reflects daylight from windows hidden in joinery above, making the cellar walls glow.
Natural light is abundant, with a variety of openings collectively drawing focus towards the more social spaces and contributing to the passive ventilation strategy. Recessed windows puncture through the volume of the roof and skylights striate the lofty ceiling, internalizing the tectonic reality of the exterior.
Facing west, the upper-storey balcony offers the home's ultimate retreat. With views across the lichen-dotted terracotta roofscape to the city silhouette, it's the perfect place for one's sunset gin and tonic.
Rexroth's Myrtle Street House is without pastiche or pretension. Its informed abstractions and material departures present a genuine precedent for architectural progression in the continuing suburban narrative.
Products and materials
Roofing

Lysaght Spandek in 'Shale Grey'.
External walls

Lysaght Spandek in 'Shale Grey'; Cement Sheet Products cement sheets.
Internal walls

Boral concrete block; spotted gum; plasterboard.
Windows

Custom timber and aluminium windows.
Doors

Legge Bergen handles.
Flooring

Burnished concrete with Geal Fondo Industriale finish; spotted gum with Whittle Wax finish; Sisal carpet.
Lighting

Ism Objects light; Thorn Lighting external lights.
Kitchen

Bosch appliances; Kitset Kitchens cabinets.
Bathroom

Sussex Scala taps from Reece; Caroma Opal II toilets; White Stone Hox basins.
Heating/cooling

Roger Jones hydronic heating.
Other

Some furniture supplied by Model No. 143.
Source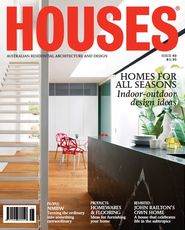 Issue
Houses, December 2012
Related topics