Just like many of the harbour-front areas of Australia's cities, Battery Point in Hobart is highly valued and often contested ground. Such is the perceived worth of this inner-city suburb that its steeply rising banks are defined by a separate planning scheme that protects heritage character. Equally strong is the desire of current residents to protect their piece of ground, which often comes complete with water frontage and views to the boat-filled river.
Having lived and worked in Battery Point for years, Maria Gigney is very familiar with the complex lay of the land. Working best when bound by constraints, her small architecture practice brings its own set of requirements and desires to a project, and focuses on achieving the most sustainable outcome possible, irrespective of the context.
This new home on a south-facing riverbank has become what it is as a result of constraints. Ten years ago, Maria Gigney Architects designed an award-winning house on the adjacent title for the client. Later, when the Napoleon Street House site came up for sale, the client was keen to buy it in order to maintain the character of his little corner and to build a smaller residence suited to his later years of life.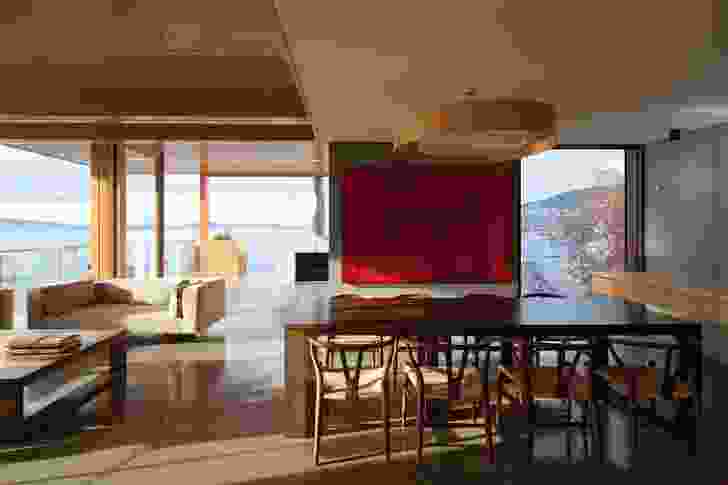 His appreciation of his first Maria Gigney house cemented a trusting relationship with the architect: his new brief to Maria was little more than "make something fantastic." A plan to renovate the existing early-twentieth-century cottage on the site and build a separate pavilion above the water's edge was thwarted by planning regulations, but ironically, a house-sized extension to the cottage was permitted.
So the design proceeded, with considerable thought going into ensuring that this much larger residence had the potential for zoned separation to support cosy, low-energy living. Proceeding also entailed meeting height restrictions, establishing a right of way, protecting the heritage cottage, designing around a sewerage easement across the lower end of the block, sizing materials for a three-metre-wide access and meeting strict requirements for driveway gradients on the steep block.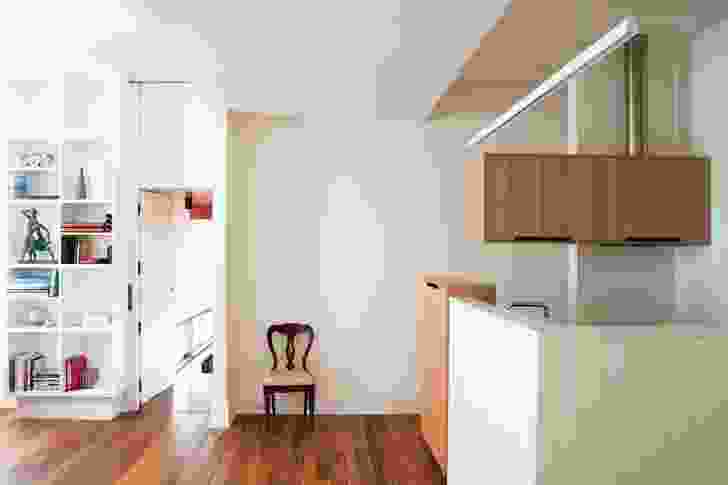 The key organizing device for the building is a precast concrete and timber stair core that provides access to the three main levels of the building. As with each zone in the house, this is heavily insulated, and solid timber doors offer both thermal and aural separation. The main living is done on the mid level, which has an open-plan kitchen, dining and living space connected to outdoor living space, with all focused to the river beyond.
While the final aesthetic is contemporary and minimalist, with a restrained palette of concrete, timber and glass, discussion with Maria reveals that this surface finish is not the only emphasis of the design. These spaces all capture the view, but are actually orientated to soak up as much of the northern sun as possible. The polished concrete floor gathers heat during the day, and this passive heating is supplemented by gas hydronic heating.
A stained Western red cedar margin along the window line defines the floor edge while concealing detailing to insulate the slab edge. The adapted curtain wall double-glazing is designed to prevent the cold coming in, and cross-ventilation removes the need for airconditioning. Precast, off-form concrete walls are either heavily insulated or built as reverse veneer, and have an external cladding of sustainably sourced celery-top pine. If Maria had been able to find the appropriate expertise, the concrete would have been composed of a more sustainable mix.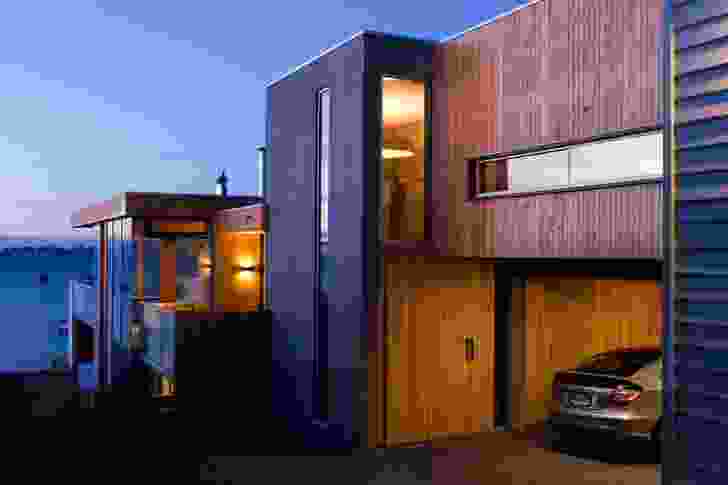 Matched in terms of aesthetic and energy-efficient detailing, the upper level is a lightweight timber "bridge" between the old and new parts of the house, and contains a comfortable main bedroom and luxurious bathroom. The bathroom has a "loo with a view" and connects to a tiny deck; an oval bathtub oriented to the river and completely shielded from neighbouring houses offers a little romance. The lower level contains a lap pool and service areas such as the laundry and a spare bathroom.
The pool is refilled from captured roof water and heated via solar panels on the roof, and has hydronic backup heating. The roof water tank is located to its side to insulate against heat loss. The "gem" within the program is a small glass box wedged into the front of the new building, with glazed walls looking to the river. This is the client's private office and is obviously a distillation of his original brief for a pavilion overlooking the water.
From a set of constraints that would drive most people crazy, Maria has crafted a set of living spaces that fit together like puzzle pieces. She has pushed and pulled the building envelope to satisfy requirements without losing any clarity in the program, and has capitalized on a series of opportunities for view and privacy created by the rise and fall of volumes throughout the building.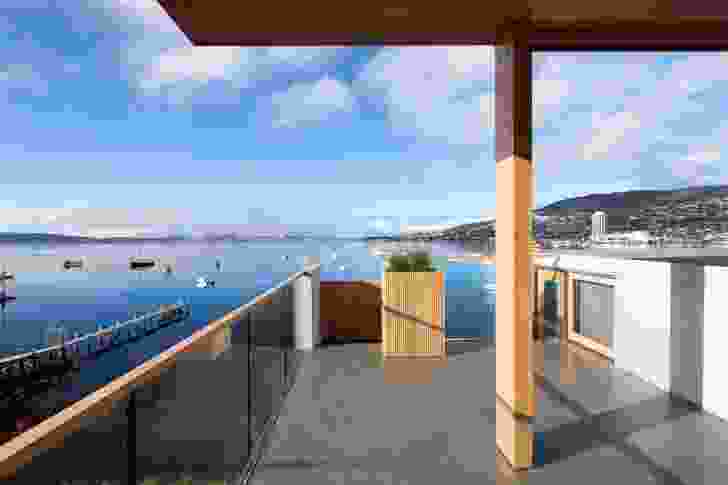 Perhaps the only real lost opportunity relates to the way that this building hovers above the riverbank: these occupants will rarely physically or visually connect to that precious edge. It's a common outcome on these steep sites, and the requirements of easements and planning schemes often contribute, but perhaps it is another challenge that Maria can relish the next time around.
Products and materials
Roofing

Lysaght Klip-lok 406; CSR Bradford Insulation Gold R5.0 high-performance ceiling batts and medium-duty anticon blanket.
Internal and external walls

JMK Construction Group precast insulated concrete panels; celery-top pine vertical board cladding with Taspaints Aquomadd clear finish.
Windows

Custom Cabinets Western red cedar window frames with Intergrain Natural Stain in 'Charcoal'; Capral St Lucia aluminium adaptors.
Doors

Custom Cabinets hardwood frames; doors clad in celery-top pine.
Flooring

Polished concrete; Tasmanian oak boards with Intergrain Natural Stain in 'Charcoal'.
Lighting

Modular Lotis Tubed surface downlights.
Kitchen (main house)

Polished concrete benchtops with HTC Superfloor finish; custom-made stainless steel benchtops and sinks; celery-top pine benchtops with Tasmanian oak to drawer and door faces; Custom Cabinets MDF carcasses; V-Zug hotplates and ovens; Qasair rangehood; Miele coffee machine; Liebherr fridge; Siemens integrated dishwasher; KWC Inox mixers.
Kitchen (cottage)

Laminex Essastone benchtops; 2-pac spray-finished cupboards; Hafele concealed profile pulls; Scholtes Pyro oven and induction cooktop; Blanco Zerox inset sink and drainer; Siemens integrated dishwasher; Methven Minimalist sink mixer.
Bathroom (main house)

Custom stainless steel trough and drain, and Paco Jaanson mixer in powder room; Victoria and Albert Napoli basin and freestanding bath; Paco Jaanson shower mixer, basin mixer and freestanding bath filler; Con-Serv Streamjet shower arm and rose; custom stainless steel shower shelf; DC Short heated towel ladder.
Bathroom (cottage)

Southern Cross Ceramics Matrix Avocado glass mosaic tiles; Forbo Step black non-slip vinyl to shower recess; Laminex Essastone vanity top; Laufen Palomba countertop basin; Brodware City wall mixer set; Roca toilet; Paco Jaanson Seraph accessories; DC Short heated towel ladder; Tasmanian oak cupboards with clear finish.
Heating/cooling

Sime gas hydronic boiler; Raypak gas pool heater; Bosch gas hot water units; Delonghi Linear hydronic radiators; Stovax Riva Studio Edge wood fire (living area); Jetmaster Universal wood fire (external).
Source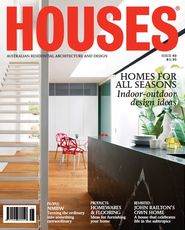 Issue
Houses, December 2012
Related topics