Callum Morton: Have you ever regarded your public work as pieces of architecture or do they exist in a place between art and architecture that is not quite either?
Nathan Coley: I would never describe my work as anything other than sculpture – I'm a specialist. I am deeply suspicious of pluralism, which in the UK is very fashionable, and I am also deeply suspicious of fashion. I'm very clear that in truth I'm a child of Andy Warhol, Marcel Duchamp and Bruce Nauman, and that their teaching has shaped my thinking and my work since I was a student. My association with architecture is purely that I work in the urban realm (a phrase I am suspicious of also).
CM: How do you start? Is context always driving what you do or do you carry ideas around and they find a place eventually?
NC: I'm at an age now that I have a bag of past approaches and thoughts that I travel with. Good ideas waiting for better situations, bad ideas needing to be talked through and then disregarded. I am constantly seeking out conversations with people about what could happen and sensing if this is the right occasion for that idea.
I'd like to think that there is a degree to which my thinking is public-facing and that
a consciousness of the audience is forever known. When collaborating with architects, it's not so much that the language is different but that our perception of the audience and how we think of it is not the same. A focus on public-facing or private-facing work (when in the middle of discussions) seems to be the crucial difference. This of course brings up the notion of the client. I never think of the audience as the client – as someone needing something specific or even needing something I can give them. I find myself talking in terms of "the public" – whoever they might be in these terms – by thinking, "I am not interested in giving the public what they want; rather, I am giving them something they didn't know they could have."
CM: I think this way of conceiving an audience or the public (or in fact not knowing or worrying about them at all) is important as a distinction between the disciplines. This returns to the notion of the functional. Do you see works such as Bandstand as a monument or a stage? It can still clearly be used as a site for performance or occupied in the same way that Bruce Nauman's Square Depression in Munster might be. How is it used? Can you talk about this work and how it evolved?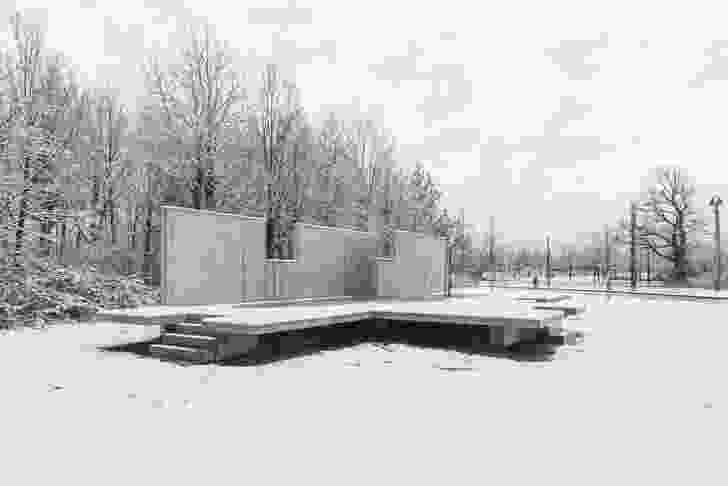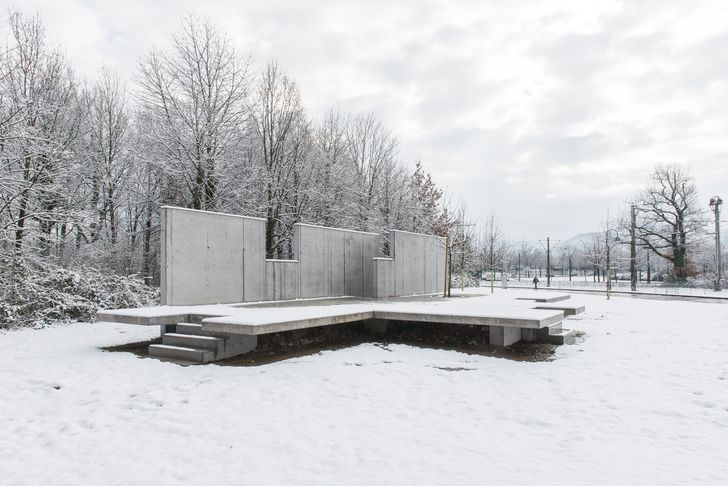 NC: Bandstand was conceived as a public sculpture that reflects the language of its surroundings. It is a permanent work located on the edge of Rieselfeld, a new town on the outskirts of the very old university city of Freiburg in Germany. I proposed it to the city as a performative work, a place where the local brass band could play tunes on a Sunday afternoon (as it did at the launch), or where the local nursery could have its lunch. In truth it is a place for the teenagers of the town to escape from their parents, to smoke and drink beer.
I think of it as a very active object, a sculpture with potential. It's a very good example of a work of mine that, through future use, will reveal its purpose to us.
CM: How do you think artists, architects and designers differ in the way they develop work? You have spoken about the difference in the way these fields conceive of an audience or user, but are there other key differences? For instance, if you were asked to design a chair or a house, would you regard that as a design project like Donald Judd might, or a sculpture? In fact, would you do it?
NC: I'd feel very nervous about designing a chair. These types of invitations are so prescriptive and "set." It's a disregard for the brief that holds my interest in the things I make and a fascination in not just making something better, but using the start of these conversations as just that. I'd end up forgetting ergonomics and function, and instead have a contemporary song written for a choir, which can only be sung when seated! As Cedric Price said, "Maybe the answer is not a building."
CM: That's a good quote from Cedric Price … maybe the answer's a grave! Artists don't provide answers, at least to immediate and measurable questions. The best work reopens questions or takes as its starting point bigger ones, much as you have with the concept of belief. In Memory is one of a number of your works, both public and private, that refer to this idea directly through its subject – in this case a graveyard. I've always thought ecclesiastical architecture and the architecture of the tomb are when architecture comes closest to sculpture in the sense that you refer to it. Would you agree with this?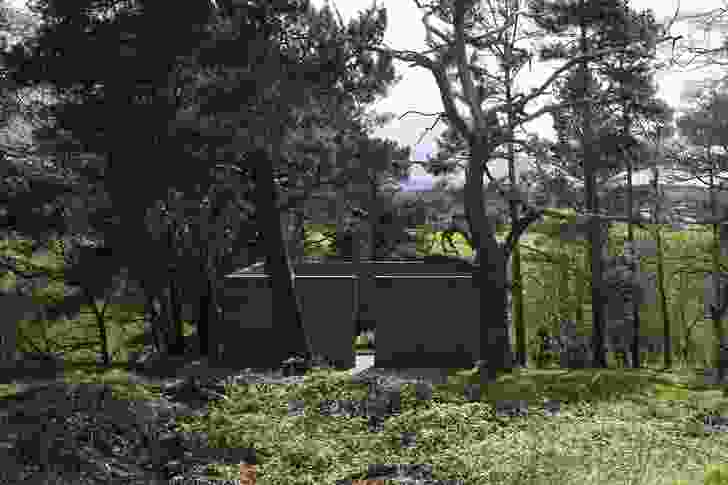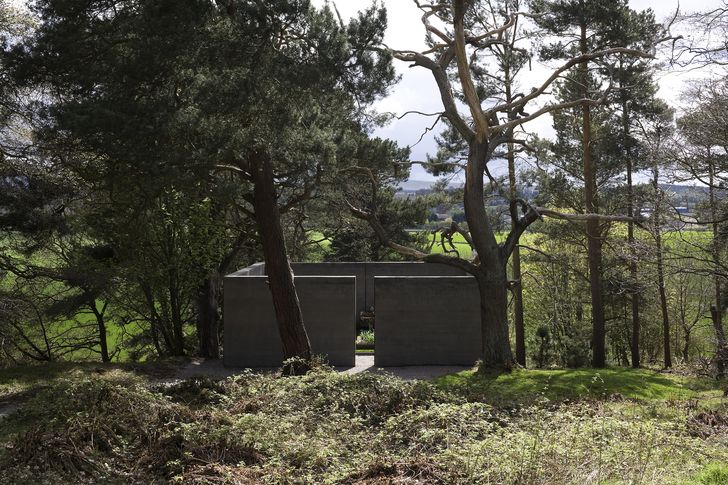 NC: I agree. I think graveyards are the most successful and most legitimate forms of public art, and in that spirit (if you'll pardon the pun) In Memory was made. I've long been interested in how we bury our dead. As someone who makes objects, I think the idea of the tombstone is fascinating – the idea that we make an object to signify the loss of another object.
The invitation was to make a new permanent work at Jupiter Artland at Bonnington House – a private estate near Edinburgh that is the home of a large and developing sculpture park. Many of the artworks are objects in the landscape by artists including Anish Kapoor, Ian Hamilton Finlay and Antony Gormley. I was more compelled to make a place. The work consists of a poured concrete enclosure that is the height of my reach with a narrow entrance the width of my shoulders. On entering you are confronted by a tended graveyard with headstones and planting – instantly recognizable and familiar. On closer inspection, you start to see that the headstones look real, are old, and are of many different styles and importantly of many faiths. When you look closer still, you see that each headstone has had the name removed. The dates remain, the inscriptions untouched, but the specifics have been "redacted."
It's less a work for the collectors and more a work for the house that the sculpture park sits on. By that I mean it sits in the long tradition of country houses having family graveyards that document times gone by. Wonderfully, the older the work gets, the more it settles into the landscape: the concrete goes off, nature comes back, and the artwork becomes better. It's less a work about me and so much more a work about the viewer.
CM: All these ideas and spaces of the social in your work – the lecture, the congregation, the gathering, the choir, the protest – are framed by architecture, but you have consistently privileged the voices and histories that echo around an object. Is there an architecture that comes close to this for you?
NC: I'm a huge fan of Peter Zumthor. I'm thinking of the Steilneset Memorial he designed with Louise Bourgeois, and of course the brilliant Bruder Klaus Field Chapel in Germany. He is someone who I think has his head up and is looking at the world and makes very evocative architecture. I'm as drawn to his way of making as I am to the forms he creates (the burning of the mould to make the chapel) and his attitude to materials and their meaning (slate, water, fire). I think he was a furniture maker before designing buildings.
Source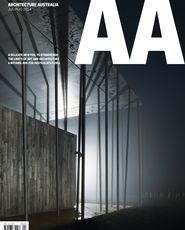 People
Published online: 21 Oct 2014
Words: Callum Morton
Images: Courtesy Studio Nathan Coley
Issue
Architecture Australia, July 2014
Related topics