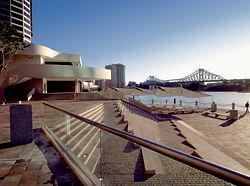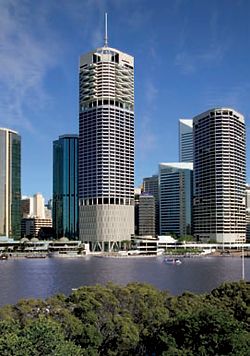 Jury Citation
For a city to reinvent itself, architects and urbanists need to propose new ways of living and working in the city – how to deal with cars, how to live in increasing density, how to work, live and play. Riparian Plaza speculates on these possibilities by proposing a hybrid – apartments stacked on top of offices, in turn stacked on top of a multi-level car park – an unorthodox vertical community of different uses.
The project enhances the conventional modernist tower model of the isolated object within the open space of the city (as opposed to the streetscape convention). By siting the car access on what is perceived as an adjacent site, and using a double helix to plug the cars into the tower at an upper level, the ground plane is left unencumbered for pedestrians and city users. This "gift" of public space links the building's major street address with the river promenade. The convention of the in-the-round commercial foyer is split into two, allowing distinct addresses, with the office foyer facing the street and the residential foyer facing the river.
The tower is extraordinary in the Brisbane skyline, its complex form generated by differing geometries across each of the levels within the stack. The multi-level car park is shrouded in solid precast panels. The offices are equally balanced to all views, while the apartments inflect dramatically towards the river with their undulating balconies. Seen from the city, these inflections create a significant contrast to the somewhat banal towers that run along most of the river frontage.
Although "form follows function" is the rhetoric behind the modernist thinking of this design, the building is in fact deeply aesthetic in a positive way – it is outside the orthodox, and outside the generic commercial city.
Credits
Architect

Harry Seidler and Associates
Sydney, NSW, Australia
Project Team

Harry Seidler, Henry Feiner, Greg Holman, John Curro, Yoji Kurisu, Philip Pedashenko
Consultants

Builder Multiplex Constructions
Lift engineer Serge Debelak NDY
Project manager Incoll TPC
Services Norman Disney Young
Structural consultant Robert Bird & Partners

Site Details

Location Brisbane, Qld, Australia

Project Details

Status Built
Category Public / commercial

Related topics