Monaco House
McBride Charles Ryan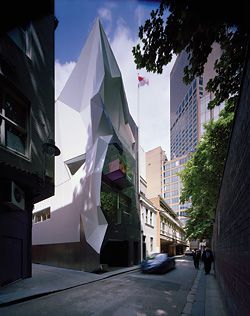 Jury Citation
Composed with skill and technical elan, the wonderfully vivacious and witty facade of this narrow urban building has a magnetic presence in its quiet Melbourne laneway. Seen from an oblique approach or at a close distance, the unabashed audacity of the faceted sculptural form is an engaging and delightful surprise. Furthering the architectonic activation is a petite cafe space that opens directly onto the public access-way, which when complete will surely become a popular destination. Stacked above are three levels of bespoke office accommodation, topped with an artificially landscaped roof terrace, all with views over the leafy walled gardens of the Melbourne Club and the city skyline beyond.
The compact interior is well appointed and finely detailed, in the tradition of a city salon. With Monaco House, the client and architect have together created a welcome addition to Melbourne's catalogue of unique and quirky boutique architecture that contributes so positively to the wonder of this inspired city.

Architect McBride Charles Ryan—design architect Robert McBride; project architect Drew Williamson; design director Debbie-Lyn Ryan; project team Adam Pustola, Fang Cheah, Michelle James, Flynn Lewer, Scott Crowe.
Building surveyor PLP Building Surveyors.
Structural consultant VDM Consulting Engineers.
Environmental consultant Cundall Johnston + Partners.
Quantity surveyor Construction Planning + Economics.
Fire safety engineer Lake Young + Associates.
Services consultant Scheme Consulting.
Builder Easton Builders P/L (Vic).
Glass reinforced concrete Asurco.
Joinery Southern Cross.
Precast concrete SA Precast.
Crane operator Skylift.
Photographer Trevor Mein.

For full coverage see Architecture Australia vol 97 no 2, March/April 2008.
New Acton East
Fender Katsalidis Architects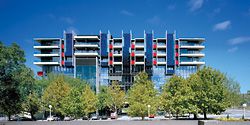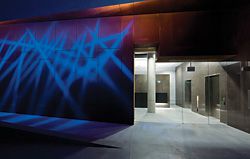 Jury Citation
This mixed-use commercial development, which commands a prominent corner of the local street grid, is the preliminary stage of a larger urban project. The eight-storey complex locates a mix of stylish apartments over column-free office accommodation, with retail tenancies at ground level. The perimeter public space is convincingly drawn through the building's generous and tastefully designed foyer and beyond to the enclosed, quiet urban court featuring a beautiful tree and integrated artworks. In turn, the court links to an adjacent group of heritage buildings, now a well-appointed residential hotel. The design motifs employed for the public space are visually related to the architectural expression and to the carefully articulated details and material palette that successfully distinguish the tall structure. The result is a striking unified development that makes a positive contribution to Canberra's architecture and public space and sets an excellent standard for commercial developments.

Architect Fender Katsalidis—design architects Karl Fender, David Sutherland; project architect Craig Baudin; interior design director Kathie Hall; project team Shem Kelder, Jessica Lee, Katie Roach, Gabriel Kok.
Project manager Coffey Projects.
Mechanical and electrical engineer Rudds Consulting Engineers.
Structural consultant AWT Consulting Engineers.
Hydraulic consultant Cardno Young.
Civil and traffic engineer Hughes Trueman.
Fire engineering Defire.
Landscape consultant Oculus.
Acoustic consultant Acoustic Logic.
Graphics emerystudio.
Builder Construction Control.
Developer Molonglo Group.
Photographer Dianna Snape.