Harold Desbrowe-Annear's Chadwick House, Stage 1
Peter Crone Architects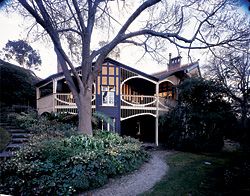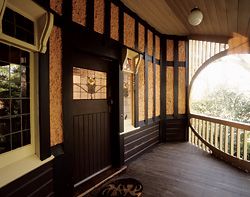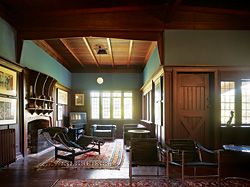 Jury Citation
The restoration and adaptation of the Chadwick House pays homage to original architect Harold Desbrowe-Annear. Peter Crone, through painstaking research and restoration, has enabled an appreciation of Desbrowe-Annear's design intent while creating a comfortable modern living environment.
Insensitive additions have been stripped away to reveal the ingenuity and technical mastery of Desbrowe-Annear. For example, the sliding screen that alternately separates entrance hall from dining room or dining from living room, creating effective flexible space. Where original fabric was missing, the insertions use the same material and craft, with subtle differences in design to differentiate new from old.
An indoor toilet and bathroom has been inserted as a freestanding module within an existing space, enabling the retention of wall panelling and ceilings. It can be removed with minimal impact to the original fabric.
The Chadwick House sits within a precinct of three Desbrowe-Annear houses, on a sloping site, and the restoration extends beyond the garden to the upper house. Funding for this restoration is being supported by a careful land subdivision and construction of an appropriate contemporary house, continuing the speculative tradition of this important Desbrowe-Annear precinct.

Architect Peter Crone Architects—design architect Peter Crone.
Original architect Harold Desbrowe-Annear.
Builder Peter Crone.
Photographers Patrick Bingham-Hall (top), Peter Bennetts (bottom).