H HOUSE
DONOVAN HILL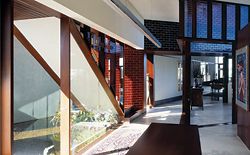 JURY CITATION
The interior of this substantial house both subverts and extends the "inside/outside" tradition of Australian domestic design. It eschews conventional threshold concepts, typified by large areas of glass and endless sliding doors, in favour of a complex series of three-dimensional layers – a kind of subtropical raumplan. Although clearly a well-funded house, there is no excess here, no overbearing spaces for lifestyle needs – only exacting and intelligently designed spaces for a full family life to be lived in.
The various formal operations used to respond to the house's urban context (to protect, and to make private) are complemented by a series of interior operations about inhabitation, which create a complex but measured interior. Its prominent site on the river is "all about the view"; however, the interior spaces curate it in multiple ways – distant and close-up views, theatrical and the prosaic, with foreground and without.
The central space at the primary living level is an unconventional hearth, an open room created by dragging the space of the river deep into the centre of the house. This becomes a pivotal social space – wedged, literally, between the kitchen and the main living space, inviting participation in Brisbane's benevolent environment.
The house is also, it needs to be said, finely crafted, but in a manner that doesn't foreground excessive "beautiful detailing". The details take a backward step in favour of the idea of living in the interior. This idea of interior architecture, which cannot be reduced to a singularity, is perhaps a way for Australian architecture to move beyond the modernist box with crude thresholds to a more complex relationship between the private interior and the public realm.
H House
Architect
Donovan Hill—design architects Brian Donovan, Timothy Hill; project team Adrian Spence, Jeffrey Briant, Rosario Distaso.
Acoustics
Hyder Consulting.
Building surveyor
Bartley Burns.
Communications, electrical, hydraulic and mechanical consultant
James Designs.
Landscape
Stephen Pate.
Structural consultant
G & M Consultants.
Builder
Hutchinson Builders.
Photographer
Jon Linkins.