SOHO SHANGDU by LAB ARCHITECTURE STUDIO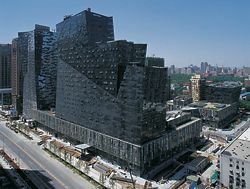 Jury Citation
Working within the rapid-growth economy of China provides serious challenges to international architects. These challenges include the vast scale, complexity and speed of major development, but also, more specifically, the question of how Western architects can provide culturally appropriate design strategies within contemporary Chinese culture.
The Soho Shangdu development clearly meets these challenges. It is an utterly contemporary development, which also engages seriously with the characteristics of Chinese cultural traditions and urban types. The planning is a hybrid, with a Western generic commercial development overlayed with traditional Chinese street and courtyard structures. These references fold back into the contemporary design, to differentiate it from being merely a Western "import" and to connect it directly to a local tradition.
Similarly, the external form of the buildings makes use of traditional Chinese ice-ray patterns (often used in joinery and paving), and scales these references up for use on the mega object. The result in three-dimensional form creates an energetic relationship with the surrounding streets, further adding to the project's engagement with the local. This relationship with the streets clearly counts, and reinforces the success of the project as a relevant proposition for mega-scale urbanism.
Credits
Architect

Lab Architecture Studio
Melbourne, Vic, Australia
Project Team

Peter Davidson, Donald Bates, Mike Buttery, Melissa Bright, Wayne Sanderson, Matt Foley, Ann Lau
Consultants

Construction manager CSCEC
Facade subcontractor Jianghe
Landscape architect Oculus Landscape Architecture & Urban Design
Lighting consultant LDP
Local design institute CABR
Project manager Soho China
Signage and graphics Emery Studio
Structural consultant Arup Melbourne

Site Details
Project Details

Status Built
Category Public / commercial

Related topics