Nigel Peck Centre for Learning and Leadership
John Wardle Architects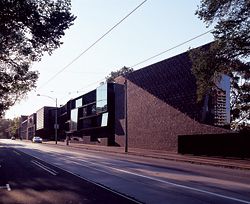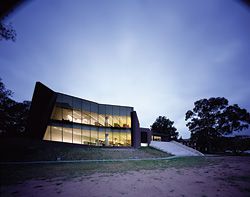 Jury Citation
The Nigel Peck Centre for Learning and Leadership at Melbourne Grammar creates an enduring positive impact on the design of the public domain and on those who use and visit its facilities.
The architecture significantly improves Domain Road and the open space around the site through well-scaled dramatic forms, thoughtful detailing of quality materials and high levels of transparency to connect interior and exterior spaces. It is urbane, sophisticated, inventive and enjoyable to experience.
The character and resolution of the internal multifunctional requirements is exceptional. A sense of wellbeing is promoted in the interior through an imaginative employment of space, light, materials and circulation, ensuring high levels of legibility, appropriate flexibility and amenity for users. The architecture comprehensively integrates interior and exterior experiences to create a compelling learning and teaching environment.
Melbourne Grammar has now successfully implemented another phase of its masterplan, achieving an even greater public presence that conveys, through architecture, a commitment to the highest standards of education and the development of the individual in society.

Architect John Wardle Architects—project team John Wardle, Stefan Mee, Andy Wong, Diego Bekinschtein, Barry Hayes, Kirrilly Wilson, Nick Harding, Stuart Mann, Paul Evans, Fiona Dunin.
Structural, civil and facade engineer Connell Wagner.
Services consultant Lincolne Scott Australia.
Lighting consultant Webb Australia.
IT consultant Umow Lai.
Hydraulic consultant GHD.
Environmental consultant AEC.
Landscape consultant Taylor Cullity Lethlean.
Arborist Treelogic.
Building surveyor McKenzie Consulting Group.
Disability consultant Blythe-Sanderson Group.
Builder Probuild Constructions.
Photographer Trevor Mein.

For full coverage see Architecture Australia vol 97 no 3, May/June 2008.
Albury Library Museum
ARM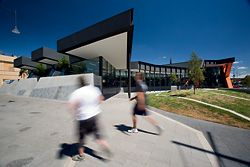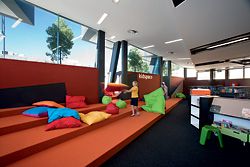 Jury Citation
The Albury LibraryMuseum is a civic facility of regional significance. The architecture is appropriately bold, and perhaps provocative, creating an immediate engagement with cultural issues in the community.
The location of the entry, main library and museum activates the adjacent public space, improving existing pedestrian amenity and contributing to the future development of the public domain. The design strategy demonstrates a perceptive understanding of the role of architecture as a "place maker", particularly as applied to areas requiring continuing public investment and development.
The facility has a strong visual presence in the city. Roof forms, material character, colour and wall fenestration reinforce the arrangement of one- and two-level built forms, and these exterior forms reinforce the spectacular interior of the reading/library room. The museum spaces provide flexible and well-serviced facilities for a wide range of exhibits, enriching the cultural life of the region.
The Albury LibraryMuseum demonstrates the value of contemporary architecture in historic regional centres. It enlivens the community it serves through excellent internal amenity housed within a cohesive form that makes appropriate improvements to the public domain.

Architect ARM—design director Ian McDougall; design architect Andrew Lilleyman; project architects Rhonda Mitchell, Will Pritchard.
Structural and services consultant Irwinconsult.
Exhibition design Banyan Wood.
Builder Zauner Constructions.
Photographer John Gollings.

For full coverage see Architecture Australia vol 97 no 3, May/June 2008.
Seaford Life Saving Club
Robert Simeoni Architects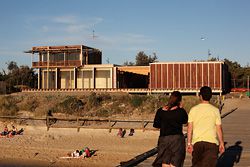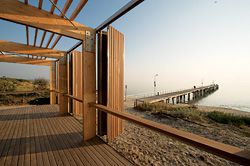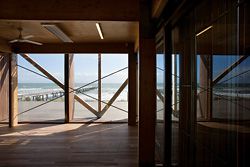 Jury Citation
The Seaford Life Saving Club is a community facility located carefully on the edge of a long public beach over a primary sand dune. Footings have been appropriately minimized to support a generally suspended timber structure with timber and glass infill walls, many of which are operable.
The facility allows its occupants to attend to the safety of beach users, along with the storage of beach craft. These primary functions have been extended with a cafe and additional weather-protected meeting areas for public use.
The architecture is understated in character and subtle in spatial organization, creating appropriate connections to the views as well as to the pedestrian and road access routes of the nearby suburb of Seaford. The detailing is consistent and fully resolved.
The Seaford Life Saving Club is exceptional. It is a refined, cost-effective and sensitive work of architecture in an area of practice where these qualities are rarely, if ever, achieved.

Architect Robert Simeoni Architects—design architect Robert Simeoni; project team Jenny Malacchini, Jonathan Wong, Ben Sztainbok.
Structural consultant Perrett Simpson.
Services consultant ATG Consultants.
Planning consultant Ratio.
Cost consultant DDH.
Landscape consultant Rush Wright Associates.
Disability consultant Blythe-Sanderson.
Coastal engineer Dr Eric Bird.
Land surveyor JCA Land Consultants.
Builder McMahon and Utri.
Project manager Garry Slack.
Photographers Brendan Finn, Mein Photo; John Gollings (middle).