Leura House
James Stockwell Architect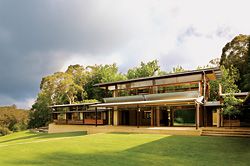 Jury Citation
The design of this house draws on an Australian vernacular of the shed or utilitarian building, executed in a thoroughly contemporary manner. Consistent with that lineage, the house bears all the hallmarks of the inventive and the pragmatic, a building that is highly attuned to its setting and easily manipulated to take full advantage of the varying climate. It is arranged around an L-shape to form a contained exterior space that overlooks a scenic gully. The interior layout is planned for flexibility of occupation, allowing the owner's extended family and friends to come and stay. Each detail of the house is considered to complement the whole and a rich palette of timber and stone gives meaning to every decision the architects have made. The commendable landscaping works seamlessly with the house. Along with the skilfully executed architecture and inventive structural solutions, it turns a beautiful site into a harmonious relationship of people, building and landscape.

Architect James Stockwell Architect—design architect James Stockwell.
Landscape consultant Craig Burton Cab Consulting.
Structural consultant Professor Max Irvine.
Builder Gerald Verhoeven.
Photographer Patrick Bingham-Hall.
Tube House
Adrian FitzGerald of Denton Corker Marshall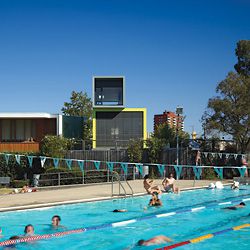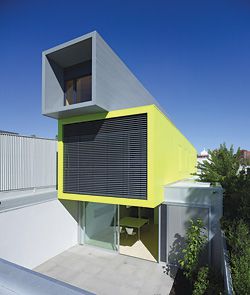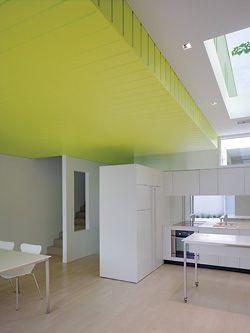 Jury Citation
Set on a tight urban site, this modest house maximizes the permissible building envelope to achieve a residence of great light, crafted space and carefully selected views. In the tradition of great architecture, this small urban insertion turns what normally would be considered the problematic constraints of the site to great effect. The tripartite arrangement of three rectilinear forms that gives the house its name creates three distinctive zones: ground-floor living, first-floor sleeping and upper-level play space/multipurpose room. The upper level "borrows" additional space by making use of a generous and expansive view of the adjacent local council swimming pool. The house is considered at every detail, with nothing left to chance. Each space is crafted with subtle interplays of light and shifts in level to maximize the spatial experience of a very limited site. Even the rear view to the back fence is utilized by manipulating the plane of the boundary to create a tiny but effective and useful studio for one of the occupants. This house demonstrates an excellent model for inner-urban domestic architecture.

Architect Adrian FitzGerald of Denton Corker Marshall—design architect Adrian FitzGerald; graduate architect Nicholas Lee.
Structural consultant Mark Hodkinson.
Building surveyor Metro Building Surveying.
Builder Raisin and Braden.
Joinery contractor Werribee Joinery Cabinet Works.
Photographer Tim Griffith.