YVE APARTMENTS
WOOD MARSH ARCHITECTURE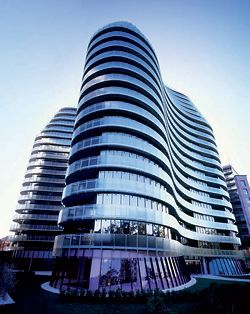 JURY CITATION
This is an extraordinarily well judged and voluptuous experiment in urban form-making. Despite its heroic size and form, the building has a sense of delicacy and subtlety, exploiting the ambiguities created by the layering of different types of glass surface. The curvaceous plan form, which is approximately symmetrical in both axes, lessens the apparent mass of this very large volume and opens space between itself and the two adjacent bulky office buildings. As a result almost all apartments have oblique views, both east towards tree-lined St Kilda Road and west towards Albert Park.
The design inverts the customary programme of this type of building. "Premium" communal spaces that are usually private – the pool and lounge – have been located at ground level, and thus brought to the fore of the "visual public domain". Wrapped by inclined pink- and blue-tinted glass curtains, these rooms contribute to the life of the street while also giving this apartment building the sense of being "a club", with a quality of internal communal life that reflects that of its exhilarating external form.
This is a witty celebration of the inner metropolitan lifestyle. Despite its very stringent budget, it brings glamour and delight to the usually pragmatic, and often dour, area of multiple dwelling design.
Yve Apartments
Architect
Wood Marsh Architecture.
Builder
Sunland Constructions.
Photographer
Peter Bennetts.