RSPCA Burwood Redevelopment, Stage 1: Kennels
NHArchitecture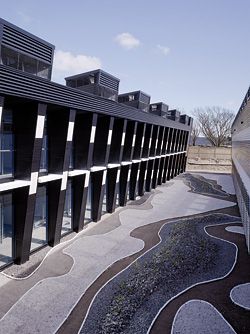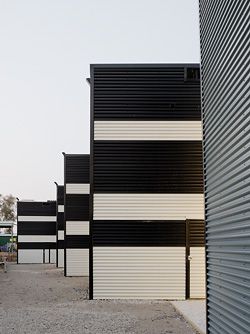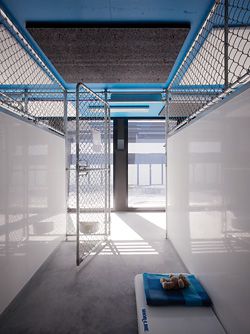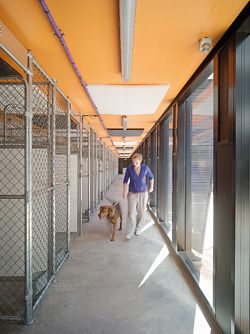 Jury Citation
Melbourne's new RSPCA kennels provide innovative accommodation in a robustly detailed complex which admirably meets the needs of dogs and their carers. Careful research has led NHArchitecture to implement a range of strategies that effectively minimize the dogs' stress, reducing barking and increasing the comfort of both human and canine occupants.
Dogs are housed in a single-loaded, multi-winged, two-storey complex orientated to the north, with the space between wings calibrated to ensure passive solar gain and adequate shading. Dogs can bask in the sun or retreat to the shade, with the comfort of underfloor heating and a passive cooling system consisting of shower towers coupled to wind scoops and Venturi caps. This well-conceived ventilation system provides a high air change rate, minimizing the transfer of scent, which significantly reduces barking.
Playfully landscaped courtyards provide a view for each dog, with a highly visible graphic backdrop of black-and-white corrugated iron cladding. Circulation systems are strongly articulated, which, along with the strong modulation provided by the ventilation shafts, creates a strong architectural expression.
The realization of this project demonstrates the benefits of careful research and sophisticated translation, using simple technologies to significantly advance the provision of accommodation for animals. The building's striking architecture in combination with its happy canine and human occupants has led to increased adoption rates, a tangible example of the benefits of architect-designed facilities.

Architect NHArchitecture—project leader Barbara Bamford; architect Thuyai Chung; director Lyndon Hayward; documenter Iain Walker.
Acoustic consultant Marshall Day.
Building surveyor Peter Luzinat.
Civil and structural consultant Van Der Meer.
Cost consultant Burns Bridge.
Environmental consultant Advanced Environmental Concepts.
Hydraulic consultant C. J. Arms.
Landscape consultant Site Office.
Services consultant Lincolne Scott.
Builder S. J. Higgins.
Project manager Burns Bridge.
Kennel designer and fabricator BigFish.
Photographer Peter Bennetts.

For full coverage see Architecture Australia vol 97 no 1, Jan/Feb 2008.