THURINGOWA RIVERWAY ARTS CENTRE AND PIONEER PARK
COX RAYNER ARCHITECTS AND PLANNERS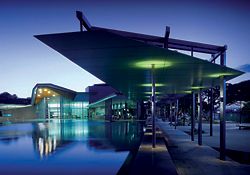 JURY CITATION
This project addresses a fundamental urban design issue, how to create a meaningful and relevant civic realm within the spaces of the suburban edge city. These are spaces that all Australians are familiar with, spaces which require car trips to negotiate them, and which are characterized by "big box" retailing.
The architects, working collaboratively with the Thuringowa City Council (in particular the Mayor), have created a successful new civic precinct within this ubiquitous urban space. Through their strategic work, they have also demonstrated how architects can contribute to the civic realm by working with public clients to create the "vision", consulting with the community, and then helping to garner support for the project through the political process.
The new precinct occupies a river edge and links this back to the retail core. The river landscape included mature rain trees, which have been kept, and the buildings and facilities have been located carefully among these trees and other landscape ecologies.
The precinct also proposes a contemporary response t0 cultural space by joining local community sporting and cultural facilities. This hybrid gives everyone a reason to visit – for sport, followed by the art gallery or parklands, or vice versa. This hybrid programme is strikingly illustrated by the linking of the public swimming "lagoon" with the art gallery, almost finger-jointed together. Families, adolescents escaping the summer heat, and people doing laps can all more or less swim "into" the space of the gallery – and in doing so quite radically transform the convention of cultural space being elitist or rarefied.
As an urban design strategy, the programme, the new buildings, the landscape and the wider master plan have created a significant new gathering space.
Thuringowa Riverway Arts Centre and Pioneer Park
Architect
Cox Rayner Architects and Planners—design architect Tim Morgan; project architect Mark Burrowes; design director Michael Rayner; project team Steve Hunter, Gary Michelson, Arlyn Mangabat.
Civil, structural, electrical, hydraulic and mechanical consultant
GHD.
Acoustic consultant
ASK Consultants.
Landscape
Gamble McKinnon Green.
Cost consultant
Rider Hunt.
Programming consultant
Resource Coordination Partnership.
Certifiers
Thuringowa Building Certifiers.
Project manager
Resource Coordination Partnership.
Client
Thuringowa City Council.
Photographer
Christopher F. Jones.