The Paddington Reservoir park is a genuinely unique urban adventure. Eschewing a top-and-turf answer to the brief, the design team has created a park that is spatially, materially and topographically diverse.
Adroit handling of the section generates the park's experiential qualities. The most ambitious move is the creation of a sunken, public garden room, hewn from the partially ruined reservoir vaults. Visually this immersive space bears a disarming resemblance to the ruins of Hadrian's Villa at Tivoli. An incisive approach to materials and space expresses the archaeology of the site. Each intersection between the extant reservoir fabric and the new architectural insertions is detailed carefully, but without fussiness.
The park facilitates a broad range of experiences – reading a book in the sun, teaching a child how to ride a bike, a midweek lunchtime debriefing. In the sunken courtyard, wire chairs are arranged and rearranged to suit the weather and the gathering. The atmosphere of this park is a direct consequence of its architectural expression.
– Jury citation
Credits
Design and project manager

City of Sydney
Sydney, NSW, Australia
Project Team

Tim Greer, Julie Mackenzie, Trina Day, Roger O'Sullivan, Wolfgang Ripberger, Tamara Frangelli.
Consultants

Architect Tonkin Zulaikha Greer Architects, JMD Design
BCA consultant Blackett Maguire + Goldsmith
Builder Brisland
Certifier Advanced Building Approvals
Electrical consultant Haron Robson
Graphic design Jelly Design
Heritage consultant Warren Smith & Partners
Landscape JMD Design
Planner City Plan
Remediation consultant MPL Health Safety Environment
Structural consultant SDA Structures

Site Details

Location Oxford Street, Paddington, Sydney, NSW, Australia
Site type Urban
Category Landscape / urban
Type Culture / arts, Outdoor / gardens, Public / civic

Project Details

Status Built

Source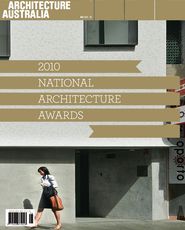 Issue
Architecture Australia, November 2010
Related topics