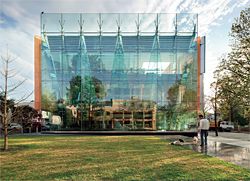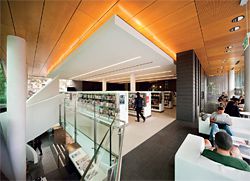 Surry Hills Library and Community Centre by Francis-Jones Morehen Thorp (FJMT)
Jury Citation
The initiatives integrated into this project, along with the support of client Sydney City Council, have enabled it to develop and test ideas that may well inform future sustainable principles.
This building derives significant architectural character as a direct result of air, light and sun management.
The beautiful glazed wall to the south draws air across a green garden on the roof down into a labyrinth where temperatures are managed.
A geothermal heat exchanger provides an additional control device and the placement of "green" bio-filter gardens at ground level absorbs CO2 and releases O2, acting as passive filtration to the controlled air environment. This system is an initiative of the architects and represents an intelligent move to better refresh air within a closed commercial office space.
Results to date indicate higher oxygen levels along with more active work environments.
The architects have also used the southern thermal wall as a facade of light. Along with the automated vertical louvre system on the east and the skylight on the upper level, this significantly reduces demand for artificial light.
Photovoltaic panels, low-VOC finishes, rainwater storage tanks and the assisted management of temperatures using carefully located thermal mass all add to the extent that this project has considered its sustainable responsibilities as a community exemplar.
The Surry Hills Library establishes new systems and refines existing ones. It is a contemporary expression of the alignment between architecture and environmental management.
For full coverage see Architecture Australia vol 99 no 2, March/April 2010.
Images: John Gollings
NATIONAL COMMENDATION FOR SUSTAINABLE ARCHITECTURE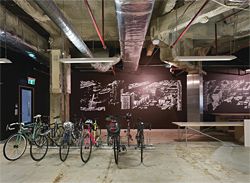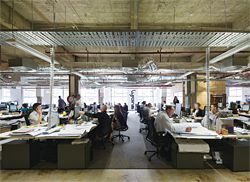 Lyons Architecture Office by NMBW Architecture Studio
Jury Citation
Lyons commissioned NMBW for a fitout with an essential brief of low energy and resource use combined with the fundamental requirement of a pleasant work environment. With a movement toward A grade office accommodation over the last ten years, such a brief contrasts with the strict tenancy lease arrangements that accompany commercial property.
Responding to the Lyons office philosophy, the architects adopted a less-is-more attitude. They stripped the floor plate of unnecessary decor, exposing raw structure and working with existing conditions to explore potential. Services are exposed, space remains accessible, structure is sealed but not painted, finishes are only applied where necessary. There is a philosophical and physical elimination of waste.
The architects developed a standard set of details that could be appropriated throughout the project and selected economic and durable materials. In general the aesthetic is raw and direct with equitable access to resources, i.e. light, food preparation, meeting rooms and desks, data, printing and principals.
Employees are encouraged to ride to and store bikes at work and the office employs a chef once a week for a large sit-down meal. The generous open-plan studio reflects a strong social agenda, which equally contributes to the sustainable value of this office fitout.
For full coverage see Artichoke 31.
Images: Peter Bennetts.
Credits
Architect

fjmt
Australia
Project Team

Richard Francis-Jones, Jeff Morehen, Simon Barr, Lance White, Alison Jones, Misha De Moyer, James Perry, Josephine Turner, Peter Wise, Matthew Todd, Mark Brandon, Chris Thomas, Michael Harvey, Elizabeth Sandoval, Jason Green, Andrew Stanton,
Consultants

Acoustic consultant Acoustic Studio
Audiovisual consultant Noisebox Entertainment Systems
Builder ProBuild
Code consultant Davis Langdon
Design management City of Sydney
ESD, mechanical, electrical and fire Steensen Varming
Fire engineering Arup Sydney
Hydraulic consultant Warren Smith & Partners
Landscape architects fjmt
Project management City of Sydney
Quantity surveyor Rider Levett Bucknall Sydney
Signage consultant Collider
Structural consultant Taylor Thomson Whitting

Site Details

Location 405 Crown Street, Surry Hills, Sydney, NSW, Australia
Site type Suburban

Project Details

Status Built
Website http://www.cityofsydney.nsw.gov.au/development/cityimprovements/CompletedProjects/SurryHillsLibraryCommunityCentre.asp
Category Education, Public / commercial
Type Public / civic

Products and materials
Walls and ceilings

C–D grade structural plywood linings. Woven Image Ecopanel pinboard surfaces. Aluminium cladding.
Windows and doors

KDHW stud framing. Lidi custom external blinds. Henderson sliding door tracks and fitting. Sikkens Cetol HLS Ebony stain. Reclaimed Lockwood door furniture.
Flooring

Ontera recycled carpet tiles.
Lighting

Superlux Equipose clamp-on desk lamps. Zumtobel Miral strip lighting. ECC Parallel spot lighting.
Furniture

Custom-designed tables, joinery and bicyle racks by NMBW. Laminex kitchen benchtops. Loose furniture, mobile light fittings and artwork by Carey Lyon and Corbett Lyon.
Related topics