The National Centre of Indigenous Excellence (NCIE) provides a place for building bridges and confidence while demonstrating a connection to the past and a direction for the future. The adaptive reuse of the heritage-listed Redfern Public School buildings was a catalyst for the reinvention of this large site in Redfern as a new public place.
At the centre of this transformation is an open space on the former school playground that has been developed as a multi-level public forum, alternating hardscape and softscape elements as it negotiates the level changes of the site. The complex needs of providing for secure and open areas are skillfully woven into the design of the public domain so that all spaces contribute to the overall success of placemaking here.
The largest intervention on the site is the Eora Sports, Arts and Recreation Centre, a large volume that needed to be carefully modulated to sit comfortably adjacent to the smaller scale of the nearby terrace houses and more finely scaled details of the heritage school structures. The addition of smaller scaled colouring elements to the facade of this facility serves as a counterpoint to the size and scale of the facility itself.
The schools themselves have been reconfigured to provide for a much more complex program than originally envisioned. They now provide for study space, living space, dining space and community spaces, which ultimately tell the story of new life that the NCIE represents.
This project also received the Lloyd Rees Award for Urban Design at the 2011 NSW Architecture Awards.
– Jury citation
On Australia Day/Survival Day 2011, we came together for the first time at Circular Quay, Sydney. We all felt really nervous but once we were on the GenerationOne Ferry with our brothers and sisters and cousins, and we began to meet other participants and the kids who had already done the program, it felt better. And we won the dance-off on board by busting out moves to Thriller. Anyway, our ferry won the race and was judged 'best dressed' … So we swam at the National Centre of Indigenous Excellence in Redfern – it's our home in Sydney. We played games. I still can't remember everyone's names!
For full coverage see National Centre of Indigenous Excellence.
For a full list of awarded projects see 2011 National Architecture Awards – the winners and for more awards discussion see Rachel Hurst and Rory Hyde's responses to the awards and the jury overview by Karl Fender.
Credits
Architect

Tonkin Zulaikha Greer Architects
Sydney, NSW, Australia
Project Team

Peter Tonkin, Jeremy Hughes, Bettina Siegmund, Julie Mackenzie, Roger O'Sullivan, Wolfgang Ripberger, Vanessa Van Schalkwyk, Elizabeth Muir, Tamara Frangelli, Christian Williams, Regina Meyer, Brian Zulaikha, Paul Rolfe, Toby Ware, Antonia Bromhead
Consultants

Acoustic consultant Renzo Tonin & Associates
Builder St Helliers
Construction manager Coffey Projects
ESD Tonkin Zulaikha Greer Architects, Simpson Kotzman
Environmental graphics Tonkin Zulaikha Greer Architects
Heritage consultant Tonkin Zulaikha Greer Architects
Hydraulic consultant ACOR
Kitchen consultant Cini Little
Landscape consultant 360 Degrees Landscape Architects
PCA Blackett Maguire + Goldsmith
Pool ACOR
Quantity surveyor WT Partnership, Turner & Townsend Rawlinsons
Structural consultant SDA Structures
Town planning MG Planning
Traffic consultant Transport & Traffic Planning Associates

Site Details

Location Redfern, Sydney, NSW, Australia

Project Details

Status Built
Category Public / commercial
Type Culture / arts

Source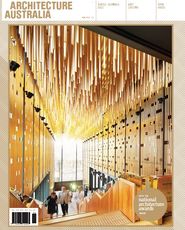 Issue
Architecture Australia, November 2011
Related topics