1010 LATROBE STREET
ARM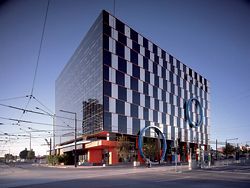 JURY CITATION
The speculative office building, developed for unknown tenants, presents architects with very particular challenges – to create a marketable "brand" while also providing real amenity to its future occupants. Part of the Digital Harbour precinct in Melbourne's Docklands, 1010 LaTrobe Street, tackles these challenges head-on, with a sophisticated, even savvy, alacrity.
The generic grid of the conventional curtain wall is subverted by incorporating an optical illusion (Dr Richard Gregory's "cafe wall" illusion), whereby the horizontal lines appear to slope and shift. As a result the building demands a second glance, declaring its intention to transcend the generic, and promoting a reaction from passers-by – did I really see that?
The interior also challenges expectations. An intensely coloured and lit lobby space offers an alternative to the genteel conventions of stone and glass. It is not "corporate", but is deeply corporate, as the workplace evolves and contemporary businesses seek a change in what they offer to their staff.
Within the tight budget of the speculative project, the architects and developers have also achieved remarkably high levels of sustainability, particularly in terms of energy and water consumption. In tenancy areas, occupants have the advantage of exceptional views of the city and the docks, and here the conventional grid ceilings have been dispensed with, exposing structure and services. This simple strategy shifts the experience of the office areas towards the "studio", an effect not possible within the convention of the 2700-mm "sandwich".
A "brave" strategy in the speculative market has been rewarded with a fully tenanted building, proving that good design, even design outside of accepted conventions, can find its audience.
1010 Latrobe Street
Architect
ARM—project director Stephen Ashton; design director Howard Raggatt; project architects Jesse Judd, Lisa Cummins, Martine de Flander, Alan Kueh, Antony McPhee, Jeremy Stewart, Greg Watt.
Acoustics
Watson Moss Growcott.
Services
Norman Disney and Young.
Structural
Connell Wagner.
Landscape
Rush/Wright Associates.
Lighting
NDY Light.
Building surveyor
Philip Chun and Associates.
Cost consultant
Rider Hunt.
Developer
Digital Harbour.
Builder
Baulderstone Hornibrook.
Photographer
Peter Bennetts.