The Cheong House
Robertson and Hindmarsh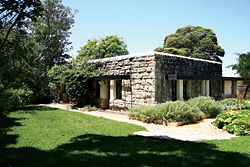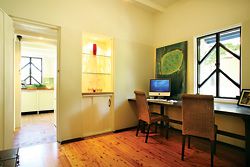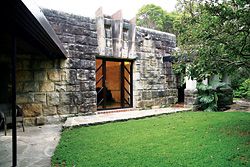 Jury Citation
The Cheong House in Castlecrag, designed by Walter and Marion Griffin, was in a near derelict state, largely through constant water penetration over many years. Much of the fabric was beyond repair but original elements such as stonework, remnant ceilings and joinery were retained and repaired.
The cultural significance of the house dictated an understanding of the original design intent, with elements such as the roof, window hoods, floors and ceilings re-created in authentic detail. The house is modest in scale, so retention of the original perimeter and layout was a major achievement, with modern appliances such as a refrigerator seamlessly integrated within the kitchen's original layout.
The Griffins' landscape vision for Castlecrag can now be appreciated, with the neighbouring Griffin-designed Moon House and Lookout Reserve. Robertson and Hindmarsh have re-created a delightful family home, which contributes to an understanding of the Griffins' architectural prowess.

Architect Robertson and Hindmarsh—project architect Scott Robertson; architect Jan Robertson.
Original architect Walter Burley Griffin, Marion Mahony Griffin with laundry alterations by Hugh and Eva Buhrich.
Structural consultant Simon Wiltshier.
Colour consultant Edwina Hirst.
Stone consultant Anne Higham.
Builder Graham Fury.
Stonemason Jasper Swann.
Photographer Chris Elfes.