THE SMITH GREAT AUSSIE HOME
CASSANDRA COMPLEX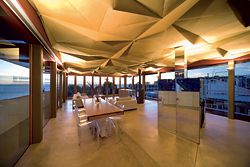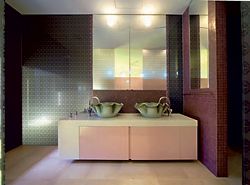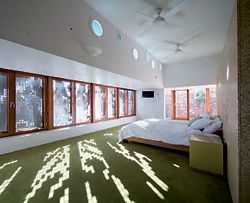 JURY CITATION
The interior of this bayside home in Melbourne is full of architectural ambition, ambition to rethink the interior of the Australian dwelling and to move beyond the contemporary penchant for minimalist spaces or for neutral containers for "informal living". It dares to contemplate life in a house as more than an aggregation or sequence of spaces. The house is part theatre, part celebration of things specific to the resident family.
The house is a series of interior architectural episodes, linked by the day-to-day run of the family. To mention but a few – an entry foyer of "shattered" space created by a faceted mirror wall, a window mural of Thorpie, bespoke patterns for each of the family members in their bedrooms, and Collingwood bathrooms for one-eyed supporters.
This sequence of episodic interiors leads inexorably to the living level on the top floor, with views to Port Phillip Bay. This singular open living area is surrounded, literally, by a pool – not a shimmering infinity edge pool, but one more like a moat protecting the family from the vagaries of its surrounding context. The ceiling of this vast room is also extraordinary – part petals, part Griffin, part soft acoustic treatment, and part fractal geometry – a luxuriant quality created as if by fixing soft furnishings to the ceiling.
This interior is not for the faint-hearted, and certainly not for those who like their interiors lighter than white. It demands to be noticed, demands that interior architecture can have big ideas, which may be deeply personal, but which also, dare it be said, may be cultural.
The Smith Great Aussie Home
Architect
Cassandra Complex—project team Cassandra Fahey, Scott Woodward, Matthew Bird, Tobias Pond, Nick Ruljancich.
Structural consultant
MacCleod Consulting.
Landscape
Cath Stutterhein Landscape Architecture.
Building surveyor
BSGM.
Builder
Frank.
Photographer
John Gollings.