Queensland Brain Institute
John Wardle Architects and Wilson Architects (in association)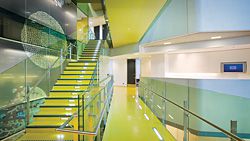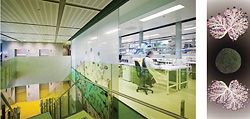 Jury Citation
Undeterred by the technically complex servicing and tight operational controls that define laboratories, the architects have responded with a sophisticated architectural outcome. The secure working environment, which must prioritize highly specialized procedural specificities, is handled with skill and sensitivity to human occupation.
An ensemble of comfortable break-out spaces to meet, rest or complete ancillary tasks are distributed around the central core of laboratories. Visual connection to the heart of the building – the central labs – is maintained through glazed panels. Artificial lighting is fully and carefully integrated to further distinguish working spaces, circulation and support areas. Filtered natural light floods the interior, and many framed views link the interior to the university's grounds and city skyline beyond. These visual connections give an impression of generosity and openness to this busy and compact work space. Furthermore, the signature vibrancy and inventiveness of the architectural language, the refined detailing and the coordinated furniture and fittings that complement the social spaces within the complex, achieves an extraordinary standard for this specialized research laboratory. The impressive result is a valuable asset for the University of Queensland.

Architect John Wardle Architects and Wilson Architects (architects in association)—project director John Wardle; project architects John Thong, Brent Hardcastle, Tom Drazic; architects Nick Lorenz, Andrew Wong; design architect Stefan Mee; interior designer Jeff Arnold.
Structural consultant Connell Wagner.
Civil and environmental consultant Arup.
Electrical consultant Ken Gallienne & Associates and Hawkins Jenkins Ross.
Quantity surveyor Rider Hunt.
Mechanical consultant S2F.
Hydraulic consultant Steve Paul and Partners.
Acoustics ASK.
Building surveyor Certis.
Landscape consultant Wilson Landscape Architects.
Project manager UQ Property and Facilities.
Builder WATPAC Construction.
Photographer Christopher Frederick Jones.
Darling Point Apartment II
Stanic Harding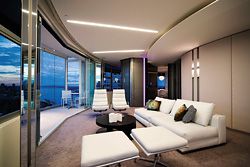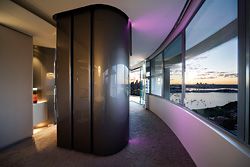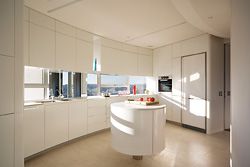 Jury Citation
This elegant, finely appointed apartment occupies an entire floor of a circular 18-storey tower in Darling Point. The stunning, 360-degree panoramic view has been fully celebrated by the planning layout. The architects have developed a sequence of interconnected circular spaces that radiate from the central core. The circular geometry and curved surfaces are skilfully detailed and easily absorb all the practical and functional requirements of a residential environment. Throughout the apartment, the comfortable and refined interior employs a limited palette of quality fabrics, materials and finishes, rendered in a deliberately restrained range of muted tones. Concealed and expressed lighting is used functionally and to imbue subtlety to the overall mood.
The encompassing expression of refined comfort is complemented by the inventive and carefully crafted details. The finished interior is a thoroughly considered, finely tailored and luxurious sanctuary within a unique residential tower in a beautiful Sydney suburb.

Architect Stanic Harding—design architects Andrew Stanic, Andy Harding; project documentation and co-ordination Andy Harding, Hugo Harpley, Peter Christensen.
Structural consultant Partridge Partners.
Builder Alvaro Brothers Master Builders.
Joiner VRD Detailed Joinery.
Photographer Paul Gosney.