MCG Redevelopment
MCG5 Sports Architects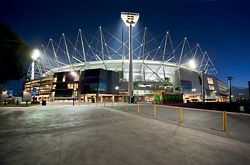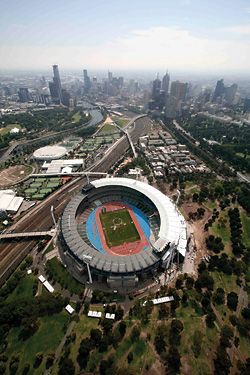 Jury Citation
The design of contemporary large sport stadium infrastructure involves complex programming, construction technology and delivery procedures. The redevelopment of the MCG's northern stand demonstrates that culturally significant architecture can be achieved within these constraints, and even drive the procurement process to a substantial degree.
As a result, Melbourne has a sports stadium with exceptional user amenity and positive effects on the design of the associated public domain. The architecture has a strong and memorable character developed from the structure and logic of circulation requirements. A series of related forms reflect the secondary uses of the brief and increase the range of activities available to those attending sporting events.
The new northern stand completes the circle of covered seating within the historic arena, providing 55,000 new seats with excellent sight lines and access to a wide range of facilities, including a substantial museum for sport.
Movement to and from the surrounding areas through entry points and then to large void areas helps orientate users to access the various amenities. The experience of space is exceptional, adding enjoyment to the pedestrian experience between the outside spaces and the arena. Attendance at major events is heightened through the architecture, providing a broader cultural experience than is usually associated with sporting events.

Architect MCG5 Sports Architects—design architects Darryl Jackson (Jackson Architects), Patrick Ness (Cox Architects); project team Philip Cox (Cox Architects), Brian Smith (TSE Architects), Andrew James (HOK Architects), Tim Shannon (Hassell).
Structural consultant Arup.
Structural and services consultant Connell Wagner.
Cost consultant WT Partnership.
Builder Grocon.
Photographers John Gollings (top), Peter Hyatt (bottom).

For full coverage see Artichoke 15.
Hawke Building
John Wardle Architects and Joint Project Delivery with Hassell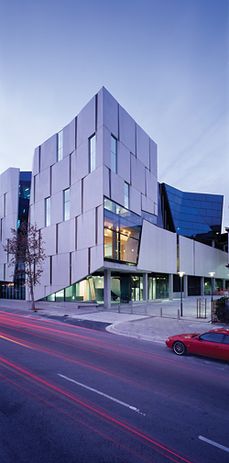 Jury Citation
The Hawke Building is the latest addition to the ambitious redevelopment program of the University of South Australia campus in the city of Adelaide.
It skilfully accommodates a complex range of facilities, including the publicly accessible Samstag Museum of Art and Bradley Forum as well as the more private Chancellery and related office accommodation. The main foyer – with its intertwined "double stairs", one black and the other white – is an ingenious solution to the complex security and access issues created in the brief.
The Hawke Building and the adjacent Kaurna Building complete an important public pedestrian link, which provides high levels of activity and access at grade and significantly enhances the public domain.
The building form and material character are exceptional, further contributing to the perception of the university as a place of cultural interest committed to achieving excellence in the design of the built environment.

Design architect John Wardle Architects.
Joint project delivery John Wardle Architects and Hassell.
Cost consultant Rider Levett Bucknall.
Services consultant Bestec.
Structural and civil consultant Wallbridge and Gilbert.
Acoustic consultant Vipac.
Building surveyor Katnich Dodd.
Lighting consultant Webb Australia.
Signage Emery Studio.
Museum consultant Cate Hall.
Disability consultant Disability Consultancy Services.
Builder Built Environs.
Photographer Sam Noonan.

For full coverage see Architecture Australia vol 97 no 1, Jan/Feb 2008.