Wilson House
Denton Corker Marshall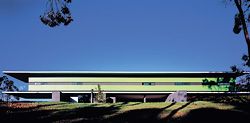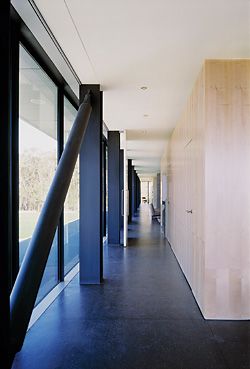 Jury Citation
This is a country house set atop a hill with expansive views. It is sited precisely, taking advantage of the scenic approach to the almost classically arranged pavilion, a passage through a copse of twisting gums. Deceptive in its scale, the house sits impressively on the site, rising up from the massive concrete foundations that firmly embed the steel-framed pavilion in the ground. An impressive cantilever to the western wing of the house could almost be considered the architect's folly, and yet the structural gymnastics of this design give a lightness to the form of the upper level that acts as a perfect counterpoint to the heavy foundations. The interior of the house is a simple arrangement, executed with skill and a certain finesse. An arrangement of boxes organizes the space and prioritizes the view. Material selection and resolution of detail demonstrate an architecture that is assured and masterly in its execution. This house is a confident design of fine detail that sits powerfully within the landscape.

Architect Denton Corker Marshall.
Structural consultant Burns Hamilton and Partners.
Services consultant Thomas Consulting Group.
Hydraulic consultant Sanderson Consultants.
Landscape consultant Tract Consultants.
Builder Skate Constructions.
Photographer Shannon McGrath.