Fremantle House
Simon Pendal and Rebecca Angus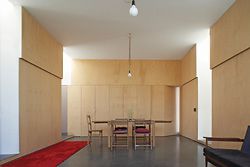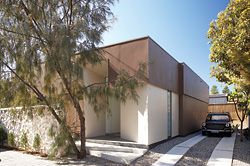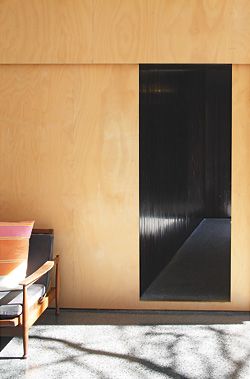 Jury Citation
The Fremantle House is a small project with large ambitions. The strategies and methodologies established by the architects on their first house are easily transferable across a scale of buildings and will no doubt form the foundations of a promising architectural career. The house is well grounded conceptually and offers an alternative model for site occupation. The courtyard arrangement of the house makes the most of a small site. This is a decidedly introspective house that still manages views beyond the exterior plane of the dwelling to expand the space of the interior. The carefully curated interplay of light on materials and the manner in which both artificial and natural light are indirectly controlled shows great skill and breathes life to the building and its occupants.
Material selection is inventive and maximizes the tight budget, with the smallest detail of every aspect of the project well considered. One would hope that this house demonstrates an alternative to the excesses of the majority of current domestic construction in Australia by providing a modestly sized, light-filled house on an increased site density that above all is a pleasure to live in.

Architect Simon Pendal and Rebecca Angus—project architects Simon Pendal, Rebecca Angus.
Structural consultant Brian Nelson (Capital House Australasia).
Builder Chris Gavin (Don Gavin Developments), William Eyres.
Photographer Robert Frith.