K2 Apartments
DesignInc Melbourne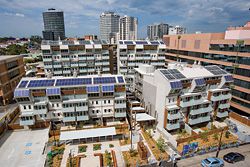 Jury Citation
K2 Apartments provides inner-city, high-density accommodation with excellent environmental performance within the constraints of public housing. Ninety-six units are configured in four blocks, all with northern living spaces and balconies, achieving good solar access and an attractive outlook to landscaped communal space.
The placement of balconies, sunshades and privacy screens develops a lively streetscape, which is further enhanced by the landscaping zone bordering the main frontage. This creates a small public park, inviting engagement with the broader community.
DesignInc has skilfully used site levels to conceal car parking, which maximizes communal open space. Elements such as rainwater tanks and shade structures provide interpretive opportunities.
The development skilfully integrates passive design, recycled materials, water catchment and smart specification choices such as double glazing to achieve a high level of environmental performance. K2 Apartments provides a model for urban living, benefiting residents and the broader community.

Architect DesignInc Melbourne—project director John Macdonald; design director Stephen Webb; project architects David Cox, John Sprunt, Jenny Dudgeon.
Engineer and service consultant Arup.
Quantity surveyor Davis Langdon Australia.
Landscape consultant Landarche.
Building surveyor PLP Building Surveyors and Consultants.
Builder Hansen Yuncken.
Developer The Department of Human Services, Office of Housing, Property Services and Asset Management.
Photographer David Wierzbowski.