Lyons commissioned NMBW for a fitout with an essential brief of low energy and resource use combined with the fundamental requirement of a pleasant work environment. With a movement toward A grade office accommodation over the last ten years, such a brief contrasts with the strict tenancy lease arrangements that accompany commercial property.
Responding to the Lyons office philosophy, the architects adopted a less-is-more attitude. They stripped the floor plate of unnecessary decor, exposing raw structure and working with existing conditions to explore potential. Services are exposed, space remains accessible, structure is sealed but not painted, finishes are only applied where necessary. There is a philosophical and physical elimination of waste.
The architects developed a standard set of details that could be appropriated throughout the project and selected economic and durable materials. In general the aesthetic is raw and direct with equitable access to resources, i.e. light, food preparation, meeting rooms and desks, data, printing and principals.
Employees are encouraged to ride to and store bikes at work and the office employs a chef once a week for a large sit-down meal. The generous open-plan studio reflects a strong social agenda, which equally contributes to the sustainable value of this office fitout.
– Jury citation
Products and materials
Walls and ceilings

C–D grade structural plywood linings. Woven Image Ecopanel pinboard surfaces. Aluminium cladding.
Windows and doors

KDHW stud framing. Lidi custom external blinds. Henderson sliding door tracks and fitting. Sikkens Cetol HLS Ebony stain. Reclaimed Lockwood door furniture.
Flooring

Ontera recycled carpet tiles.
Lighting

Superlux Equipose clamp-on desk lamps. Zumtobel Miral strip lighting. ECC Parallel spot lighting.
Furniture

Custom-designed tables, joinery and bicyle racks by NMBW. Laminex kitchen benchtops. Loose furniture, mobile light fittings and artwork by Carey Lyon and Corbett Lyon.
Source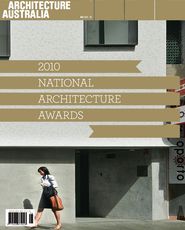 Issue
Architecture Australia, November 2010
Related topics