JURY CITATION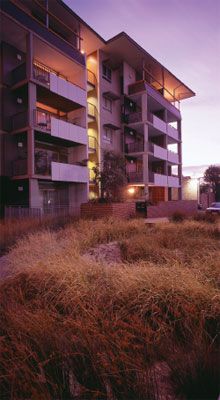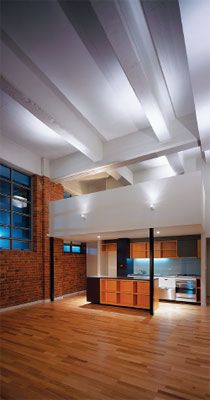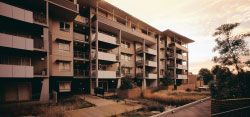 This National Jury Award recognizes that the opportunities and constraints embodied in multi-residential projects are very different to those of the single bespoke house.
Oasis Stage 1 is an innovative multi-residential project in St Kilda, an area with a complex social makeup. The designers have produced high-quality urban design, architecture and integrated art in a demonstration project that employs best practice environmentally sustainable design principles, active as well as passive. A social and private housing mix has been achieved through the adoption of a public/private development model. As such, this project points to a way forward for future community housing.
The project is located in an area characterized by a mix of residential, commercial and light industrial uses and the design responds to this urban environment while providing a distinctive identity to the new scheme. Subtle variations in the material and formal qualities of the facades and landscape establish a visual grain across the development. The landscape of filtering reed beds enhances the pathways and makes the passage through the development both compelling and enjoyable, while also presenting a permeable community approach to this complicated neighbourhood.
This housing community provides access to a sustainable way of living that is supported by the building mass and form, solar power and hot water, solar access, cross flow ventilation to the apartments, a grey-water recycling system and the control of microclimates within the site. This application of environmentally sustainable design principles has resulted in an exemplary development that responds to the demands of a market that is increasingly well informed about sustainability issues.
Overall, this design lifts the benchmark for socially, culturally and environmentally sustainable development, and shows the potential of public and private partnerships.
OASIS STAGE 1
Architect Williams Boag Architects. Project architect Catherine Ramsay. Design architect Peter Williams. Project manager Inkerman Developments: Michael King. Other project team members Mason Arkell, Marcus Baumgart, John Clark, Nina Dubowitz, Nick Gamble, Jody McLean, Claudia Monazewska, Justin Rhodes, Monica Shanley, Peter Wolf. Developer Inkerman Developments. Structural and civil consultant Scott Wilson Irwin Consulting. Electrical consultant AHW Consulting Engineers: Cynthia Ceccato. Mechanical consultant AHW Consulting Engineers: Shane Esmore. Hydraulic consultant AHW Consulting Engineers: Brian Esposito. Landscape consultant Mark McWha. Interior Design Williams Boag. Environmental consultant Integrated Eco Villages: Gary Kerans. Builder Contract Control: Malcolm Stewart. Building surveyor: Philip Chun and Associates: Greg du Chateau. Traffic engineer Grogan Richards: Rodney Jude. Photographer Tony Miller.