THE BRICKPIT RING
DURBACH BLOCK ARCHITECTS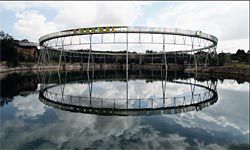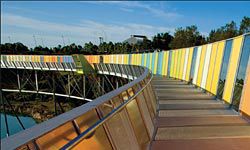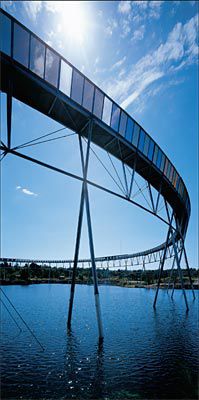 JURY CITATIONThe Brickpit Ring is approached via low bridges that sit above a sensitive, fragile ground plane. It is an enriching experience. To arrive at the ring and move around this aerial walkway is to experience a visual engagement with an eroding memory of the last tangible evidence of a major industry at Homebush Bay.
The physical intervention of the ring is an extremely delicate and sensitive approach to this fragile site. In the words of the architects, "the attenuated structure appears to tiptoe across the site". The ring walkway sits on top of a slender, steel-braced cruciform structure, which appears extremely thin and allows minimal connections through its columns onto the brickpit floor.
This is an essay in dematerialization that is given a celebratory expression. Its multi-hued perforated metal and glass vision panels contain the edges of the ring walk, provide a sense of security and condition the experience of the walker to the brickpit and its surroundings.
The pure circular form of the ring is juxtaposed above the irregular shifting forms of the brickpit. The ring provides a storyboard of the site's past industrial history and current role as a refuge for the Green and Golden Bell Frog.
The delicate intervention is an ingenious and beautiful object that not only reconciles the contradictory requirements of the proposition, but also moved the jury to celebrate this creative contribution to our experience.
THE BRICKPIT RINGArchitect
Durbach Block Architects—
project team
Neil Durbach, Camilla Block, David Jaggers, Joseph Grech, Lisa Le Van.
Project manager Complete Urban Solutions.
Structural consultant Arup, Taylor Thompson and Whiting. Landscape consultant Sue Barnsley Design. Builder GMW Urban. Interpretation soundscape CDP Media. Graphic design Eskimo. Colour consultant Carroll and Carroll Architects.
Photographers Peter Hyatt, top; Kraig Carlstom, middle, Brett Boardman, bottom.