National tour of Our Houses talk series to begin this June
Jon Jacka of Jon Jacka Architects and Austin Maynard Architects' Mark Austin will both present projects alongside their clients in Sydney this June as part of the Our Houses talk series.
Billed as "a conversation between architects and their clients," Our Houses is a nationwide program that offers architecture enthusiasts the chance to go behind the scenes to see how architects collaborate with their clients.
At the Sydney event, which will be held at Brickworks Design Studio on 27 June, Jon Jacka and clients Skye and David Palethorpe will discuss Laneway House, a project that offers an "alternative future for an inner-city suburb."
Shortlisted in the 2018 Houses Awards and in the 2018 NSW Architecture Awards, Laneway House is an adaptation and addition that reorientates the house to the laneway in an effort to promote a socially connected neighbourhood.
"The 'back' becomes the new 'front'. The laneway is redefined as a pedestrian thoroughfare, a shared backyard, an outdoor room, a playground fostering chance encounters with both neighbours and passers-by," Jacka explains.
Together with his clients, Mark Austin will discuss Austin Maynard Architects' project Greenacres, a new house located metres from ocean cliffs in Merewether, Newcastle.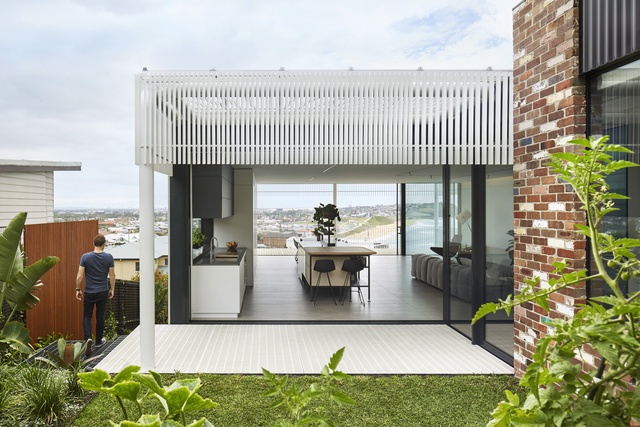 In their brief, owners Basil and Jo asked for a home that they could grow old in, with a lift, lots of light, clean lines and a window with a view.
The architects responded to the brief, and to the steep, challenging site, by creating a series of platforms that step down the topography and offer expansive views over the ocean, the Merewether Ocean Baths and the city of Newcastle.
Viewed from the front, the house is distinctive for what Austin describes as its "simple, white rectangular form, propped on three giant steel 'paperclips'."
Our Houses will travel to Melbourne next month. On 18 July at the Brickworks Design Studio in Richmond, Sioux Clark and Tim O'Sullivan of Multiplicity will discuss the Frank Lloyd Wright-inspired house The Great Australian Bight, and Anita Panov and Andrew Scott of Panov Scott Architects will present 1 of 16, a unique dwelling in a row of Sydney terrace houses.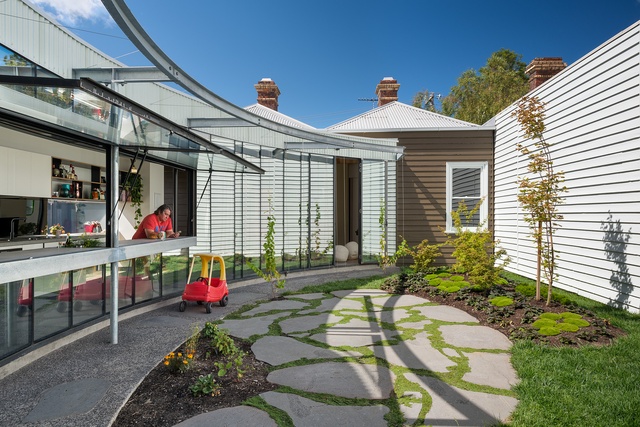 Our Houses events will also be held in Hobart, Perth and Adelaide in the coming months, with details to be announced.
The Our Houses talk series is part of Architecture Media's Design Speaks program. The events are presented by Houses magazine, with presenting partner Brickworks. Attendees can earn two CPD points.
A double-pass sale for the Sydney event ends at 5 pm Monday 18 June. For further information and to buy tickets, head here.