National Workers' Memorial design winner announced
Architecture firm Johnson Pilton Walker has won a competition for the design of the National Workers' Memorial in Canberra.
The memorial will serve as a reminder of the importance of workplace safety and the need to continue to improve it. Honouring and paying tribute to those who have lost their lives to work-related accidents, incidents and disease, the memorial will provide a place to reflect and remember the workers who died. It will recognize and celebrate the vital contribution and significant achievement of Australian workers, and will provide a focal point for the national commemoration of Workers' Memorial Day.
Johnson Pilton Walker's design – Workers' Glade – was selected following a national design competition held from August to October 2011. The jury consisted of senators Doug Cameron (jury chair) and John Williams; Professor Mandy Martin; Andrew Green, CEO of Gamble McKinnon Green; and Shelley Penn, the chair of the National Capital Authority. Twenty-six entries were received, including submissions from finalists Andrew Burns, Oculus and Outlines Landscape Architecture.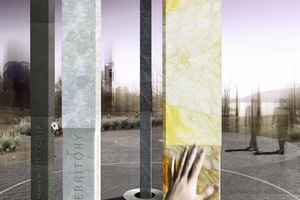 Workers' Glade provides a meaningful place of reflection with the capacity for large, commemorative ceremonies and quiet personal contemplation. Eight slender columns represent workers from each state in Australia. Viewed from above, they mark out the locations of the state capital cities as if on a map of Australia. Each column is clad in stone unique to the state or territory that it represents. At seven metres tall, the columns will finish just below the level of the surrounding existing tree canopy in Kings Park.
A low, curved seating wall creates an informal amphitheatre. Concentric circles represent the ripple effect a work-related death has on family, friends and the local community. While the design focuses attention and reflection on the memorial itself, it is also oriented to respond to the wider landscape, being within earshot of the National Carillon, and enjoying views to Black Mountain and the Brindabellas. The new memorial will create a richly layered place that is physically, emotionally and conceptually accessible.
Standing in the designated area for non-military commemoration at Kings Park, the National Workers' Memorial will be adjacent to the National Police Memorial and near the National Emergency Services Memorial.
The winning design by Brendan Murray and Graeme Dix of Johnson Pilton Walker Architects was unveiled at Parliament House on 14 March. Construction is scheduled for completion before the celebrations of the Centenary of Canberra in March 2013, and public dedication of the memorial is anticipated in April 2013.