The 2011 Institute National Conference, Natural Artifice, was held 14–16 April at the Melbourne Convention and Exhibition Centre. The 2011 conference sought to "re-examine architecture as a pursuit," under the pretext that "our built environment must embrace both a natural agenda as well as an artificial one; eschewing a separation between pristine and imperilled nature and chaotic and implacable culture to express a belief in the wholeness of the world."1 Accordingly, the conference included a diverse range of speakers from five continents and three generations, who represented a broad scope of various perspectives.
The conference was introduced by the AILA president Karl Fender, who addressed a vast audience standing before a suitably ironic backdrop of an enslaved forest of potted palms. The importance of the experiential to the theme of "natural artifice" was deliberately integrated into the overall experience of the conference by introducing sensory elements. A series of "palate cleansers," brief audiovisual interludes of coordinated sound and colour, were intended to "cleanse" the mind between contrasting styles, opinions and practices.
The conference was largely a success, and directors Angelo Candalepas, Andrew Scott and David Neustein should be commended for including a broad range of influential and diverse speakers, acknowledging the necessary inclusion of landscape architects. However, the challenging and somewhat abstract theme of the conference was often curtailed and occasionally largely disregarded by the speakers. Each international keynote speaker was introduced by an Australian practitioner followed by a discourse with an assigned chairman. The introductions that addressed the theme and keynote speaker more broadly were overall more successful than those that were purely self-referential. Although the concluding discourse provided an opportunity for debate in order to interrogate these divergent practices and catechize the broader theme, it was rarely successful.
Following a fantastically colourful introduction to their practice by Dr Hélène Frichot, the first keynote speakers were François Roche and Stéphanie Lavaux of the "toxic, animal, dangerous, regressive, political and computational" French firm R&Sie(n).2 The pair – who presented not as themselves but as their transgendered avatar – sought to break down usual architectural constraints of categorization and program, allowing for the speculative and fictional project to create an architecture that is not focused on any particular outcome. What ensued was a bio-technological hybrid of fantastical "post-natural" landscapes, architecture and experiments, which acted to challenge the perception of technology "as an end in itself."3
The conference theme was reframed by the introduction of the restrained and elemental work of Chilean landscape architect Teresa Moller. Concerned with the latent beauty found in nature, Moller seeks to uncover what is already there by creating architecture which suggests a sequence of experiences, guiding you through and immersing you in site. Moller's approach to practice is extremely instinctive and grounded in a deep respect for place. Initially marking out the placement of her interventions in the landscape by hand, she works first-hand with the immediate conditions and surrounding scenery. Moller states that "with one little line, it helps to go from one place to the other, but you don't need more than that."
The growing interest in a multidisciplinary approach to practice was demonstrated by the atmospheric hybrid practice of young Colombian landscape/architecture firm Paisajes Emergentes. It was represented by Sebastian Mejia and Luis Callejas, who challenged the binary notion of "natural" and "artificial" elements. Disregarding any distinctions between architecture and landscape architecture, they said, "We think you can do both operations at the same time … and build up a relationship between the vegetation and hard material that contains it."
It was not until the highly anticipated final speaker Juhani Pallasmaa that the theme of the conference was confronted, and he approached it in a direct, astute manner. He spoke of a need for a shift in thinking, stating, "We continue to see ourselves and our artefacts independently of the grand clockwork of nature, but the challenge today is also likely to alter the perceived polarity between nature and the human artefact … this change could be seen as a shift from metaphorical functionalism to ecological functionalism." Pallasmaa stressed the importance of developing new goals, processes and ethics, reached through a deep analysis of performance, complexity and design rooted in existential grounding.
Throughout the conference it was suggested that architecture could study relationships and processes within nature as inspiration for a future model of existence. But the complexity and challenges inherent to the theme of the conference were highlighted by both the overall diversity of positions and the obvious struggle throughout to define and confront the more pertinent issues. Despite these challenges, it is of direct relevance to current landscape/architecture discourse and should continue to be debated in order to maximize the potential of future design. "There are amazing results now evident in a world where designers are apprehending the powerful relationship between that which is nature and that which is artificial."4
The 2011 Australian Institute of Architects National Conference: Natural Artifice was held at the Melbourne Convention and Exhibition Centre from 14 to 16 April 2011.
architecture.com.au/naturalartifice
1. Australian Institute of Architects, "Introduction," on the Natural Artifice website, http://www.architecture.com.au/ naturalartifice/introduction.html
2. Hélène Frichot, "When Things Get Wild," Natural Artifice Conference, 16 April 2011.
3. Australian Institute of Architects, "Introduction," on the Natural Artifice website, http://www.architecture.com.au/ naturalartifice/introduction.html
4. Australian Institute of Architects, "Introduction," on the Natural Artifice website, http://www.architecture. com.au/naturalartifice/introduction.html
Source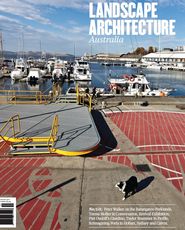 Issue
Landscape Architecture Australia, August 2011
Related topics