When we last caught up with Melbourne architect David Neil (Houses 38), he'd designed a house on a small site in Camberwell for his young family. At the time, writer Andrew Block likened the building, affectionately, to a railway signal box, its somewhat barn-like construction paying "homage to the old world signatures around it." It's a lovely house that makes excellent use of a constrained site and playfully complies with a strictly administered heritage overlay, and it's a wonder David and his family ever wanted to move. At least, it would be if we didn't also know that, in the intervening seven years, the family has expanded to include a second, third and fourth child!
Size, of site and house, was the first consideration for the new family digs. As is often the case, this was facilitated by a move a little further out from the city – in this instance, a few minutes' drive up Warrigal Road to the leafy (and wonderfully monikered) suburb of Mont Albert North. Upon acquiring a dilapidated old weatherboard bungalow on a steep, south-facing site, David set about reimagining life in an airy four-bedroom home.
In Camberwell, David's early ambition for a cantilevered upper level had been given short shrift by a council in thrall to the preservation of templated heritage character, but the sloping site (and more relaxed building environment) in Mont Albert North immediately lent itself to this kind of architectural drama. A telescopic volume at the front of the house projects forward as the ground falls away to the street. At night, with blinds peeled back from its fully glazed end wall, the sitting room within appears as a lantern in the sky. For the space to be truly appreciated, however, it is the view from inside to out that must be seen. Thanks to the topography and leafy streetscape, the sitting room effectively sits among the treetops, its window filled almost completely with the greens and browns of an apparent urban forest.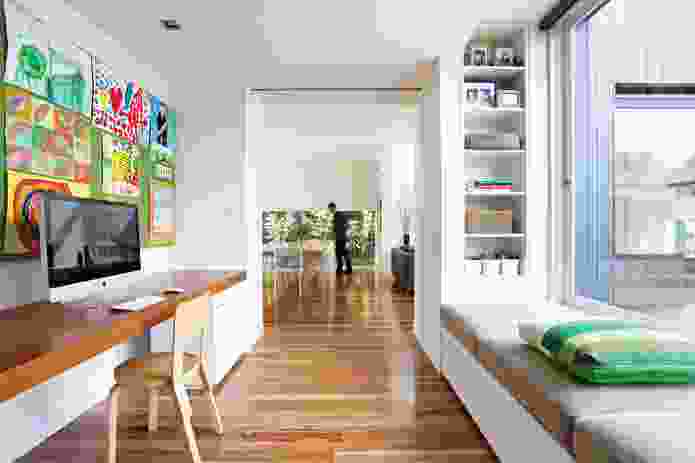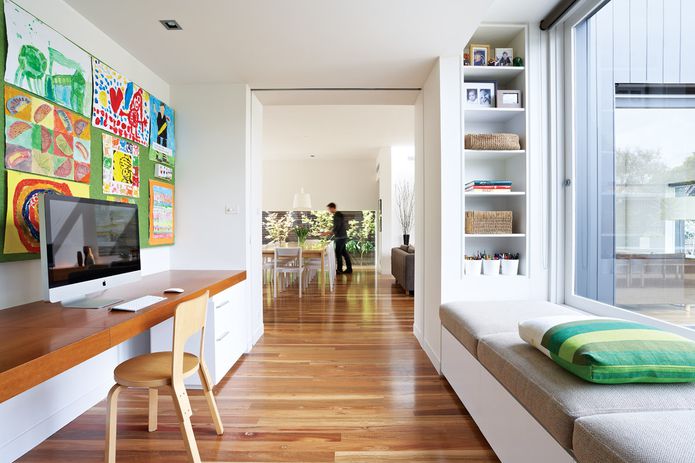 Thus an essential difference between the two houses becomes clear: the earlier project was, at least in part, a product of municipal legislation, whereas this house is a product of its immediate environment; its logic is derived on site, not in a committee room.
But there are also some strong similarities between the two projects, not least the emphasis on carefully framed outward views. The Camberwell house belied its constrained proportions by cleverly borrowing a verdant panorama from the public park next door, and this strategy is repeated at Mont Albert North, particularly in the elevated front sitting room.
The larger block of land here also allowed David to create his own landscapes, outdoor areas that surprise and delight in different ways at different points throughout the house. The most prominent of these is the rear garden, a glorious celebration of David and wife Nessa's abiding love of horticulture. The site's prevailing gradient has been sculpted, with concrete retaining walls and slab-like steps, into a series of flat platforms that alternate rectangular panels of lawn with ornamental garden beds. Viewed from the open-plan living space at the rear of the house, and from the adjacent study, the rear yard appears almost as a green wall. At once ranging and carefully composed, its dense tapestry of greens, greys, purples and browns is enlivened by sprays of vivid red sedum flowers. The effect is replicated on a smaller scale in the dining area, where a low, wide window looks down onto three maple saplings in large, cylindrical concrete pots. As the trees grow, and their leaves change colour and fall in time with the seasons, so the impact on the interior will change.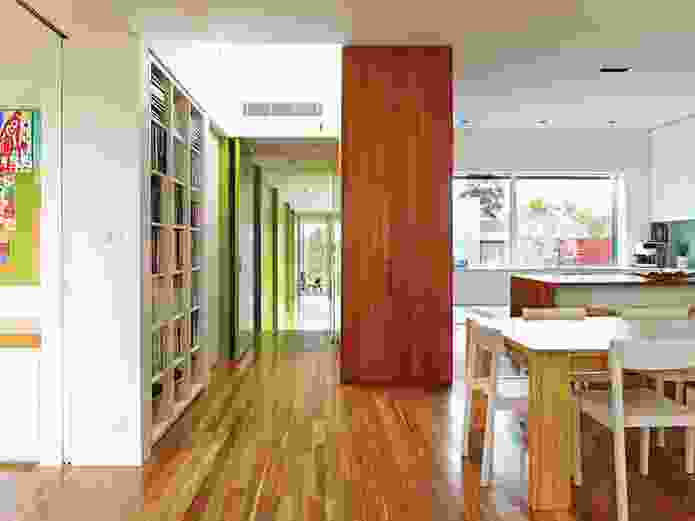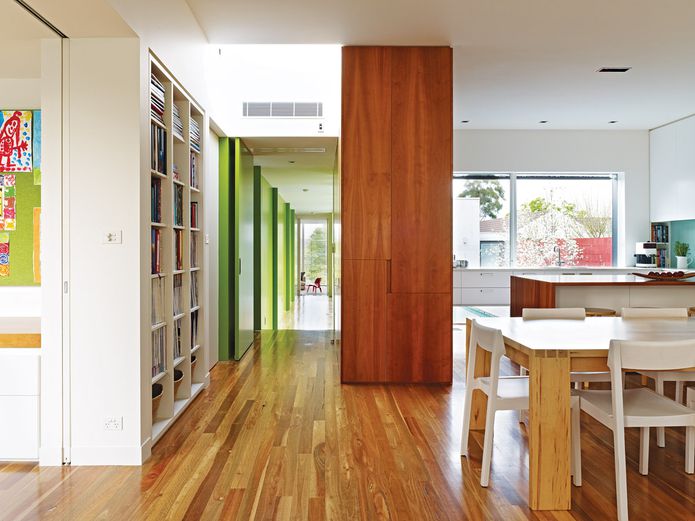 At the centre of the house, a large rectangular courtyard has been carved into the floor plan. Its primary reason for being, apart from accommodating a swimming pool, is to engineer a northern aspect to the south-facing kitchen-dining-living volume. However, with windows on three sides, it also acts as a prism through which different rooms within the house can look back at each other. Most notable amongst these prismatic perspectives is the view from the kitchen sink. A tall, wide window directs the eye along the pool and through a low horizontal slot window in the master bedroom; the line of sight continues over the bed, out through a large square glazed panel on the front of the house and into the same leafy streetscape that defines the front sitting room. It's a deliberate ploy, of course, but it feels surreptitious, accidental, cheeky: a stolen glance rather than a picture window view.
That the interior of the house has been cast almost exclusively in white, with timber joinery elements and timber floorboards, is testament to the primacy of the outward views here. The one interior element that does introduce a splash of colour – a wall of floor-to-ceiling panels and pivot doors that lines the hallway between the front door and the rear living zone, and is visible from the courtyard – is painted a vivid lime. It's a witty gesture: looking back into the house, we see a green wall of a different kind!
Products and materials
Roofing

Lysaght Klip-lok roof decking, Zincalume finish; CSR glasswool and rockwool.
External walls

Weathertex Weathergroove panels, painted; Ability Building Chemicals oxide render.
Internal walls

CSR plaster, painted; MDF, painted.
Windows and doors

KDHW custom windows and doors; Aneeta sashless windows; Internal MDF doors; Architrend accessories.
Flooring

Spotted gum flooring, with water-based satin finish; Godfrey Hirst carpet, "Antique Oak Sussex"; Classic Ceramics 600 x 600 mm matt tiles.
Lighting

Inlite downlights; Studio Italia wall lights; Lights and Tracks, and Lumascape external wall lights.
Kitchen

Ilve oven; Asko integrated dishwasher; Qasair integrated rangehood; Franke stainless steel undermount sink; Sussex tapware; Albedor matt white vinyl wrap; American Cherry timber veneer; CaesarStone benchtops, "Snow"; Solid American cherry benchtops; glass splashback.
Bathroom

Reece Scala mixers; Ariston bath; Duravit basin; Classic Ceramics basin and floor and wall tiles; Englefield toilets; Kludi showerhead.
Heating/cooling

Daikin Refridge Air; Braemar ducted heating.
External elements

Structural Pools honed concrete; Eco Outdoor stone paving; Belian decking.
Other

Shadefactor external Warema blind; custom- made Coreten steel retaining wall; custom letterbox; Jardan sofas.
Credits
Architect

Neil Architecture
Richmond, Melbourne, Vic, Australia
Project Team

David Neil
Consultants

Builder MCL Constructions
Engineer Cardno Grogan Richards (Vic)
Lighting Inlite Melbourne

Site details

Location Melbourne, Vic, Australia
Site area 980 m2
Building area 260 m2
Category Residential buildings
Type Houses, Residential

Project Details

Status Built
Design, documentation 9 months
Construction 9 months

Source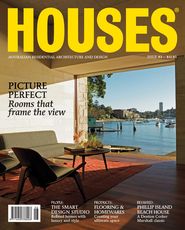 Issue
Houses, December 2011
Related topics