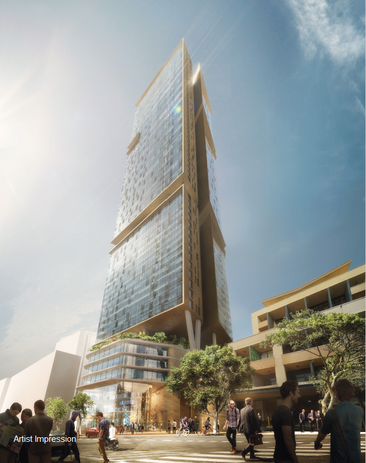 Nettleton Tribe and Fox Johnston have won a design competition for a 62-storey building that will become Parramatta's tallest residential tower.
The proposal won over entries by CDA Architects and Plus Architecture. It will include 450 apartments, a six-storey podium and 3,306 square metres of commercial and retail space.
The site, on the corner of Church Street and Great Western Highway, is the final piece of developer Dyldam's projects in the area. The tower will face Dyldam's South Quarter residential development, designed by Allen Jack and Cottier Architects and Turner Architects.
In a statement, the jury said the design cleverly dealt with the site's location at the intersection of two of Parramatta's busiest roads.
"The street is addressed positively with the flagship retail while the pedestrian urban plaza successfully protects pedestrians from the busy intersection of Church Street and Great Western Highway.
"Further work has been undertaken to enhance the environmental performance of the tower facades to maintain good thermal performance whilst also being cost effective."
The design was chosen by a jury comprising Kim Crestani (city architect, City of Parramatta), Olivia Hyde (director – design excellence, Government Architect NSW) and Russell Olsson (director, Olsson and Associates).
A previous proposal for the tallest residential tower in Parramatta – and Sydney – the 90-storey Aspire tower designed by Bates Smart for Walker Corporation, was dumped by the developer in December 2017 in place of a pair of commercial towers designed by Johnson Pilton Walker.
Related topics