For Canberraphiles and my respected landscape architectural historian colleagues who admire all things Walter Burley Griffin and Marion Mahony Griffin, the New Acton Precinct might be seen as something decidedly un-regal. For it certainly, at first glance, does not fit in with the monumental scale, double-allée streets and "axis to the cosmos" in the style of Burley Griffin and Mahony Griffin. New Acton stands out as a contribution that is decidedly twenty-first century, and which looks forward rather than being doggedly obsessed with completing Canberra's beaux-arts masterplan. And why not? Canberra's historic masterplan is virtually unlivable in terms of contemporary ideals of density, urban life and sustainability.
New Acton incorporates art, retail and hospitality facilities, and three apartment complexes – Nishi, New Acton South and New Acton East – surrounded by Oculus-designed landscaped gardens that link the different aspects of the precinct. Superficially, it might be easy to dismiss this project as something that is part of landscape architecture's recent penchant for chic material selections and all things urban "grunge." But while the materials, both soft and hard, are reflective of a gritty urban yet stylized palette, the project's spatial sequences and sensibility with the scale of the architecture and the site compel it into one that should help determine other possibilities for the future of Canberra's unique form of urbanism.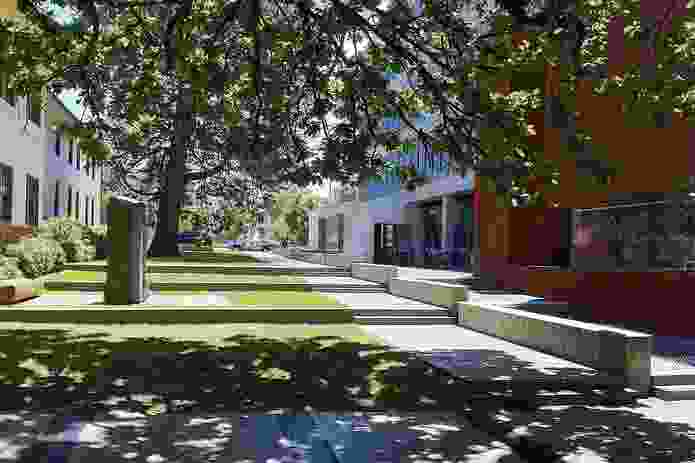 The landscapes seep in and out of the architectural crevices both vertically and horizontally. Much like an untended but beautiful garden, they spread and vary in style. Along Kendall Lane the spaces are controlled and formal – part of the urban chic street facade for parading, hanging out and people-watching, but as you travel around the precinct the spaces become looser, less precious, and a kind of feral chic aesthetic takes over.
The external spaces are carefully considered landscaped "rooms" that offer thresholds and edges both internally and externally. Time Thief Plaza and the John Avery Gardens are connective spaces that offer dynamic spatial programs and link the site's heritage-significant former Hotel Acton building with New Acton South and the Nishi Gallery Pavilion (which is currently a sales office for the Nishi apartments, and will later become an art gallery). Time Thief Plaza's cobblestone terraces, textured concrete walls and Huon pine seats ease the transition into the space. Robin Blau's sculptural artwork The Time Thief forms the central focus of the space but the quiet, cool microclimate that extends the adjacent buildings' interiors and shaded overhangs draws most of the attention. The John Avery Gardens offers a series of overlapping programs, including a community kitchen garden, a sculpture garden, an "orchard," residential landscape frontages and soft terracing. Public and private landscapes blur here, as do domestic and commercial scales. Essentially it is the key north–south link from the heritage building to the carpark. However, Oculus has taken full advantage of the interstitial nature of this space and grafted other programs into this passageway.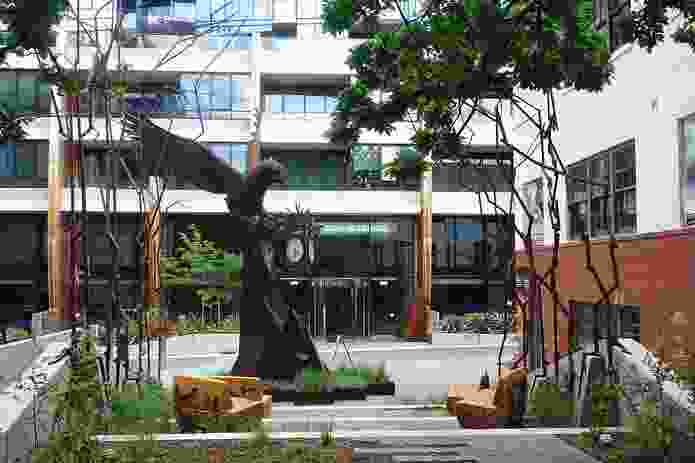 Contrastingly, there are some strategies in Oculus's design for the New Acton Precinct that are similar to those of Burley Griffin and Mahony Griffin's later architectural practice. In particular, the collaboration between Oculus and Hungerford and Edmunds for the Nishi Gallery Pavilion utilizes a richly textured "molten concrete" facade. It's much the equivalent in its intention, opulence and decorative nature of the interiors of Melbourne's Capitol Theatre and the University of Melbourne's Newman College. In Castlecrag, Burley Griffin and Mahony Griffin's house designs breached normative planning conventions; they located living rooms at the rear and opened them to the landscape and views, and they sited utility rooms such as kitchens and bathrooms so that they fronted the street. The ease with which Oculus shifts internal, often more private residential landscape programs into the public realm, and offers public amenities like the sculpture garden and cafe tables into the cloistered more private spaces, is reminiscent of Castlecrag slippages.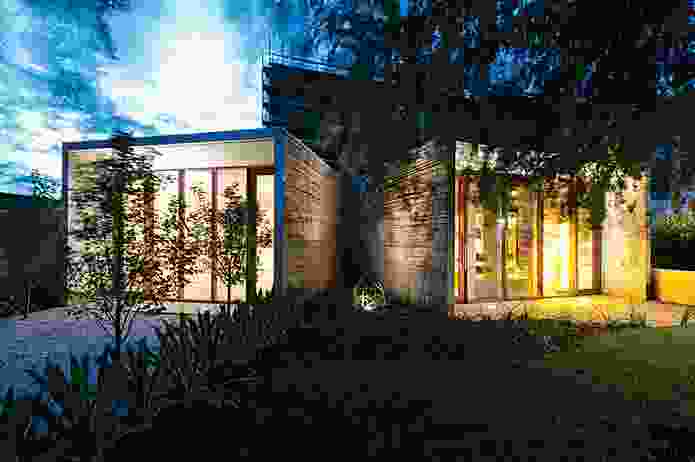 Lastly, but perhaps most importantly, it is useful to mention Oculus' longstanding relationship and collaborations with its client, the Molonglo Group, as well as Fender Katsalidis Architects and numerous artists who worked on this project. Bob Earl, co-founder and principal of Oculus, attributes the project's success not only to the slippages of programs, interiors and exteriors, but also to the blurring of disciplinary boundaries in many areas of the site. The clients were enthusiastic leaders in acquiring approval from the National Capital Authority on contentious design concepts, and enthusiastic participants in the design process. Professors Leon van Schaik and Geoffrey London in their book Procuring Innovative Architecture (Routledge, 2010, p. 228) conclude,
"Bringing this wide range of strategies, approaches, contexts and reflections together has been highly productive. However, at the end of the research we realized that, although we had set out to identify good processes, we were everywhere describing the energy and vision of individuals who believe in the power of architecture to improve our lives. Innovative and visionary clients are absolutely at the centre of procuring innovation."
Oculus has designed exquisitely throughout the New Acton Precinct, and with an understanding of how spatial and conceptual blurriness between public, private, commerce, landscape and building programs can, and might, evolve over time. This project is a spatial and programmatic choreography of sorts, within a complex urban infill situation and urban design framework. It is brave and brash in some ways but in other ways it absolutely reflects some of the spirit of Canberra's imported, yet most famous, design couple. It, like the Griffins and their 1912 competition-winning masterplan for the city, opens up a plethora of options for future types of urbanism and embraces hybrid modes of design practice.
Credits
Design practice
Project Team

Bob Earl, Daniel Firns, Roger Jasprizza, Ben Nacard, Keith Stead, Rosie Krauss, Simon Triuck, Matt Grunbaum, Carly Barrett, David Cianci
Consultants

Architect Fender Katsalidis Architects, Hungerford and Edmunds, Suppose Design Office
Art consultant Pamille Berg Consulting
Civil and traffic Mott MacDonald Hughes Trueman
Engineering consultant Arup Sydney
Graphics and wayfinding Clear Design & Brand Strategy
Landscape contractor Mark Paine Landscaping
Services Simpson Kotzman, Arup Sydney

Site details

Location New Acton, Canberra, ACT, Australia
Category Landscape / urban design
Type Culture / arts, Outdoor / gardens, Residential, Retail

Project Details

Status Built

Source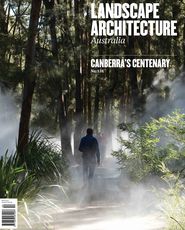 Project
Published online: 23 Sep 2013
Words: Sueanne Ware
Images: Courtesy Oculus
Issue
Landscape Architecture Australia, May 2013
Related topics