Cumulus Studio has completed a new cafe in the forecourt of the Roy Grounds-designed Arts Centre, which occupies a prominent site on St Kilda Road in central Melbourne. The structure replaces a plastic gazebo that was intended to be used temporarily but operated as a cafe for more than a decade.
Dubbed "Protagonist," the cafe is sheathed in a bronze curtain façade made from Kaynemaile, a fire- and UV-resistant polycarbonate mesh, originally designed in New Zealand to be used as chainmail costumes in the Lord of the Rings movies.
The curtain, which can be fully raised in summer is drawn to the ground and locked to close the café at night. When closed, the curtain becomes a screen that can be used for artistic projections or Arts Centre advertising. The cafe can also be used for private events with the curtain partially raised.
Cumulus were the winners of an invited design competition for the project in 2018, seeing off competition from Sibling Architecture, Clare Cousins Architects and Architecture Architecture.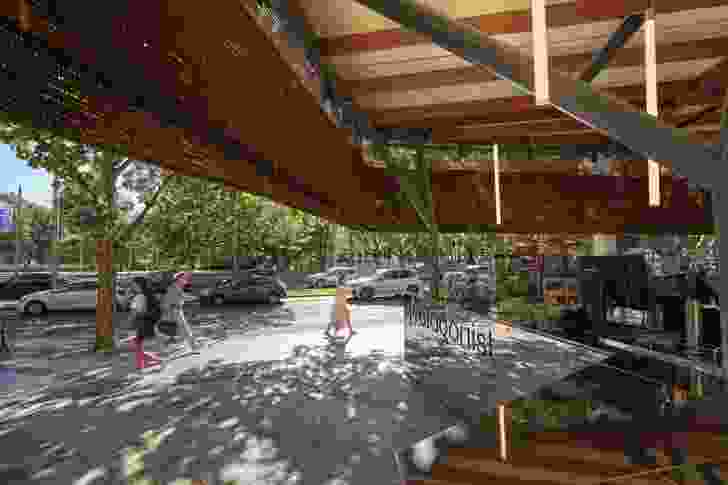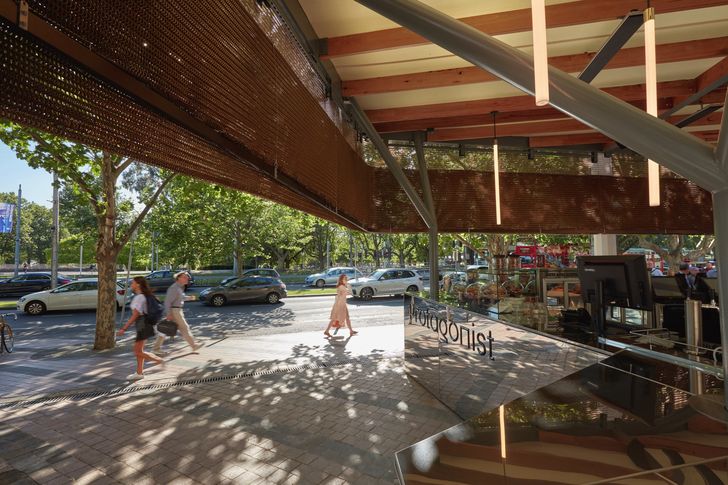 Speaking when the winning designs were revealed, Cumulus director Keith Westbrook described the curtain façade as a play "on the iconic and universally understood element of the theatre curtain as a device to signify 'open' and 'closed.'"
In a statement, the architects said, "In analyzing the monumental architectural context, we have created a single statement that responds, although is of a completely different scale, to the surrounds.
"In doing so the design takes a similar architecture approach to the adjacent buildings, each of which have a solid grounding element complemented by a sculptural or grand facade gesture (the [National Gallery of Victoria] arch, the ACM spire, etc.). While the form responds to the scale of the context, the materiality expresses a lightness, which reflects its temporary nature that contrasts with the heavy masonry of the permanent public buildings."
The Arts Centre was built in 1973 and is part of a heritage-listed arts complex was designed by Grounds. The precinct also comprises Hamer Hall (1982) and the National Gallery of Victoria (1968).
Related topics