A new book examining the critical role urban planning plays in delivering land justice for indigenous communities has been published.
Titled Planning for Coexistence?, the book has been written by Libby Porter, an associate professor from the RMIT Centre for Urban Research, and Janice Barry, an assistant professor from the University of Manitoba in Canada.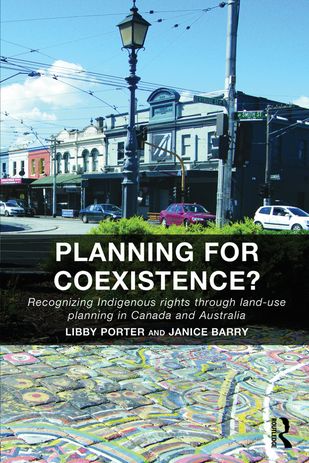 The book focuses on four Indigenous communities: The Wurundjeri Land Council (Melbourne) and Wadi Wadi Nation (north-west Victoria) in Australia and the Gitanyow Huwilp (northern British Columbia) and Tsleil-Waututh Nation (northern Vancouver) in Canada.
Porter said indigenous people's connections to place and the way each of the indigenous nations were seeking to express their connection to place was vastly different from the way Western planning systems conceive the relationship between humans and their environment.
"The latter is a much more disconnected form of relationship than in indigenous communities, so there's a kind of mismatch between the way in which the planning system wants Aboriginal people to articulate their connection to place, the way they can recognize it, and how Aboriginal people want to bring that to the table," said Porter.
She continued: "The best example is that [for Aboriginal people] place has its own sentience, it has its own personality – it is its own person, if you like. And that does not fit easily within the Western language planning system or in any form of architecture or ways in which non-indigenous people think about place and space."
"Things like needing to meet on country because country would need to be present in that conversation about what would happen there were really difficult for planners to cope with."
Porter said the book highlights the need for a disruption to standard planning practices and conventional methods, and instead planners should recognize the continuing connection and authority of indigenous peoples, on whose lands planners are working.
The Australian and Canadian indigenous communities each had one case in an urban context and another in an environmental natural resource management context.
"We found the urban sites to be much more constrained and much more difficult for urban Aboriginal communities to express through land-use planning what is of value to them and why that matters. It seemed to be a little easier for those who were outside major urban environments to be able to get things done," said Porter.
"[In the planning industry] it's kind of seen as a case of, 'yes, we just need to talk to Aboriginal communities and that's enough.' But there's an enormously important capacity building process that needs to go on within planning practitioner communities in places like Canada and Australia to more justly attend to this and do much more meaningful and genuine relationship-building and partnership-building," Porter said.
"We hope that the book makes a contribution to that process and helps people understand why that's important and helps open up those conversations."
Related topics