New Colorbond steel matt finishes created with design versatility in mind
BlueScope Steel has added a new matt option to its Colorbond steel building material range in five muted shades that have been designed to be a versatile part of the architect's toolkit.
Colorbond marketing manager Lisa Dent said, "The Colorbond steel Matt paint technology was developed to give the industry an accessible, highly attractive and versatile design material that provides a softer finish to complement the move towards more natural looking materials in both residential and commercial buildings."
"The new Colorbond steel Matt collection provides architects a range of neutral hues and a colour palette with the depth and versatility to adapt to many building types." 
Designed specifically for an Australian context, the Colorbond steel Matt range maintains its matt finish and deflects more of the sun's heat in harsh conditions.
Available in Surfmist Matt, Shale Grey Matt, Dune Matt, Basalt Matt and Monument Matt, the Colorbond Matt range was first used on a major Australian project when Flightpath Architects selected it for the new Investigator College Senior School in Victor Harbour, South Australia. The 2049-square-metre building sits at the entrance to the school campus and makes a "soft architectural impression."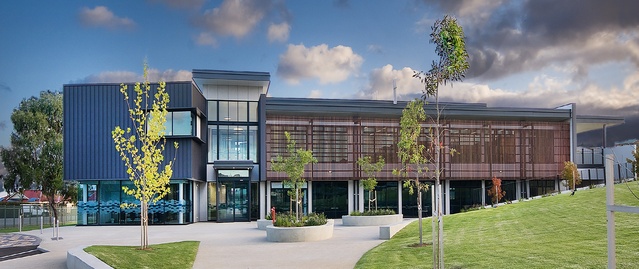 James Plunkett, Flightpath Architecture senior architect, "The new Senior School has a bold form which is reassuring yet modern and sets the tone for an open learning environment based on collaboration, creativity, integration and communication. Our brief was to help showcase excellence in education and that starts with a well-designed building."
 "My preference was for the Colorbond steel Matt finish because it's subtle, yet attracts your eye and makes a statement. I wanted to use it as cladding because it gives the impression of continuity and makes the building seem all the more deeply embedded within its context." 
For more information on the Colorbond steel Matt range, go here.