The path leading from the observation of the body's response to a specific substance, to the production of pharmaceuticals, is a highly regulated one. It leads from laboratories through peer-reviewed publications and patent offices, on to clinical testing, and from here to marketing campaigns directed at the medical profession, which prescribes drugs. Several notorious incidents, such as the thalidomide disaster, have led many consumers to question the rigours of clinical testing and the motivations of the large pharmaceutical companies but in general, drug research and the pharmaceutical industry proceeds unabated. It is a lucrative and competitive field of constant innovation and product development, responding to health needs that are desperately real, as well as desires that are socially constructed.
What is the equivalent scenario in the development of new building materials and their utilization in architecture? We tend to wax lyrical about the sensual and tactile qualities of certain materials, but as a profession we mostly occupy a position equivalent to that of a GP or a doctor in the hospital ward – specifying given products to our clients based on samples and testimonials supplied by manufacturers.
As architects we are rarely involved in laboratory research or engaged in physical experiments in the development of materials and products. Occasionally we behave like rogue medics, specifying materials for uses other than that for which they were intended, or testing things out on ourselves. We delight in kitchen cabinetry made of form-ply, guttering as the basis of a light fitting or walls made from stacked recycled terracotta roof tiles. This activity doesn't change the product or increase the range of products available to us, although it can have satisfying aesthetic and performative results. It's a bit like botox, deploying a toxin first for therapeutic uses, then later for cosmetic purposes and even the treatment of excessive sweating.
Like the field of medicine, the building industry has its share of historical disasters. Asbestos, for example, was a widely acclaimed benchmark material for much of the industrial era. It was manufactured into nearly three thousand different products, most of which protected life and property from heat, flame and electricity. It was integral to building construction in everything from fibro beach shacks to skyscrapers, in every community across the world.
From the mid 1960s, however, this once-popular mineral began a rapid decline as serious health risks associated with it began to overshadow the benefits it provided. Other so-called wonder materials from that era also proved vulnerable in the long term: plastic-based products became brittle and discoloured in the sun, and reinforced concrete buildings developed cancer.
It is arguable that the experience manufacturers, builders and architects had with asbestos and some plastics dampened our collective enthusiasm for new materials and material experimentation at the large scale. Certainly it made manufacturers more risk averse, and perhaps architects too. Many architects have narrowed their repertoire down to traditional materials – stone, timber, brick, copper and concrete. Sheila Kennedy discerns an "exaggerated presentation of material 'realness'" in much contemporary architecture and ascribes this to a reaction to the dominance of mediated and virtual representations.1
Whether it's fear of litigation or a desire for the direct and tactile experience of pre-industrial times, a remarkable conservatism characterizes the material choices of what Kennedy calls the "new orthodoxy." The results of using age-old materials and assembling them in traditional ways can be socially and aesthetically attractive, as demonstrated in the Stawell Steps in Victoria (Hiroshi Nakao and Monash Architecture), with their richly textured fired clay bricks hand-laid by students. Yet at a time when material choices have become urgently critical, and the social and environmental consequences of some materials – including traditional ones – are dire, it is worrying that material experimentation has retreated to the fringes – like party drugs cooked up in home laboratories.
An example of the kind of thing we are talking about is ShapeShift, an exploration into the potential application of electro-active polymer (EAP). EAP is an ultra-lightweight, flexible material whose shape can be changed without the use of mechanical actuators. EAP is a polymer actuator that converts electrical power into mechanical force. In principle it consists of a thin layer of very elastic acrylic tape sandwiched between two electrodes. Once a voltage in the range of several kilovolts is applied between the electrodes, the polymer changes its shape in two ways. Firstly, due to the attraction of the opposing charges, the thickness of the film is squeezed (up to 380 percent), and secondly, the repelling forces between equal charges on both electrodes result in a linear expansion of the film.
As a result, after actuation, the film becomes thinner and its surface area increases. Testing at the scale of architecture was undertaken as a thesis project in 2010 by Edyta Augustynowicz, Sofia Georgakopulou, Dino Rossi and Stefanie Sixt under the supervision of Manuel Kretzer at Eidgenössische Technische Hochschule (ETH) Zürich, with support from the Swiss Federal Laboratories for Material Science and Technology (EMPA) in Dübendorf. Augustynowicz and Sixt trained as architects, Rossi is a designer working in the field of digital fabrication and Georgakopoulou is a biophysicist and design programmer.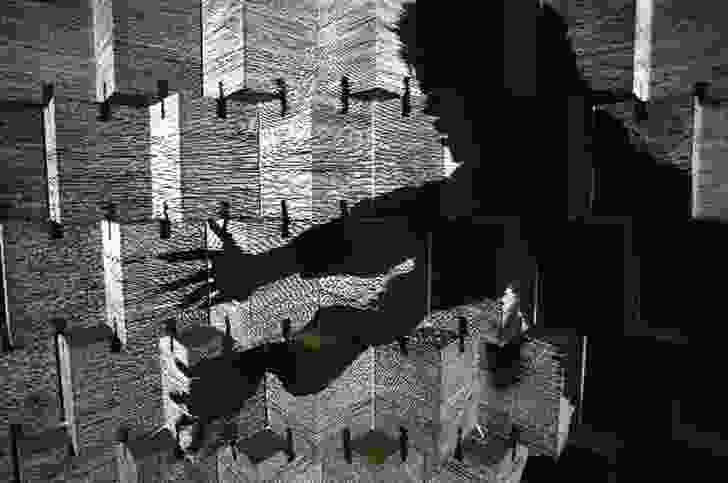 The kind of work we see at ETH is cutting edge, but at many universities, as well as in practice in the context of small commissions and exhibitions pieces, we see similar multidisciplinary teams testing the architectural applications of novel materials and technologies that are coming out of other fields, and sometimes developing new materials themselves. A few other examples: Urbana and Joshua Stein's installation at New York City's Storefront Gallery in 2009 using shape memory alloys; Supermanoeuvre's experiments with digitally fabricated concrete vaults with students from the University of Technology, Sydney and Arhuis, Denmark in 2011; Ginger Krieg Dosier's exploration into chemically cured bricks using urine and sea water as a catalyst, carried out at the American University of Sharjah in the United Arab Emirates; Kengo Kuma's collaboration with Luccon on an installation using light-transmitting concrete for an exhibition in Tokyo in 2009; and Kieran Timberlake's 2003 installation at New York City's Cooper-Hewitt National Design Museum, using polyethylene terephthalate (used in water bottles) as a cladding, augmented by organic light-emitting diodes.
Some of the research being carried out in the context of the academy and the gallery, if we may be forgiven for pushing the medical analogy further, errs on the recreational side of things, yet even the most worthy and potentially useful efforts suffer from not being tested for larger-scale use where it might be taken up by the mainstream.
We also see material experimentation in the fringes concerned with everyday problems. Concrete Canvas exemplifies the entrepreneurial development of a new technique for working with an existing material in constrained conditions. Concrete Canvas is the trade name of a company formed by Peter Brewin and William Crawford to make and market cement-impregnated flexible fabric. The product is largely being used for lining ditches and protecting slopes, but can be used architecturally. Bonded to the outer surface of a fibre-reinforced polyethylene liner, a shelter can be achieved using air to inflate the structure and water to trigger the hardening process.
Concrete Canvas Shelters are essentially inflatable concrete buildings that can be deployed by two people without any training in under an hour, and ready to use in only twenty-four hours. Concrete Canvas is easily mouldable and drapable, and the structures realized using it are fireproof and waterproof. Sea or fresh water can be used to hydrate it.
Brewin and Crawford's architectural development of the material is rudimentary – their company manufactures a Nissen-shaped hut in two sizes and their target market for these structures is the military. The Australian Defence Force is one of their clients. The sealed plastic liner means it can be delivered sterile, making it perfect for emergency medical needs, and it is equally useful for refugee camps. There are scattered examples of artists and furniture designers employing it for small projects; Timothy Hatton Architects collaborated with Concrete Canvas to construct a freestanding pavilion for London Design Festival 2011 but this small work goes only a little way to exploiting its potential. It is a versatile product that sorely needs testing by someone with a design sensibility.
Concrete Canvas has won numerous awards including, at the outset of the company's formation, the Saatchi and Saatchi World Changing Ideas Award in 2005. Yet neither of the above two examples – Concrete Canvas Shelters and ShapeShift – are yet to change the world, not even the small world of architects. Indeed, many in architectural practice may never have heard of either, nor any of the myriad similar experimental materials. Why not? The world leaders in research in innovative materials, Christiane Sauer accurately observes, are the automobile and aerospace industries. Here extra-lightweight and durable materials have been developed, but they are yet to be transferred to the building industry and, indeed, it may take years before they do – it was fifty years between NASA's invention of aerogel and its use in the form of translucent thermal insulation panels.2
While innovative materials remain known but not available, the building industry lags and our projects cannot reach the levels of performance, customization and flexibility that are found in other fields. Materials research needs to reach practising architects, and with precise information about relevance, fabrication, installation and performance. Alternatively, as Sauer and Kennedy suggest, architects need to be more actively scouting other buildings and other industries for material innovations as well as pushing the boundaries of existing materials.
1. Sheila Kennedy, "Material Presence: The Return of the Real," in Sheila Kennedy, Christoph Grunenberg, KVA: Material Misuse (London: AA Publications, 2001), 4.
2. Christiane Sauer, "The Architect as Building Materials Scout," in Manfred Hegger et al., Construction Materials Manual (Basel: Birkhauser, 2006), 14.
Source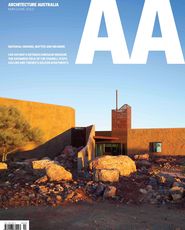 Practice
Published online: 1 Aug 2013
Words: Sandra Kaji-O'Grady
Images: Courtesy Gramazio & Kohler, Architektur und Staedtebau., Courtesy Kengo Kuma and Associates
Issue
Architecture Australia, May 2013
Related topics