When commissioned to revivify the New Farm Arbour house in Brisbane, Queensland for professional clients with teenaged children, the architects of Owen and Vokes and Peters weren't immediately sure what was required. Stuart Vokes recalls "discovering the project" or "finding the architecture" as the initial challenge. The house was large enough for the family of four, but the layout required extensive remediation for a lifestyle of enhanced grace and ease.
Attempts to "reoccupy the plan" were challenged by restrictions of the Burra Charter (guidelines for cultural heritage management in Australia), "doing as much as necessary but as little as possible," a discipline also self-imposed by the architects. Of paramount importance to the architects was not enlarging the footprint and resisting the usual opportunistic temptation to regard open garden areas as available for construction.
The house originated with the subdivision, by a wealthy rail contractor's wife, of a large allotment on a then (as now) desirable avenue in New Farm. The leafy, inner-city, riverside suburb flourished after the introduction of trams in the 1880s, becoming popular amongst merchants and professionals. Claude William Chambers was commissioned to design four identical two-storey brick houses, known as Willcocks' Houses, which were built on the allotment in 1895. Chambers, who ran one of Brisbane's largest architectural practices, later entered partnership with the pioneering woman architect Beatrice Hutton and moved to Sydney in 1915.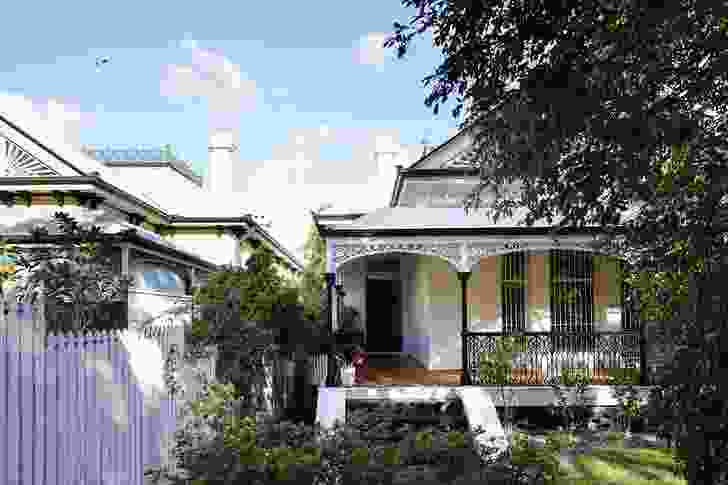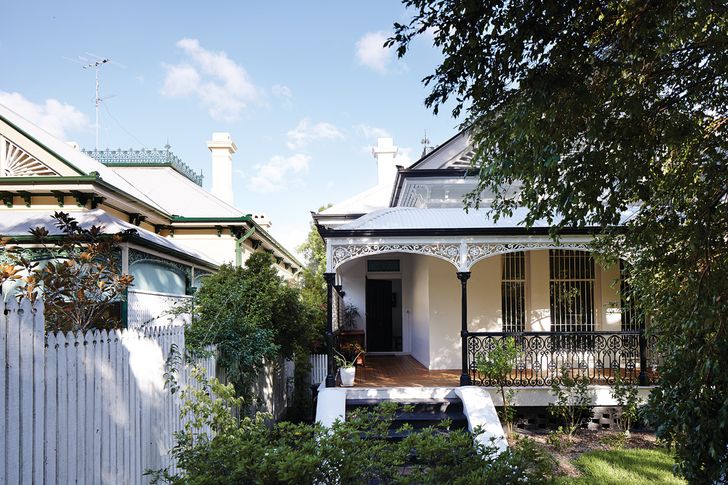 Willcocks' Houses became a rare example of speculative development in late-nineteenth-century Brisbane. Flanked by side streets, the four created a memorable and much-loved streetscape and are listed on Brisbane City Council's Heritage Register.
Speculative houses, often built to a one-size-fits-all template, typically promote current fads. Today this may mean media rooms or theatrettes; the 1890s drawcard was a street-front salon where professional families could meet business contacts and clients. Chambers' design arranged a long, elegant plan around a central passage. A formal salon placed centrally under a decorative flying gable, acting as an enormous bay window, could be entered from either side – from the entry hall, or a long fireplace room off the verandah's opposite end – and departed strikingly from the traditional timbered Queenslander.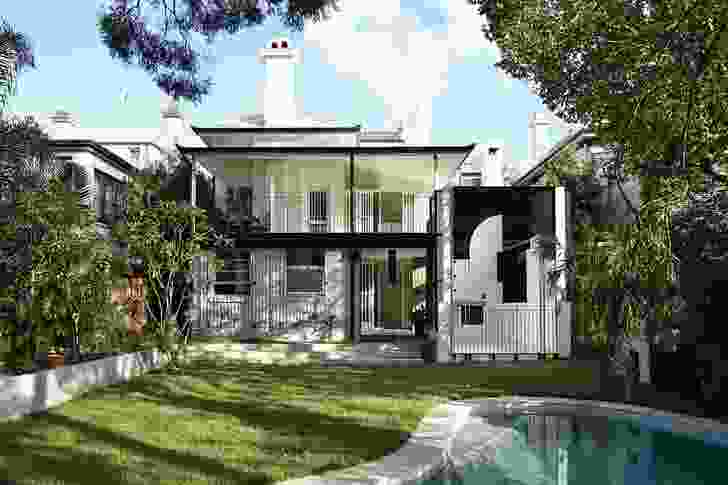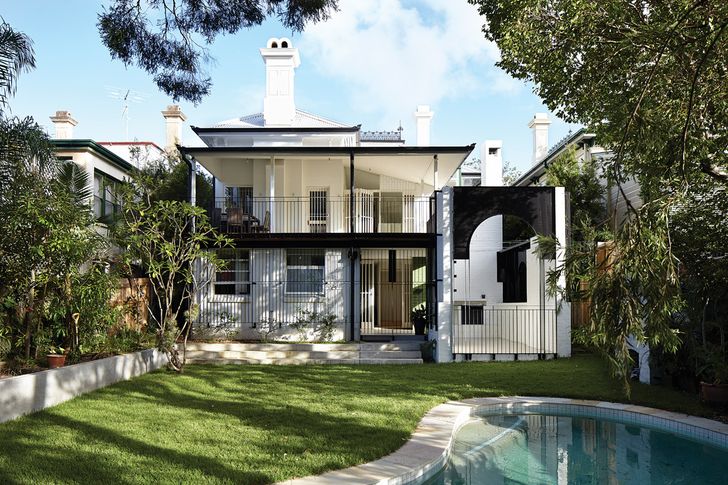 The present reinterpretation ultimately combines two major changes – a new internal stair and a roofless two-storey arbour – with a handful of subtle and restrained yet powerful interior interventions. The arbour resolves connections between the house and rear garden; the stair sequences the internal journey. Every room is rededicated to an altered occupation or orientation, touched and reworked only to the extent of adding new joinery, closing an old entrance or providing a new one, or just configuring loose furniture.
Nothing is revealed of the alterations before reaching the entry threshold and hall. On crossing the threshold a pair of new living room openings/doors becomes apparent, though not entirely understood materially. Fashioned from a dressed-timber stud and painted solid board, each door slides into a cavity between the original 450-millimetre-thick walls and an additional layer of solid board, while original cornices and decorative mouldings are scrupulously preserved. Similarly respectful treatment is manifested in new doors at the end of the hallway, a new kitchen opening, and a secret access to the powder room from the main ensuite.
The salon room is meticulously reinterpreted as an office (both owners work from home) with delicate new joinery: tall oak bookcases on a forest of slender legs and a matching twin desk. The main bedroom's new robes likewise rest on slender legs, allowing the rich detail of the skirting board to envelop the room uninterrupted.
The ensuite is reworked as a series of tiled cells (basin, shower, dressing bench). The original external window, enclosed by the new staircase, affords a view and continuity with the stair climb. Fine timber studs cunningly enclose the powder room, with access from both hall and ensuite – a playful delight that folds across the stair as both partition and balustrade, terminating as an arch spanning back to the ensuite.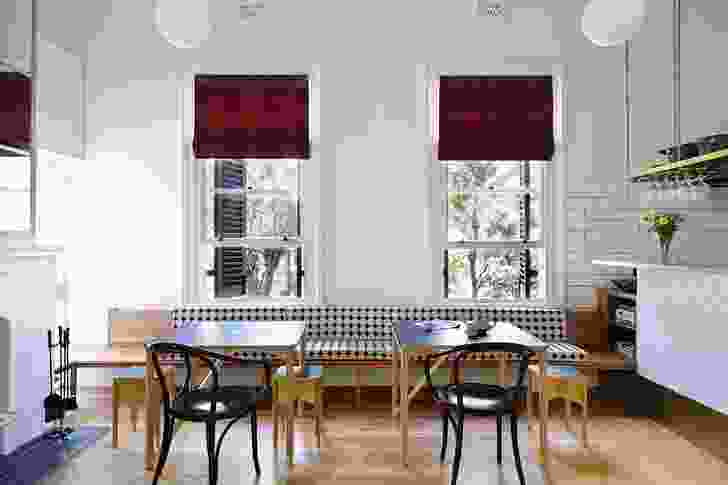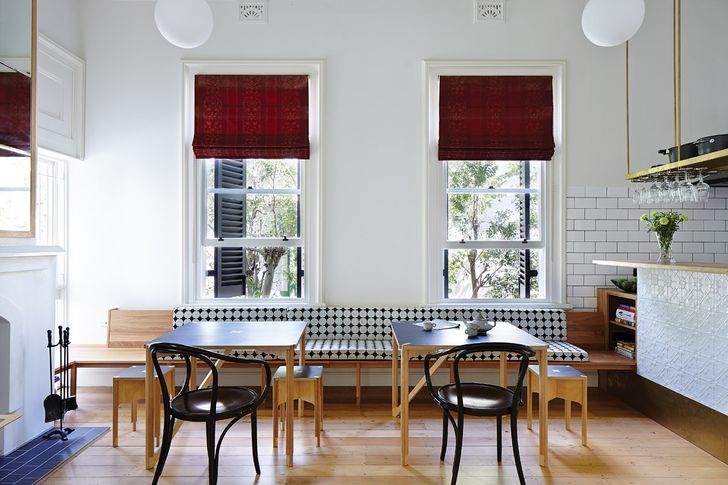 The architects' restrained palette is abandoned for the kitchen, where the Belgian client requested something akin to a French bistro. The almost baroque result uses twelve materials and includes furniture designed by the architects.
The arbour, however, is the most overt gesture. A 4.5-metre-high steel arch defines the roofless space and is emblematically matched with a triumvirate of steel arches along the side frame of the arbour and again (but in timber) in the stairwell return and above the laundry entrance at garden level. Finely detailed steel frames, justified as a massive "complying pool fence," shroud the house's rear elevation, becoming a double-height trellis for blossoming vegetation. The heritage building's ornamentation allows this singularly decorative device to sit very comfortably against the more restrained work expected from this practice.
These painstakingly crafted interventions provide a new backdrop for the comfort and pleasures of family living, far from the rarefied artificiality typical of many restorations. An exemplary reworking of contemporary materiality within a culturally significant fabric and deftly handled in scale, the outcome adds a welcome wit to the continuing narrative of the city.
Products and materials
Roofing

Bluescope Lysaght Custom Orb in zincalume; CSR Bradford insulation.
External walls

Plastered masonry, painted (existing); CSR PGH Bricks & Pavers bricks; Ceramica Vogue tiles in matt 'Bottle Green'.
Internal walls

Plastered masonry (existing); timber boards, painted.
Windows and doors

Duce timber-framed windows and doors, painted; Lockwood brass hardware and furniture.
Flooring

Pine boards (existing); Winckelmans tiles in matt off-white.
Lighting

Artek Hand Grenade and Golden Bell lights; Modular interior wall lights; Ligman exterior wall lights.
Kitchen

Gessi tapware; stainless steel sink and benchtop; painted plywood cabinets; Bend-Tech brasswork; Ceramica Vogue tiles in gloss white; Carrara marble benchtops; painted pressed metal in Fleur de Lis pattern; solid blackbutt timber benchtop and blackbutt ply veneer; Mokum Mimosa and Ebony upholstery; Winckelmans floor tiles in matt 'Ebony'; mirror framed in brass.
Bathroom

Ram tapware; Ceramica Vogue tiles in gloss white; Winckelmans tiles in matt off-white; Duravit basin; Madinoz towel rails; Cararra marble benchtop; custom solid blackbutt timber seats by Owen and Vokes and Peters.
External elements

Custom steelwork by Owen and Vokes and Peter.
Other

Bistro stools designed by Owen and Vokes and Peters.
Credits
Architect
Project Team

Paul Owen, Stuart Vokes, Aaron Peters, Michael Lineburg, Emma James, David Twohill, Lucy Jeffries
Consultants

Hydraulic engineer H Design (Greg Hamilton)
Landscaping Owen and Vokes and Peters, Client
Site foreman Carl Muir
Structural engineer Greg Killen

Site Details

Location New Farm, Brisbane, Qld, Australia
Site type Suburban
Site area 812 m2
Building area 413 m2

Project Details

Status Built
Design, documentation 24 months
Construction 12 months
Category Residential
Type New houses, Refurbishment

Source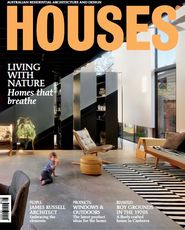 Issue
Houses, October 2013
Related topics