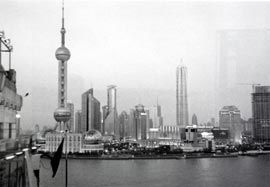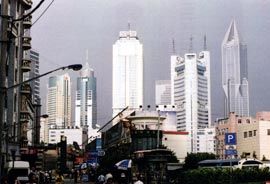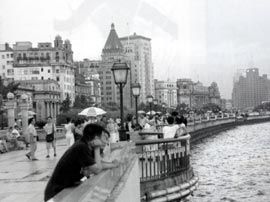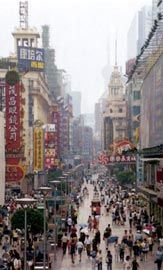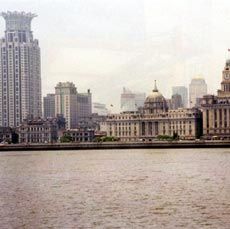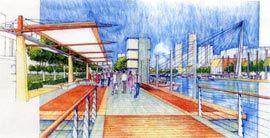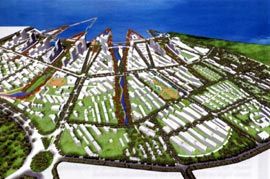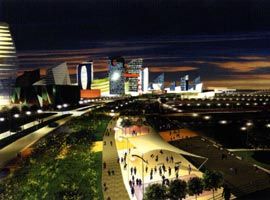 A POPULATION URBANIZING at a rate never before seen on the planet, an ostensibly open attitude to foreign influence and contemporary design, and a glut of new projects ranging from chichi restaurant interiors to new cities…. As the statisticians, newscasters and trendspotters shout at us, China presents a new frontier for work opportunities, a place where one's dreams of fortune or glory can be realized, and all the more for those involved in "hardware professions" like planning and architecture. Foreign firms are getting their feet wet and are reporting back to peers with mixed emotions – whether these are positive or negative seems as much a corollary of prior expectations as it is of the actual experience. As with all new markets, and perhaps all the more in a place already ensconced in fables, new myths have inadvertently emerged and, with so much word-of-mouth and press-spun hyperbole attempting to bridge a huge cultural divide, misunderstandings abound. Somewhat anticlimactically, the best way to approach this new territory is to have reasonable expectations based on a knowledge of local circumstances, preferably first hand.
There is now much helpful reading on the subject matter of entering China to do business. There are many good texts available which outline general cultural phenomena and their consequences for dealing with local people within a business setting.1 Reading material exists on such topics as guanxi (relationship), mianzi (face), hierarchy and virtue, and their approximate philosophical sources in Taoism, ancestor worship, Buddhism and various modes of Confucianism. Such knowledge equips the foreigner with a sense of the cultural context and helpful generalizations about the people, but perhaps more importantly it identifies the differences in the cultures of parties involved.
Discussion of these general aspects as well as issues of history, language, relationship with the west, rules of joint ventures and other government regulations, for which material can easily be found, will only be treated summarily in this article. The reader is advised to search further afield on this deep and complex subject matter.
China is experiencing a huge demographic shift from the country to the cities. This is happening most conspicuously on the east coast and also around the huge metropolises of Chongqing and Wuhan. Modernization and the accumulation of wealth is happening so rapidly it is often easy to forget the existence of rural China and the vast disparities of income which exist between the countryside and the cities. Urbanization is happening at such a brisk rate that the government is planning entire new cities in anticipation of large new urban populations. This phase of infrastructure development involves architects, planners, urban designers and engineers at a scale which may be compared qualitatively with postwar Japan and the "tiger economies" of Taiwan, Singapore and South Korea through the sixties and seventies. Attempts to meet the demand have resulted in two broad phenomena: quality gives way to quantity as local resources are pushed to their maximum output capacity; and clients look overseas for design expertise.Western designers are now being involved with projects of immense scale, high density and political willpower such as have not been seen in modern times.
This fairly black and white view of the situation is being gradually greyed as the market matures, clients become more sophisticated, local professionals become more proficient, and an increasing number of foreign firms vie for jobs.
China displays an ostensible openness with the rising occurrence of competitions to select consultants. Many Australian practices are finding successes in the international design competitions for major planning and architectural work, and are finding nice inroads into client and government circles. However, what seems like a sensible methodical approach based on a qualitative selection process, is predictably a doubleedged sword in practice. Firms compete side by side with other internationally respected firms and the prizes are awarded according to the relative merits of schemes. However, judging panels may consist of aged academics out of touch with contemporary design issues, inexperienced government planners, and high government officials with no useful critical design capacity.
As James Brearley, director of BAU International, points out, winning doesn't necessarily mean selection. He has experienced the situation of winning a competition only to see the contract handed over to a chummy local office. Further, selection doesn't necessarily mean implementation, and this is where possibly the most painful situations occur for designers. Another international office won a short-listed competition for a public square in Tianjin. Expecting to hire the practice, the client subsequently made vast revisions to the brief thus rendering most of the original entry irrelevant. Thereafter the parties came to an impasse over additional design fees and the project ground to a halt.
"There is an incredible naivety at high levels of governance," says Brearley, "and it's the politicians that hold most of the sway. I've had them walk in on a winning urban design project and with the wave of a hand and without discussion wipe off a couple of big gestures on the plan because they simply don't want them".
The most high-profile case occurred in 1992 with the urban design of the new district of Pudong in Shanghai. With a masterplan already in place, a short-listed star cast of Rogers, Fuksas, Perrault and Ito presented schemes that would give advice in relation to the government's own masterplan. After Rogers was awarded first place the resulting procedural mess saw local planners proceeding with their own scheme, and with the impossible directive to "combine the best ideas from each scheme". Tellingly, even before a winner was announced, eight plots of land had already been sold. The result, as it exists in its present built state, is a compromise of anything resembling the original entrants' schemes and is a disappointingly disparate urban environment.
Chris Choa, Shanghai director of US firm HLW, takes a realistic stance on competitions for urban design, which could also apply to those for buildings: "With large scale masterplan projects in China I think the role of the designer is to be more conceptual, to present very strong urban ideas without getting preoccupied with minutiae. They are a way for different parts of government to talk to each other. In many cases authorities for political reasons cannot openly and unilaterally select a direction or take a position. An array of urban solutions represents cultural underpinnings; we are essentially providing a language for other people's arguments." ›› The sheer size of China both in population and geography means that any cultural generalizations should be approached with caution. Regional cultural differences should not be lost on designers coming into the market. For example the culture of design in Beijing, the seat of national governance is far different from that of Shanghai, which has a history of relative openness to the west and a reputed preoccupation with fashion, or Shenzhen which has only emerged as a metropolis in less than twenty years.
Accordingly there are appreciable differences in the structure and nature of government in each area. In Ningbo, the government is leveraging its huge tax base in the well established garment industry there to invest in ambitious urban design projects. Beijing's monolithic city governance is also vastly different to that of Shanghai, where smaller district councils are entrusted with much more authority. Needless to say, projects have come asunder through consultants not knowing who the real decision makers were.
At a glance, the existing architecture of contemporary China could be written off as a poor collection of attempted modern-style structures – the worst of the latest pieces seem no more than a grab-bag of overseas aesthetic trends. Recent upmarket housing estates in Shanghai have been marketed as the French Riviera, Versailles and New York's Upper West Side and the architecture is a predictably clumsy pastiche of overseas iconography. However, a more comprehensive inspection of the built environment, one that looks past these market driven excesses, reveals an evolving local canon of architecture.2 Understanding its distinctions from major movements in the west will also serve a better understanding of design culture in China.
Xing Ruan, associate professor at University of Technology, Sydney, purports that much can be ascribed to the place, or rather absence, of Modernist ideology in twentieth-century Chinese architecture. A first generation of modern-era architects was trained in the Beaux Arts tradition in the 1920s in the United States. Subsequently, a Beaux Arts tradition flourished in the early twentieth century as these architects returned to China to practise, teach and establish university curriculums. Although there were some experiments around the same time in terms of the Bauhaus movement in Shanghai, Modernism did not establish itself as a primary mode of thinking about architecture and it was all but stifled with the rise of the Communist party.3 Ruan claims that the persistence of a Beaux Arts tradition in academia and practice, with its preoccupations with formal composition and a historicist vocabulary, left the door more open to Postmodernism than to programme-driven Modernist ideology. "The whole concern with the elegance of the composition and the stylistic approach were paramount. I think the PoMo trend went to China very swiftly and has had an ongoing impact there even though the trend has expired in the west." ›› The significance is that, as the country's economy progresses at breakneck speed and foreigners enter the design culture, architects with western training will find fundamental ideological differences in the approach to design. And while some clients seem enlightened in their willingness to explore new forms and technologies, there may often be earnest and sometimes frustratingly lengthy discussions about the figurative aspects of the architecture.
Another of the legacies of the Beaux Arts education system is the master-pupil dynamic which is still very current. Partly tied to the Confucian notions of respect for elders and those in positions of authority, it results in a peculiar dynamic where university professors wield enormous sway both as teachers and as practitioners through the professional design institutes linked to the schools. With the respect and authority garnered from an academic seat, such architects are expected and almost compelled to take on professional commissions. Offering an additional source of income and with a willing band of postgraduate students in an established studio environment this seems like an almost ideal scenario for academics. Conversely, students have a ready link to the professional world and maintain their relationship with studio professors. Ruan suggests, however, that this invariably compromises the purely academic efforts of the professor, and also steers the architectural curriculum toward a technical vocation school orientation as opposed to that of a university. Stan Fung, senior lecturer at the University of NSW, identifies other limitations of the Chinese education system as woeful library management, insufficient access to western literature, and a predominance of graphic skills over design skills. At Tsinghua University, Beijing, long considered the country's top architecture school, Fung recalls one instance where a single rendered perspective accounted for 70 percent of the marks awarded to a design project.
Some foreign architects working in Chinese offices describe what is an almost inherent lack of responsibility and initiative in making decisions, particularly from local junior staff. On the positive side, others have experienced an openness from local graduates that is evidenced in their very interest in working for a foreign office, and across the board local professionals are becoming increasingly well regarded for their knowledge of drafting and modelling technologies and the speed at which documents can be produced.4 These seem like symptoms of a necessary beginning stage, and can be seen in the maturing construction industry as well.
John Denton, of Denton Corker Marshall, has a perspective of the evolution of China's building industry having worked on the Australian embassy throughout the eighties. "That was in the bad old days when there was a very weak construction industry and resource problems that lead to major compromises of the architect's drawings.
Construction was halted and then started again, according to when materials could be located. Since then, the change has been absolutely radical." But while there has been an enormous skill transfer in the construction industry through overseas influence, he is still reserved as to the standard of quality. "[Local contractors] can build fast and close to what you want, yet still not to a very high level. With the exception of major office buildings in Shanghai or Beijing where you can rely on established subcontractors and get a quality standard, there is still not a very high level of skill in the industry. It is much better than it was, but particularly in second tier cities like Nanning and Tianjin, with a lot of the work we're doing, we call them sketches rather than finished products. You have to design boldly and accept that you won't get the fineness of detail you want." ›› Francis Yum, Hong Kong-born Chinese contractor for the Xintiandi restoration project, however, challenges the notion that blame should be squarely laid with the local construction industry. He says foreign designers must be conversant with the technology of the country in order to design appropriately. While agreeing with the regional difference in standards and capabilities, he feels that overcoming these issues through reasonable expectations must be seen as part of the responsibility for delivering a good design.
Yum has too often seen costs escalate on projects because designers naively specified to western standards.
Robin Edmond, principal at Hassell, has been involved in Hong Kong and China for 23 years, and brings sober advice to prospective jobhunters. "The biggest mistake is to be greedy and to expect money to fall into your hands. It doesn't happen like that elsewhere in the world. The client base is becoming more sophisticated and is recognizing what good value for money is and what's not. There are still some unscrupulous foreign consultants who get sucked in by silly projects, but overall the situation has improved dramatically." ›› The newness of this emergent China has to be tempered with knowledge of a culture with already deep established roots. And here lies the balance – to make good of the new opportunities while navigating the cultural territory with responsibility. Disparities in understanding on both sides of the fence are inevitable in the early days of crosscultural interaction and, though Australian firms have been practising in China since the eighties, these are still early days. With a rapidly maturing market and clientele, an emerging wave of savvy local architects, and a flexible business environment, the market will only become more competitive. Preparation will help form reasonable expectations, bearing in mind that macro knowledge is but a perfect complement to actually visiting the country and experiencing its customs first hand.
%br% 1. T. Ambler. and M. Witzel, Doing Business In China, is a very readable starting point, while P. Yatsko, New Shanghai, is a solid journalistic account of the emerging culture of China's biggest metropolis.
2. Points which can only be touched upon here have been taken up at greater length by mainland-based Chinese scholars, and in English, most notably by Zhu Jianfei.
3. With market reforms after the Cultural Revolution, the eighties and nineties saw the beginnings of a modern approach taken up by prominent architects Qi Gang, Zhang Yonghe and Ma Guoxin.
4. Exceptions do obviously occur. The local press has marked the emergence of a new wave of young innovative architects with publications and special editorial features in magazines. They include MADAspam, Liu Heng,Wang Shu, Zhang Lei and Studio Dashaus.
%br% %br% %br%
DARRYL CHEN IS A SHANGHAI-BASED ARCHITECTURAL WRITER.