The Northern Territory Government has unveiled the design of a new dedicated visual art gallery in the centre of Darwin.
The existing Harry Chan building (formerly home to the territory's legislative assembly) will be redeveloped into a second gallery for the Museum and Art Gallery of the Northern Territory (MAGNT). The design will be led by local architects DKJ Projects Architecture with design architects Fender Katsalidis Mirams.
The site is located in the heart of Darwin's civic precinct. Its neighbours include the NT Parliament House, Darwin Supreme Court and the ruins of the Palmerston Town Hall, which was bombed during World War II.
"Darwin currently has no cultural centre in its CBD," said Rob Mirams, founding director of Fender Katsalidis Mirams. "This presented a perfect opportunity for an iconic, cultural building for Darwin."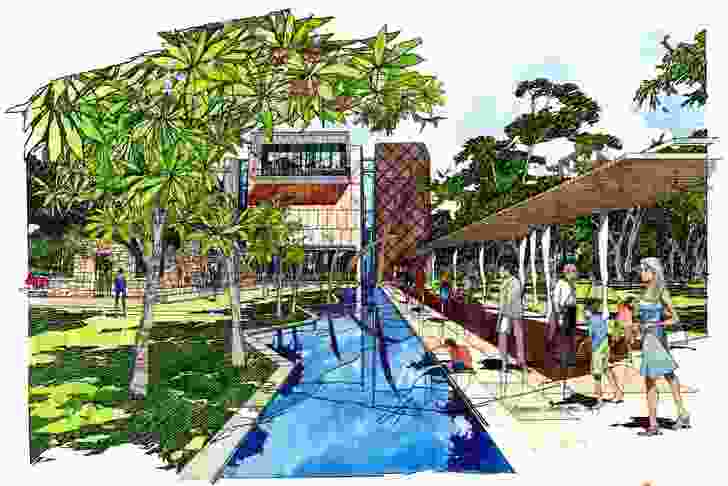 The design proposes to adaptively reuse the existing building, which had operated as the Chan Contemporary Art Space from 2010 to 2014. Two new additions will transform the low-rise administrative building into 3,500 square metres of exhibition spaces, a cafe and a bookshop.
Above the existing building, new, cantilevering high-ceiling gallery spaces will be added. "That large volume is designed to lift people up into the tree tops and look out over Darwin down towards the ruins of the town hall," Mirams said.
To the south-west side, a proposed glazed atrium, clad with a metal screen, will serve both as stacked circulation space as well as bringing visual connectivity into the exhibition spaces.
"Our view about museums and galleries is they've become the new cathedrals of modern society," Mirams said. "the new addition to the building being a large circulation volume is also somewhat cathedral-like in its vertical proportions and will be designed to inspire people to interact with the gallery."
The new gallery received $18.5 million of funding in the territory's budget this year. Chief Minister Adam Giles said, "This project will invigorate the CBD of Darwin and create a drawcard for locals and visitors alike."
Related topics